| | |
| --- | --- |
| Keeping you in the loop on products and deals you may not have heard about. | October 26, 2011 |
SPONSORED BY


Hi everybody! I'm listening to the new Kelly Clarkson CD, "Stronger," which my trusty sidekick Jen Vishnevsky burned for me (thanks, chica!). I have to tell you, it's putting me in quite a good mood. Here's one of my fave songs on it: http://www.youtube.com/watch?v=0C_oNMH0GTk&ob=av2e. Enjoy this feel-good edition and send your feedback directly to: khuston@asicentral.com. It may be published in a future issue of Advantages magazine. For free information on products featured in Advantages, click here: www.advantagesinfo.com. Kathy Huston, editor






The Joe Show:
Winter Promos

The Joe Show: Winter Promos
In this episode of The Joe Show, Managing Editor Joe Haley provides a look at some new items perfect for winter and holiday promotions. Need a new lip balm or fleece pullover to suggest to clients? Want to turn a holiday party into a green outing? Check out the video.    

Click here to watch this new-products episode of The Joe Show.

Want more videos? Subscribe now to our YouTube videos.

Add-On Initiative
The Pitch: This seems like a stellar idea to me. Dard Products (asi/48500) has taken their water bottle with detachable pill compartment, seen here: http://www.tagmaster.net/ and attached an armband/media holder to it. This is perfect for all types of runs, walks and outdoor events. Also think of bicycle shops, sporting goods stores and more. For pricing and other info on item ADP-928-554, email: info@tagmaster.net.
The Bottom Line: Ride-along.

For the Chef
The Pitch: I'm not what you would call a very enthusiastic cook (yes, I do the obligatory meals, like crock-pot chicken, because I have a hungry family that includes man-boys), but even I would appreciate very nice custom cast-iron cookware from Camp Chef (asi/43659). The 14" seasoned cast-iron skillet with dual pour spouts and comfort grip starts at: 500; $28.09. Your artwork is cast into the bottom of the skillet for a lasting impression. This is a great incentive item, addition to company stores or camp-related giveaway. Click here: http://www.campchef.com.
The Bottom Line: Get cooking.

ADVERTISEMENT

Tag, You're It
The Pitch: Here's a simple idea that makes a lot of sense. It's the Tab Tag from the appropriately named supplier, Tab Tag (asi/90554). You use one side to open the tabs on beer or soda cans and then you turn it over and slide it onto the tab and with various colors available, everyone will know which can is theirs. Don't get it? Go to their Facebook page here for a video demo: http://www.facebook.com/#!/profile.php?id=100001793877180&sk=wall. This is a unique idea for tailgating and other festivities. Pricing starts at: 100; 50 cents.
The Bottom Line: Open your mind (and can).
ADVERTISEMENT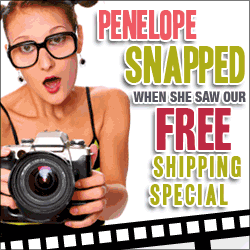 Straining for Sales?
The Pitch: I have kind of an obsession with cute colanders (what would Freud say?) and Preserve (asi/44112) offers just that. Their 3.5-quart colanders, available in vibrant colors like my favorite, Tomato Red, are made in the USA with 100%-recycled, BPA-free polypropylene (#5 plastic) and they are 100% recyclable. They are also dishwasher-safe. Pricing starts at: 250; $11.98. This is a good choice for cooking schools, produce stands and more. Check them out here: http://www.preserveproducts.com/.
The Bottom Line: Down the drain.

Let's Get Social
If you want to get great sales tips, daily inspiration, product ideas, helpful videos and more, "like" us on our brand-new Advantages magazine Facebook page and spread the word to your colleagues. Go to: www.facebook.com/advantagesmag.
You can also follow us on Twitter: @kathyadvantages and @Jen_Advantages.
SPONSORED BY


Advantages™ Hot Deals is a trademark of the Advertising Specialty Institute. You were sent this newsletter as a benefit of your ASI membership. Copyright 2011, ASI. All Rights Reserved.
If you'd like us to send Advantages Hot Deals FREE to anyone else at your company (or to your off-site sales reps), go to www.asicentral.com/newsletters and complete the online form.
Interested in advertising in Advantages Hot Deals? Send an email to ekoehler@asicentral.com
Click here to subscribe to Advantages™ magazine. If you no longer wish to receive Advantages HotDeals Newsletter, click here
Advertising Specialty Institute®, 4800 Street Road, Trevose, PA 19053