ADVERTISEMENT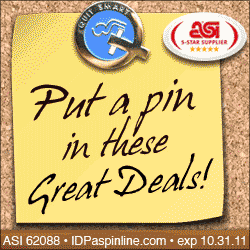 Good Cause
The Pitch: As a tribute to "the groundbreaking ideas and pioneer spirit that characterized Steve Jobs' life as an innovator and entrepreneur," Royce Leather (asi/52390) will be donating 25% of profits from all iPad, iPad 2, Macbook and iPhone case orders from the month of November to the Lustgarten Foundation, whose mission is finding a cure for pancreatic cancer. Get behind it. Enough said. Go to: http://www.royceleathergifts.com/.
The Bottom Line: State your case.
On the Shady Side
The Pitch: Apparently Bono and I have something in common (and it's not rock-star status): We both wear sunglasses all the time (even in the rain) to protect our sensitive blue eyes. Well, I don't wear mine indoors like he does, but still. Castle Merchandising (asi/44315) offers lots of new cool sunglasses, which I think would fit well into any online store or incentive program. For example, there's item GU-6402-BRN-1, the metal frame, GUESS pair with polycarbonate dark brown lenses. They also offer 100% UVA and UVB protection and are packaged in a gift box. Pricing starts at: 12; $65. Click here:http://www.castlepremium.com/.
The Bottom Line: Cover your eyes.
The Works
The Pitch: As I sit here in my office writing this, Joe Haley is over in his office talking about hot dogs, "the all-American food." That's what I hear him saying. You don't even want to know all the stuff I hear that guy saying, while I'm over here working hard and minding my own business. As far as I'm concerned, you can't have a good hot dog without mustard and Ingredient Corps. Of America (asi/62649) offers a variety of mustards in 2-oz. glass jars (actually, a tiny bit less). Perfect for any promo that needs spicing up or a little flavor. For pricing and other info, email: sherri4@memphi.net. And to check them out, click here: http://www.spice-gifts.com/.
The Bottom Line: A little something extra.