| | |
| --- | --- |
| ADVERTISEMENT | ADVERTISEMENT |
Dive In
The Pitch: They're gonna need a bigger boat … or any boat at all. Did you read about the two scuba divers who were left stranded in shark-infested waters in Miami by a scuba-diving tour boat? Thankfully, they were rescued by a private yacht two hours after they emerged from under the sea to find everyone gone! Can you imagine? So, I'm thinking these types of tour companies are going to need more self-promotion after this. If you're local to them, why not pitch this cool crystal key tag with a laser-engraved diver design? It's from Crystal Gifts and More (asi/47768) and it would also be a nice giveaway for diving instructors, gear shops, etc. Pricing starts at: 100; $12.36. For more information, you can email: emancgm6640@aol.com. As far as I can tell, they don't have the item up on their website, but you can get a taste of their laser-etching and the scuba design here: http://www.thebestcrystal.com.
The Bottom Line: Everybody in the water.

ADVERTISEMENT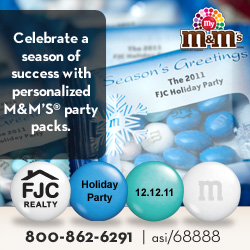 Why So Glum?
The Pitch: I just received a report that small business owners in PA are less likely to be optimistic about the future of their businesses than the rest of the Northeastern states. Where's that can-do spirit? I think every business owner should have a copy of Good to Great, a business guide book available from The Book Company (asi/41010).The supplier says, "It is sure to be a business book that will be consulted and referred to for years to come." Blank pricing starts at: 50; $27.15. Check it out: http://www.thebookco.com/.
The Bottom Line: A real page-turner.
Mobile Home
The Pitch: If you're like me (and my kids), your cell phone goes through the ringer (ringer, get it?). I recently traded my cracked-screen, waterlogged version in for an upgrade. The new Mobile Guard from Waldor Products (asi/94770) would be perfect protection for it. It's made from soft-cushion vinyl/neoprene and has a tuck-flap top, sewn seams and edging. This is a great idea for colleges, job fairs, telecom promotions and more. Pricing starts at: 250; $1.39. See it here:
http://www.waldorproducts.com/.
The Bottom Line: Safe and sound.
SUPPLIERS: FREE EXPOSURE IN ADVANTAGES NEW PRODUCTS PREVIEW
Suppliers, here's your chance for great exposure to at least 40,000 industry sales reps through a spotlight in our mid-December issue of Advantages magazine! If you have a truly new product debuting in 2012, please send me an e-mail describing your product and explaining what, exactly, is new about it. Send also a high-resolution image (at least 300 dpi at 4 x 4 inches; anything lower will not be considered) or a sample to my attention: Kathy Huston, Editor, Advantages, ASI, 4800 Street Rd., Trevose PA 19053. Samples will not be returned unless specified. E-mail me at: khuston@asicentral.com. Please send samples or images no later than 10/14.