The winner will receive great gifts and bragging rights for the year and have a magazine profile to show all your friends and family. Now doesn't that sound special? Send either your 100-word-or-less entry or, if you'd prefer, your video nomination, along with a high-res image if you have it available to me, Kathy, at: khuston@asicentral.com. Looking forward to hearing from you!
| | |
| --- | --- |
| ADVERTISEMENT | ADVERTISEMENT |
Super Bowler
The Pitch: I gave up bowling years ago when I broke all my nails. Mind you, it's not like I was ever any good at it (not like Joe Haley, above, who's team won the St. Joe's Men's League championship plaque in June). He and others like him would certainly appreciate item 10011 from ACRO (asi/93775). It's a 1200 Denier polyester bowling bag with separate compartment for ball and shoes, large U-shaped top opening, front zippered compartment, adjustable shoulder strap with cushioned pad and inside removable bottom board for ball. Bowling leagues everywhere are just waiting for one. Pricing starts at: 24; $21.03-P. Click here: http://www.acrobag.com.
The Bottom Line: Lucky strike.
ADVERTISEMENT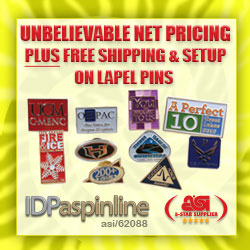 Have a Cow
The Pitch: My son, who's studying journalism in college like his mama, bought an old-fashioned (non-electric) typewriter this summer for three bucks at a tag sale and you can't believe how cool he and my younger son thought it was. I was like, "Seriously? Do you guys know how lucky you are to have computers?" (And in my day, I also walked 10 miles in the snow, but that's beside the point, because I really didn't.) At any rate, Apple Corporate Technologies (asi/36550) offers a product from yesteryear that the younger generations will find cool. Item MC101 is an old-fashioned animal sound generator can. Turn it over and it moos. No batteries required. This is a fun idea for farms and their special events (hayrides and such), state fairs, carnivals and also, adult clients you wish would "mooove" on a decision. Pricing starts at: 100; $5.40-R. Check it out: http://36550.asisupplier.com/
The Bottom Line: That's no bull.
Oh, Oh, Domino
The Pitch: My mom plays Dominoes every Monday night with "the girls." And by "girls," I mean women ages 60-80. They play at the Heritage Bay 55-and-over community clubhouse. I've seen my mom in action and she takes no prisoners. Sunscope (asi/90075) offers item GAME0017, a compact domino set that features metal dominoes in an elegant metal case. Great for gaming enthusiasts to take on a trip or over to the clubhouse for Game Night. Pricing starts at: 50; $8.65-R. Click here: http://www.sunscopeusa.com/.
The Bottom Line: Fall in line.
Professional Paint Job
The Pitch: Now here are some tools I can get behind. Item 530PS is a quart can filled with molded milk chocolate paint brushes, paint rollers, scraper and other painting supplies. The can also has a slotted lid to serve double duty as a coin bank after all the goodies are emptied. The chocolate is kosher-certified OUD. It's from Apple Cookie & Chocolate Company (asi/36560). This is really a colorful idea for hardware stores, painters, home improvement retailers, and hey, how about real-estate agents? Pricing starts at: 25; $19.99-V. Email: tina@applecookies.com or get a feel for their offerings here: http://www.applecookies.com/.  
The Bottom Line: Broad strokes.