Today is Wednesday and if you were born on a Wednesday, according to the poem, you are full of woe: http://www.rhymes.org.uk/mondays_child.htm. I'm sorry for your troubles. But I was born on a Thursday and that's not much better because "Thursday's child has far to go." If you don't know what day you were born on, go here and find out (it only takes a second and it's fun: http://www.brainbashers.com/dayofweek.asp?post=Y. Enjoy and enjoy this edition, too!Send your feedback directly to:  khuston@asicentral.com. It may be published in a future issue of Advantages magazine. For free information on products featured in Advantages, click here: www.advantagesinfo.com.

PRODUCT SPOTLIGHT


– Kathy Huston, editor 


The Joe Show:
Unique New Items

The Joe Show: Unique New Items
In this episode of The Joe Show, Counselor Managing Editor Joe Haley shows off some cool items that suppliers have sent in recently. Looking for some interesting items to pitch to clients and prospects? Check out this episode of The Joe Show.  

Click here to see this new-products edition of The Joe Show.

Want more videos? Subscribe now to our YouTube videos.

I Challenge You
The Pitch: If you're looking for challenge coins, look no further than IDproductsource/Aspinline (asi/62088). The coins are used as morale boosters and identification in certain organizations and would be perfect for sports teams, clubs and financial or military clients. General Colin Powell, as a matter of fact, told us last year on ASI Radio (www.asicentral.com/radio) that he gives them out to veterans. Two-inch, die-cast zinc coins with a double-sided design start at: 200; $5.37-P. Click here: http://www.idpaspinline.com/Coins.html.
The Bottom Line: Coin toss.

ADVERTISEMENT


Like a Fine Wine
The Pitch: Looking for some wine? I know I am (it's 5 o'clock somewhere). Expressive Vintage Wines (asi/53416) offers Georgia-made fruit wines and traditional wines and sparkling grape juices too for nonalcoholic alternatives. Me, I'll take the Terra Andina Cabernet Sauvignon, described as "a fruit-forward and friendly red with ripe flavors of cherry, raspberry and warm vanilla." Doesn't that sound delightful? Pricing starts at:

50; $26.99-P

. Check out their flavors here: http://www.expressivevintagewines.com/.
The Bottom Line: Time for a toast.

Sign of the Cross
The Pitch: For some reason, I was drawn to this new product from AP Specialties (asi/30208). It must have been my 12 years of Catholic school (I know you're thinking, "What the heck happened to you, Kathy?" Just say a little prayer for me.). Anyway, item CPP-1763holida is a silver metal cross keychain with a spinning center and it would be just right for your religious clients and I'm sure you can think of others. Pricing starts at: 100; $2.99-R. Plus it comes in a free magnetic-close gift box. Click here: http://www.apspecialties.com/.
The Bottom Line: Your guardian angel.
| | |
| --- | --- |
| ADVERTISEMENT | ADVERTISEMENT |
Happy Days
The Pitch: Aw….Mr. Cunningham (Tom Bosley) from "Happy Days" died yesterday at 82. Didn't you just love Richie's dad? In honor of him, I found this super-cute product from Raika (asi/80385). Item 146 is a round, pebble-textured top-grain cowhide paperweight. It has a Happy Face on front and on back it says, "Happy days are on the way." Guaranteed to make any recipient smile and it starts at one for $32-P. Let me know if you smile after you see it here: http://www.raikausa.com/.
The Bottom Line: Grinning from ear to ear.
| | |
| --- | --- |
| ADVERTISEMENT | ADVERTISEMENT |
CALLING ALL SALES AND SUPPORT SUPERSTARS!
Are you the next Advantages Sales Rep of the Year or do you know one? Or are you Advantages FIRST Sales Support Person of the Year or know one? Our January issue will be devoted to Advantages Sales Superstars and we want your nominations ASAP. Recognize outstanding sales performance in yourself or others. In 2010, did you come up with something really creative that led to a huge sale? Did you have the largest sales volume in your company? Did you go way over 100% of your quota? Have you gone above and beyond for a client or your sales reps? If you think you or one of your colleagues should be a contender, e-mail me and let me know what makes you so spectacular. The winner will receive gifts and bragging rights for the year and have a magazine profile to show all your friends and family. Now doesn't that sound special? Send either your 100-word entry or, if you'd prefer, your video nomination to me, Kathy Huston, at: khuston@asicentral.com.
| | |
| --- | --- |
| ADVERTISEMENT | ADVERTISEMENT |
PRODUCT SPOTLIGHT
NEW! USB Sticks from AZX Sport ASI/30250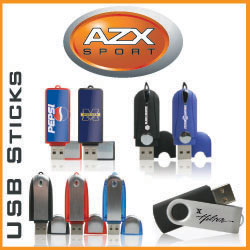 Features: 512MB - 16GB memory size available. Large variety of
colors and shapes. Ability to pre-load files onto USB.

Construction: Full color domed, Laser engraved
and pad printing available.

Lead Time: 1-3 business days on stock USB. 10 business days on
non stock USB. Minimum order 25pcs.

Orders and Art: Info.Advantages@aztex.com

Quote Requests: Info.Advantages@aztex.com

Visit www.azxpromotions.com to see our full line of products.

Or call 1-800-558-4836
CALL FOR QUOTE!
For other new and creative products, visit the Product Central section on ASICentral.com.
Advantages is bringing over 60 top suppliers to a city near you.
Come to the industry's largest and most popular traveling show, the ASI Advantages Roadshow. For a list of cities and dates, visit http://advantagesroadshow.com/. Admission is free for all distributors and salespeople! 
SPONSORED BY


Advantages™ Hot Deals is a trademark of the Advertising Specialty Institute. You were sent this newsletter as a benefit of your ASI membership. Copyright 2010, ASI. All Rights Reserved. 
If you'd like us to send Advantages Hot Deals FREE to anyone else at your company (or to your off-site sales reps), go to www.asicentral.com/newsletters and complete the online form.
Interested in advertising in Advantages Hot Deals? Send an email to ddienna@asicentral.com
Click here to subscribe to Advantages™ magazine. 
Advertising Specialty Institute®, 4800 Street Road, Trevose, PA 19053