ADVERTISEMENT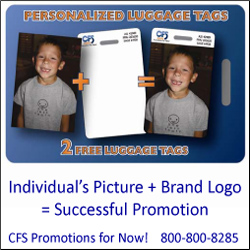 Shake Your Groove Thing
The Pitch: At least I heard Jimmy Hendrix on the radio ("Watchtower") while I was sitting in the aforementioned traffic, which put me in a groovy mood. So groovy in fact, that I now bring you the Groovy Disco Grip Ballpoint Pen from Sweda (asi/90305). Item PB88 has a shiny chrome barrel, comes with a color carabiner to keep it handy, comes in four colors and has colored lights (like a disco ball). It's fun! Pricing starts at: 150; $3.49-R. And you can check it out here: http://www.swedausa.com/.
The Bottom Line: Light up my life.
Apps on Demand
The Pitch: Now back to the Chilean miners. I watched as they rescued the eldest miner, a 63-year-old named Mario who has been with his lady friend for 30 years. They will finally get married after all this. I guess that's what it takes for some fellas to commit. I think it's a lot easier to commit to selling products from Logomark (asi/67866), especially since the supplier has launched its new Mobile Apps Program for Iphone, Android and Blackberry. It allows you to do all kinds of things from your mobile devices, such as check on inventory and pricing and reach customer service. For more information, go here:  http://www.logomark.com/. Also, item EH3102, an elegant-looking metal wine stopper, would be a great gift this time of year, paired with a nice bottle of wine, don't you think? Pricing starts at: 50; $17.95-R. You can see this particular item here: http://www.logomark.com/.
The Bottom Line: Goin' mobile.
E-Z Does It
The Pitch: Here's something unique for your auto-related clients: Magic Carpet Ride Promotions (asi/68460) offers the E-Z Pal, which holds your E-Z Pass on your car window with a suction cup. There's also a slot on the front for business cards, etc. You can read all about it here: http://www.adproductsusa.com/. And for more information and pricing details, email Debbie Faye, Debbie@adproductsusa.com.
The Bottom Line: It takes a toll.
| | |
| --- | --- |
| ADVERTISEMENT | ADVERTISEMENT |
| | |
| --- | --- |
| ADVERTISEMENT | ADVERTISEMENT |