Light It Up
The Pitch: My husband and I eat out practically every night (who are we, the Rockefellers?). And I have never – in all my restaurant hopping – seen a product like this. The Guest Check Illuminator from Ready Check Glo (asi/80884) has two LED lights. One lets the waiter or waitress know you're ready to pay the check. The other illuminates the check so patrons can see what they owe in the usually dim lighting. CEO Celestina Pugliese got the idea on a night out to dinner with a friend. Genius! You can read about the buzzing bar and restaurant industry in your November issue of Advantages magazine and definitely pitch this product to clients in that market. The company also offers illuminated menu covers. Check them out and read all the great press about them here: http://www.readycheckglo.com/.
The Bottom Line: Glowing results.
ADVERTISEMENT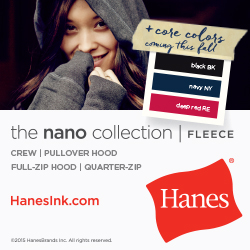 Blend Trend
The Pitch: Another genius idea (I'm full of them today; too bad they're not mine). The Twist N Go fruit blender/water bottle from Ad N Art (asi/31518) blends fruit and extracts juice into your travel water bottle. There's also a zesting option. A filter blocks any pulp. This healthy choice is ideal for gyms, travel, school promotions, outdoor events and more. I'm telling you, you're going to love it. Pricing starts at: 75; $15.99-C. Check it out: http://adnart.com/.
The Bottom Line: Fruit infusion.

My Boyfriend
The Pitch: I like this cute little gingerbread man cookie packed in a header bag from Midnite Snax (asi/71685). Their cookies are baked fresh daily and quite frankly, I'd eat him up in two seconds. These are perfect little holiday giveaways for all kinds of clients. Pricing starts at: 50; $3.45-R. Click here: http://midnitesnax.com/.
The Bottom Line: Ginger goodness.

Thumbs Up!
The Pitch: I'm telling you, these would make fun little student rewards, so suggest that your education clients keep plenty on hand. Four stacks of vibrant-colored, thumbs-up-shaped sticky pads are attached inside a big thumbs up that measures 5 ¾ " x 5". I might get some for myself and give myself a pat on the back every day. I deserve it. They are from Fasttrack Promos (asi/77074).Pricing starts at: 250; $1.39-R. Click here: http://www.fasttrackpromos.com/.
The Bottom Line: Positive reinforcement.

DISTRIBUTORS AND SUPPLIERS:


Are You the Advantages Salesperson of the Year?
Advantages, the industry's leading magazine dedicated to ad specialty sales professionals, is holding its annual Salesperson of the Year contest to recognize outstanding sales performance. Nominate your top-selling rep so far for 2014 or nominate yourself! The winner and runners-up will be profiled in our January issue. The winner will receive $500 and of course, everyone on the list gets bragging rights for the year. We are looking for distributor reps only.
Please send me your top-selling rep's or your own contact information and REVENUE (which will not be shared; it's STRICTLY for ranking purposes) ASAP. We are looking for DISTRIBUTOR and SUPPLIER reps.
Also, please let me know briefly what qualities you feel contribute to this sales dynamo's achievements.
I look forward to hearing about your successes! Email: khuston@asicentral.com.