Today's edition is all about food because food is all I can think about! Looking forward to the Thanksgiving feast tomorrow and thankful that my sister Colleen and bro-in-law Buzz are cooking! Also thankful for you, dear readers. Happy Thanksgiving everyone! Enjoy this edition. I hope it makes your mouth water. Send your feedback directly to: khuston@asicentral.com. It may be published in a future issue of Advantages magazine. For free information on products featured in Advantages, click here: www.advantagesinfo.com.

PRODUCT SPOTLIGHT


– Kathy Huston, editor 


The Joe Show:
Corporate Gifts

The Joe Show: Corporate Gifts
In this episode of The Joe Show, Counselor Managing Editor Joe Haley shows off some cool items perfect for corporate gift campaigns. Need something to give to that high-level executive you're trying to woo? Have clients looking for innovative corporate gift items for their next promotion? Check out this episode of The Joe Show.  

Click here to see this corporate gifts edition of The Joe Show.

Want more videos? Subscribe now to our YouTube videos.

For Starters
The Pitch: Of course, we must start with the appetizers. You've seen the plastic variety of this type of item, but this is a little more high-end. Item WD-Oval is from JK Adams (asi/63017). It's an oval-shaped appetizer plate/wine glass holder for simultaneously carrying a wine glass and sampling hors d'oeuvres. And here's what makes it special: It's made in Vermont from oiled maple. This is just what your clients need for special events and other corporate functions. Pricing starts at: one for $12-P. Click here: https://www.jkadams.com/.
The Bottom Line: Hold steady.

Soup's On
The Pitch: Any meal is made cozier with a nice bowl of soup. Punch Products USA (asi/80060) offers item SMS44, the Soup Mug Soupreme. It holds 15 ounces and has a bowl-like base with a spoon in the lid for easy storage. An individual gift box is included. It's also good for your morning oatmeal and it's microwave and dishwasher safe. Plus it's BPA and lead free and California Prop 65 compliant. Think about this for any employee gift, a gift-with-purchase promotion, and also for college bookstores. Pricing starts at: 144; $7.30-R. Click here: http://www.vision1usa.com/.
The Bottom Line: Warm regards.

ADVERTISEMENT

ADVERTISEMENT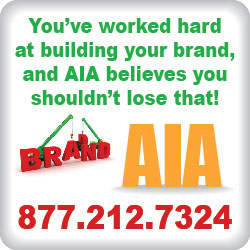 The Main Course
The Pitch: Now for the main meal. For this, I present the Organic Italian Feast from California Delicious (asi/43464). Item #7899 comes packed in a red colander and includes Coppola's Mammarella pasta sauce, which features organically grown tomatoes, herbs, vegetables and olive oil. It also comes with Mammarella pasta, bread sticks and a chocolate bar. This would make a unique client loyalty gift or simply a cheery "thank you for your business." Or hey, how about sending this to a lost client with something like, "only pasta should be strained; let's save our relationship!" See? I am always thinking. Pricing starts at: one for $49.95-T. See it here: http://www.givensandcompany.com/.
The Bottom Line: Eat this up.
Happy Ending
The Pitch: And now, we have come to my favorite part of the meal... dessert! Postcake Company (asi/79051) offers truly decadent cakes; so decadent, in fact, that they have been spotlighted on Her Cheeriness Rachel Ray's show. Plus, get this: You can get a sample for $15 net each by using the coupon code ASI10. See their delectable offerings here: http://www.postcake.com/.
The Bottom Line: Now that we've enjoyed an entire meal together, go ahead and have the very best day off tomorrow!
PRODUCT SPOTLIGHT
NEW! USB Sticks from AZX Sport ASI/30250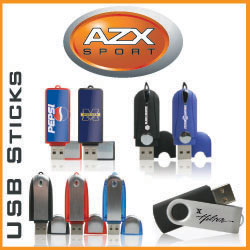 Features: 512MB - 16GB memory size available. Large variety of
colors and shapes. Ability to pre-load files onto USB.

Construction: Full color domed, Laser engraved
and pad printing available.

Lead Time: 1-3 business days on stock USB. 10 business days on
non stock USB. Minimum order 25pcs.

Orders and Art: Info.Advantages@aztex.com

Quote Requests: Info.Advantages@aztex.com

Visit www.azxpromotions.com to see our full line of products.

Or call 1-800-558-4836
CALL FOR QUOTE!
For other new and creative products, visit the Product Central section on ASICentral.com.
Advantages is bringing over 60 top suppliers to a city near you.
Come to the industry's largest and most popular traveling show, the ASI Advantages Roadshow. For a list of cities and dates, visit http://advantagesroadshow.com/. Admission is free for all distributors and salespeople! 
SPONSORED BY


Advantages™ Hot Deals is a trademark of the Advertising Specialty Institute. You were sent this newsletter as a benefit of your ASI membership. Copyright 2010, ASI. All Rights Reserved. 
If you'd like us to send Advantages Hot Deals FREE to anyone else at your company (or to your off-site sales reps), go to www.asicentral.com/newsletters and complete the online form.
Interested in advertising in Advantages Hot Deals? Send an email to ekoehler@asicentral.com
Click here to subscribe to Advantages™ magazine. 
Advertising Specialty Institute®, 4800 Street Road, Trevose, PA 19053