Sales Tip of the Week
It's mid-week, people! Let's celebrate. I could celebrate every day about something, couldn't you? Enjoy your Hump Day and enjoy this edition! Send your feedback directly to: khuston@asicentral.com. It may be published in a future issue of Advantages magazine. For free information on products featured in Advantages, click here: www.advantagesinfo.com.

PRODUCT SPOTLIGHT


– Kathy Huston, editor 


The Joe Show:
Hot Items For 2011

The Joe Show: Hot Items For 2011
In this episode of The Joe Show, Counselor Managing Editor Joe Haley shows off some of the newest items in the ad specialty market. Looking for some unique ideas for 2011 promotions? Want to offer clients the latest products? Check out this episode of The Joe Show.  

Click here to see this new-products edition of The Joe Show.

Want more videos? Subscribe now to our YouTube videos.

Just Relax
The Pitch: Anyone who's going to help me relax is A-OK in my book. Relax Right (asi/81666) offers plenty of products to help you do just that and item #71000 is a thermo-sensitive memory foam travel pillow designed to support the neck while in a seated position. This is great for travel-related clients, but also think automotive and how about a gift-with-purchase of a mattress or bedding? It also includes a plush antimicrobial velour cover that is machine washable. Pricing starts at: 12; $21-R. Web address: http://www.relaxrightproducts.com/.
The Bottom Line: Sleep tight.

ADVERTISEMENT

ADVERTISEMENT


Sexy Time


The Pitch: People magazine has revealed its Sexiest Man of the Year and believe it or not, it's not Joe Haley of The Joe Show, above. I don't want to give it away, so you will just have to Google it. Help any fella feel better about himself with item BF-GRMKIT from Apparelstar Inc. (asi/36539). The nine- piece personal grooming kitincludes: a 3-in-1 battery-operated groomer with cap and ergonomic handle featuring shaver, nose trimmer (every guy needs a nose trimmer), sideburn trimmer, and 2 adjustable-length comb attachments; cleaning brush; comb; and stand. It comes gift boxed too. Think about salons, spas, barbershops and more. Pricing starts at:

one for $23-P

. Click here: http://www.apparelstarimports.com/.
The Bottom Line: Shave and a haircut.
| | |
| --- | --- |
| ADVERTISEMENT | ADVERTISEMENT |
| | |
| --- | --- |
| ADVERTISEMENT | ADVERTISEMENT |



I Do


The Pitch: How adorable are Prince William and his new fiancée Kate Middleton? Their engagement is big news (I remember watching his mama marry Prince Charles). I mean, it's not as exciting as Wearables Editor C.J. Mittica's engagement is to us here in the Editorial Department, but still. The Magnet Group (asi/68507) has a terrific

"Save the Date product: Item PF01FCL is a wedding cake picture frame magnet with an oval punch out for the announcement or photo

 and the supplier says it's always in stock. Nobody used "Save the Date" announcements when I got engaged. We just invited people to the wedding and took our chances that they could make it, but hey! This just gives you another opportunity to make more money! Pricing starts at: 250; 0.67-R. Click here to see similar frames: http://www.themagnetgroup.com/. And for more info on this particular product, email: orders@themagnetgroup.com.
The Bottom Line: Get hitched.


| | |
| --- | --- |
| ADVERTISEMENT | ADVERTISEMENT |
Winning Results
The Pitch: Like I said above, I look for any excuse to celebrate. One of the things on my to-do list for today is to choose the Advantages Sales Rep of the Year. I already have the Sales Support Person of the Year picked out, but you will have to stay tuned. It's a fun part of my job to pick such winners. Any champ would surely appreciate the stunning Celebration award made of art glass on a black base from Crystal D (asi/47759). Item 7227B starts at: 6; $70.68-R. Click here: http://www.crystal-d.com/catalog/7227B.
The Bottom Line: For the good times.
PRODUCT SPOTLIGHT
NEW! USB Sticks from AZX Sport ASI/30250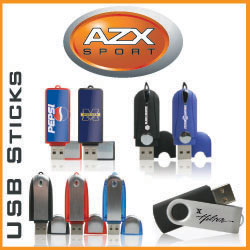 Features: 512MB - 16GB memory size available. Large variety of
colors and shapes. Ability to pre-load files onto USB.

Construction: Full color domed, Laser engraved
and pad printing available.

Lead Time: 1-3 business days on stock USB. 10 business days on
non stock USB. Minimum order 25pcs.

Orders and Art: Info.Advantages@aztex.com

Quote Requests: Info.Advantages@aztex.com

Visit www.azxpromotions.com to see our full line of products.

Or call 1-800-558-4836
CALL FOR QUOTE!
For other new and creative products, visit the Product Central section on ASICentral.com.
Advantages is bringing over 60 top suppliers to a city near you.
Come to the industry's largest and most popular traveling show, the ASI Advantages Roadshow. For a list of cities and dates, visit http://advantagesroadshow.com/. Admission is free for all distributors and salespeople! 
SPONSORED BY


Advantages™ Hot Deals is a trademark of the Advertising Specialty Institute. You were sent this newsletter as a benefit of your ASI membership. Copyright 2010, ASI. All Rights Reserved. 
If you'd like us to send Advantages Hot Deals FREE to anyone else at your company (or to your off-site sales reps), go to www.asicentral.com/newsletters and complete the online form.
Interested in advertising in Advantages Hot Deals? Send an email to ekoehler@asicentral.com
Click here to subscribe to Advantages™ magazine. 
Advertising Specialty Institute®, 4800 Street Road, Trevose, PA 19053