If you no longer wish to receive Advantages HotDeals Newsletter,click here


Good Monday morning/afternoon everyone! This is your last week to win a $500 gift card and bragging rights! Nominate yourself or a colleague for Advantages Sales Superstars awards (distributor-side only): Sales Rep of the Year and Sales Support Person of the Year. Send your 100-or-less-word email or video nomination to me: khuston@asicentral.com. Tell me about your nominee's creative ideas, huge sale or outrageous yearly sales volume, how he or she saved the day, or whatever makes that person so spectacular. You can also email me if you need more info. In the meantime, enjoy this edition, and send your feedback directly to: khuston@asicentral.com. It may be published in a future issue of Advantages magazine. For free information on products featured in Advantages, click here: www.advantagesinfo.com.

PRODUCT SPOTLIGHT


– Kathy Huston, editor 

ADVERTISEMENT


Here's the Dish
The Pitch: What are you making for dinner tonight? I'm making kielbasa and sauerkraut; easy and delicious, which is what I like. Tradenet Publishing (asi/91760) offers a great cookbook that's perfect for busy people everywhere and just right for school fundraisers, special events, state fairs, restaurants and more. The "Easy Does It Cookbook" is a ring-bound 88-page book with full color 10-pt. laminated cover and 60-lb. vellum white text pages. Pricing starts at: 100; $2.99-R. For more info on item RB003, email: tradenet@tradenetpublishing.com.  
The Bottom Line: Serve it up.




The Bangles


The Pitch: Check these out; they are really cute new

light-up fashion bangle bracelets

from AlightPromos.com (asi/34194). Made from acrylic, you can set them to quick flash, slower flash or a steady light with the push of a button. They are fun for tween- and teen-related promos, concerts, parties, trade shows and more. Pricing starts at:

250; $2.48-R.

See them here: http://www.alightpromos.com/.
The Bottom Line: Circle of light.

ADVERTISEMENT

ADVERTISEMENT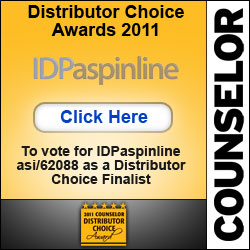 A Shoe-in


The Pitch: Be a flip-flopper with Foamworx's (asi/54886) item COA503. It's a foam,

flip-flop wine glass coaster

. It comes in a bunch of colors and would be ideal for beach-themed events, resorts and destination weddings. Pricing starts at:

100; $2.89-R.

Check it out: http://www.foamworx.com/.
The Bottom Line: On solid footing.

Wind-chill Factor
The Pitch: You guys in New England are getting pounded today, huh? How's my buddy Diane up there in Maine? For extreme weather conditions, Tropical Enterprises (asi/92243) has what you need. Item 410-WS is a one-ounce bottle of antibacterial outdoor lotion, with a unique skin sealant formula that replaces moisture and oils lost in extreme conditions: high wind-chill factor, or hot and arid, etc. A full-color laminated label is included. This would work for ski resorts, tropical destinations and all outdoorsy promotions. Pricing starts at: 100; $1.50-R. Click here: http://www.tmarketingproducts.com.
The Bottom Line: An ounce of protection (literally).
PRODUCT SPOTLIGHT
NEW! USB Sticks from AZX Sport ASI/30250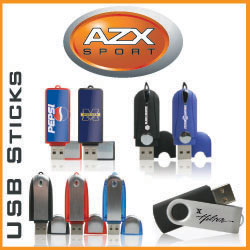 Features: 512MB - 16GB memory size available. Large variety of
colors and shapes. Ability to pre-load files onto USB.

Construction: Full color domed, Laser engraved
and pad printing available.

Lead Time: 1-3 business days on stock USB. 10 business days on
non stock USB. Minimum order 25pcs.

Orders and Art: Info.Advantages@aztex.com

Quote Requests: Info.Advantages@aztex.com

Visit www.azxpromotions.com to see our full line of products.

Or call 1-800-558-4836
CALL FOR QUOTE!
For other new and creative products, visit the Product Central section on ASICentral.com.
Advantages is bringing over 60 top suppliers to a city near you.
Come to the industry's largest and most popular traveling show, the ASI Advantages Roadshow. For a list of cities and dates, visit http://advantagesroadshow.com/. Admission is free for all distributors and salespeople! 
SPONSORED BY


Advantages™ Hot Deals is a trademark of the Advertising Specialty Institute. You were sent this newsletter as a benefit of your ASI membership. Copyright 2010, ASI. All Rights Reserved. 
If you'd like us to send Advantages Hot Deals FREE to anyone else at your company (or to your off-site sales reps), go to www.asicentral.com/newsletters and complete the online form.
Interested in advertising in Advantages Hot Deals? Send an email to ekoehler@asicentral.com
Click here to subscribe to Advantages™ magazine. 
Advertising Specialty Institute®, 4800 Street Road, Trevose, PA 19053