Tell me something: Wouldn't you like to be Advantages next Sales Rep of the Year? Do you know a super-stellar sales rep or sales support person you'd like to nominate for an Advantages Sales Superstars Award? Send your 100-or-less-word entry or video nomination to me: khuston@asicentral.com. You can also email me if you need more info. In the meantime, enjoy this edition, which may just give you a couple ideas to boost your sales today. Send your feedback directly to: khuston@asicentral.com. It may be published in a future issue of Advantages magazine. For free information on products featured in Advantages, click here: www.advantagesinfo.com.
– Kathy Huston, editor 

Txt U L8tr
The Pitch: As the parent of two young male drivers, one especially new, I love this brand-new product from BamBams (asi/38228). Item BDT-01 is a silicone thumb band, debossed with "Txt-free driver," and it's meant to serve as a reminder of the dangers of texting while driving. You have to pitch this to your automotive clients, driving schools, licensing centers, high schools and more. I'll be spotlighting this as my "Favorite Thing" for this week on our Tuesday Morning Radio Show tomorrow at 10:30 ET (www.asicentral.com/radio). For pricing and more info today, click here: http://www.bambams.com.
The Bottom Line: Save a life.

Ice, Ice Baby
The Pitch: When I saw my 16-year-old off to school in the dark coldness at 6:30 this morning, the frost was definitely on the pumpkin he carved the other night (he named him Randy; he's nutty – I don't know where he gets it from). Yup, winter is coming alright. Bay State Specialty Co. (asi/38980) is offering a column price jump on item S35. It's their rugged plastic Power-Grip Ice Destroyer with contoured handle for maximum scraping power. It stands up to the coldest climates. Ya hear that Alaska? This is another great idea for automotive clients; tourist bureaus and hotels in frosty locations and more. Click here: http://www.baystate.com/.
The Bottom Line: Chip away.

Take My Advice


The Pitch: What's up with the bedbugs? I don't know if they've got a section on that topic, but Zagat Survey LLC (asi/98908) has been providing valuable, trusted guides on where to stay, eat, go dancing and more for over 30 years. Now you can choose from both national and international titles of their

deluxe edition guides

covering top restaurants, nightspots,
ADVERTISEMENT

ADVERTISEMENT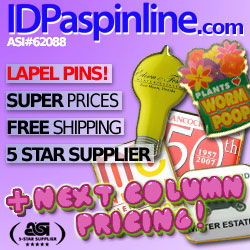 hotels, spas, shopping, golf courses and more. Your client's logo can be imprinted in silver on the front or back cover of the guide. Plus, mention ASI and you'll get 10% off your order. Check it out here: http://solutions.zagat.com.
The Bottom Line: Travel tips.

Clocks Back
The Pitch: You may have seen plenty of skeletons yesterday, but item #6446 from The Magnet Group (asi/68507) is an elegant skeleton clock that would make a nice business gift. The inner workings are clearly visible and are encased in polished rosewood. Pricing starts at: one for $70-R. And don't forget that clocks go back this weekend, kids. An extra hour of sleep! Click here: http://www.benchmarkllc.com/.
The Bottom Line: Minute by minute.
Advantages is bringing over 60 top suppliers to a city near you.
Come to the industry's largest and most popular traveling show, the ASI Advantages Roadshow. For a list of cities and dates, visit http://advantagesroadshow.com/. Admission is free for all distributors and salespeople! 
SPONSORED BY


Advantages™ Hot Deals is a trademark of the Advertising Specialty Institute. You were sent this newsletter as a benefit of your ASI membership. Copyright 2010, ASI. All Rights Reserved. 
If you'd like us to send Advantages Hot Deals FREE to anyone else at your company (or to your off-site sales reps), go to www.asicentral.com/newsletters and complete the online form.
Interested in advertising in Advantages Hot Deals? Send an email to ekoehler@asicentral.com
Click here to subscribe to Advantages™ magazine. 
Advertising Specialty Institute®, 4800 Street Road, Trevose, PA 19053