SPONSORED BY


Hello, everyone! Enjoy this extremely hot edition … I can feel the fire coming from my fingertips as I type this (OK, not really; I actually have goosebumps, as the AC is always too high here in the editorial department). At any rate, please review and send your feedback directly to: khuston@asicentral.com. It may be published in a future issue of Advantages magazine. For additional information, contact the supplier. To unsubscribe, follow the instructions at the end.Click here to subscribe to Advantages magazine.


– Kathy Huston, editor




ADVERTISEMENT


Award Winner
The Pitch: Wouldn't the "Brangie Bunch," as the entertainment media is now calling the Jolie-Pitt family (puhlease), love a product that makes parenting easier? (I mean, with their 30 kids and all…) It just so happens that Charles River Apparel (asi/44620) has recently won Disney's iParenting Media Award in the gifts category for its convertible travel bag/blanket. The item (#1002) was designed as a convenient "grab-and-go" solution for families, travelers and employee recognition. Made from water-resistant Softex Polyester and lined with anti-pill horizon fleece, it includes a large zippered front and back pocket with a detachable carrying strap. It can also be used as a seat cushion. Pricing starts at $38.50 (P) for one and it comes in black, forest, maroon, navy, red and royal. See it for yourself at: www.charlesriverapparel.com.

S.O.S.
The Pitch: In response to Starbucks' recent announcement that it's closing 600 locations, crazy people are actually starting "Save Our Starbucks" campaigns. You can go to: www.saveourstarbucks.com and type in your location, then state your complaint. Personally, their coffee makes me nauseous, and I have an idea: Buy a can of coffee at the grocery store for the price of one large latte and make your coffee before you leave the house. The industry sells very nice travel mugs; in particular, item # 483 from Numo a Kolder Company (asi/74710). It's a stainless-steel, 16-oz. insulated travel mug with plastic liner. Plus, it's on sale! Qty.-250; list price-$3.58; price code-R. Check it out at: http://www.numomfg.com/Products?search=483. Expires 9/30/08.
The Bottom Line: Save your money, honey

ADVERTISEMENT

ADVERTISEMENT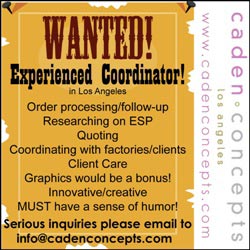 Use Protection
The Pitch: One of my friendly readers wants me to educate golfers about the dangers of not using sunscreen, protective lip balm, and sunglasses when they hit the links. John Courtney, of Keel Golf & Promo's in Florida, knows friends and relatives who have paid the price in skin cancer and eye problems because they failed to take these precautions. I also recently saw a family friend from Florida at a wedding, who was missing the top of his ear … I know, scary! You could parlay this into awareness campaigns at golf clubs and resorts and item #40405 from Pillowline/Norwood (asi/78105) is a great place to start. The sun-relief kit contains a 1-oz. bottle of PABA-free SPF-15 sunscreen, 1-oz. bottle of after-sun lotion and 1 SPF23 spearmint lip balm. They are conveniently packaged in a translucent, drawstring, PVC bag with a carabiner clip. Pricing starts at: Qty.-75; list price-$8.90; price code-Q. Go to: http://www.norwood.com/search/basic/?search=40405&Submit2=Search.
The Bottom Line: Use it or lose it (your nice skin, that is).
Time on Our Hands
The Pitch: Whether we choose to call it a "timeline" or "time horizon" (what's the difference, may I ask?), sometimes we really need a plan. Item #DZP-GS, a personal weekly planner with mini pen from Goldstar (asi/73295), is the ticket. It's on sale at: Qty.-100; list price-$1.80; price code-R. Think of all your holiday gift clients. See it up close and personal at: http://www.distributorcentral.com/websites/Goldstar/item_choose.cfm?listing=QuickSearch&strip=0&ClearListOrder=true&. Expires 9/01/08.
The Bottom Line: Plan ahead.
On the Radio
The Pitch: Yesterday morning on ASI Radio (www.asicentral.com/radio), we talked about all kinds of topics, including Counselor magazine's "Hot List" of hot people in the industry. My husband listened in as I sort of gushed over Charley from Snugz and he left a message on my voicemail: "I better be on your hot list!" LOL. (You are, Steve, not to worry.) By the way, Brandon from Snugz ... quite hot as well. Well, here's a product from Snugz USA Inc. (asi/88060) that's on my hot list too: Item # 03-06 is from their new SolutionZ line of gifts. It's a key chain with a digital camera that's smaller than a credit card and has 16 MB of memory. It can be used as a still camera (holding up to 246 photos), a video camera (holds several seconds of footage) and a web cam (which connects to a PC). It comes with a USB cable, carrying case, software CD and AAA battery. Pricing starts at: Qty.-25; list price-$17.75; price code-R. Click on: http://www.snugzusa.com/store/pc/viewPrd.asp?idcategory=32&idproduct=25.
The Bottom Line: Alert the paparazzi.
Advantages is bringing over 60 top suppliers to a city near you.
Come to the industry's largest and most popular traveling show, the ASI Advantages Roadshow. For a list of cities and dates, visit http://www.asishow.com/advroadshow/. Admission is free for all distributors and salespeople!
SPONSORED BY


Advantages™ Hot Deals is a trademark of the Advertising Specialty Institute. You were sent this newsletter as a benefit of your ASI membership. Copyright 2008, ASI. All Rights Reserved.
If you'd like us to send Advantages Hot Deals FREE to anyone else at your company (or to your off-site sales reps), go to www.asicentral.com/newsletters and complete the online form.
Interested in advertising in Advantages Hot Deals? Send an email to ddienna@asicentral.com
Click here to subscribe to Advantages™ magazine.
Advertising Specialty Institute®, 4800 Street Road, Trevose, PA 19053