SPONSORED BY



Sales Tip of the Week
It's me again, Kathy, your friendly provider of products and ideas. Not much new over here in Trevose, PA. How was your 4th of July? What's new in your neck of the woods? Whatever you're up to today, I hope you'll take two minutes to enjoy this edition. Send your feedback directly to: khuston@asicentral.com. It may be published in a future issue of Advantages magazine. For additional information, contact the supplier. To unsubscribe, follow the instructions at the end. Click here to subscribe to Advantages magazine

– Kathy Huston, editor




ADVERTISEMENT


Designated Driver
The Pitch: On my way home yesterday, I saw a teenage girl driving while listening to her iPod (with the ear buds in!) and text messaging at the same time. I kid you not. If I were closer to her car, I would have acted like the mother I am and said, "ARE YOU CRAZY?!" Of course, she wouldn't have been able to hear me with her ear buds in. Why not help promote safe driving with item #2069 from Firstpoint International (asi/54405)? It's a safe driving slide chart for teens. It includes tips on driver's education, permits and unsafe driving behaviors for parents to discuss with their kids, as well as 10 ways to keep your teen safe while driving. Let's start with no text messaging! Pricing starts at: Qty.-250; list price-66 cents; price code-R. Perfect for driver education classes, high schools and the automotive market. Web address: www.asisupplier.com/54405.
The Bottom Line: Toot your horn.

Hey, Hot Lips!
The Pitch: Merriam-Webster has just added "mental health day" to the dictionary. I say it's about time. I for one could use a whole bunch of them. Whilst one is de-stressing, let's say by the pool, stress-relief lip balm with SPF 23 would sure be welcome. Lips get stressed too, especially if you run a kissing booth. Pillowline/Norwood (asi/78105) offers item #40403 in green (eucalyptus/spearmint flavor) and purple (lavender/vanilla). Great for spas, resorts and outside events. Pricing starts at: Qty.-250; list price-$2.15; price code-R. Web address: www.norwood.com.
The Bottom Line: Soothing sensations.

ADVERTISEMENT

ADVERTISEMENT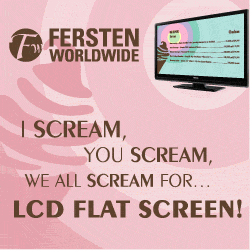 Tie One On
The Pitch: I might cook more if I had a stunning apron to wear. Oh, who am I kidding? Nevertheless, new Creative Color aprons from Caro-Line/Bandanna Promotions (asi/44020) would be hot stuff among your restaurant/chef-type clients. Any company's beautiful process color image covers 100% of the stain- and wrinkle-resistant fabric (poly-poplin or poly-duck). Call supplier for pricing on 12 to 59. You can get the poplin starting at: qty.-60; list price-$18.99; duck, $23.99. Web address: www.bandannapromotions.com.
The Bottom Line: Pretty as a picture.
Under the Microscope
The Pitch: PromoBizUSA LLC (asi/79903) has a really neat product. It's item #PP-TE, the Tele Peeper: A 7-in-1 plastic tool that includes a magnifying glass, 8x telescope, 30x microscope, flashlight, compass, whistle and digital clock. Just right for hikers, campers and even peeping Toms. Plus, how can you go wrong with EQP? Web address: www.promobizusa.com. Expires 9/30/08.
The Bottom Line: Be on the lookout.
Pull Up Your Pants, Please
The Pitch: Flint, Michigan is cracking down on people who wear those saggy, baggy pants that leave their undies on display. The police chief says it's indecent exposure. Well, here's a way to gain some decent exposure, while at the same time, holding up your drawers: Chemical Light Inc. (asi/44888) offers item #APR101EA. It's a light-up 52" LED belt, specifically geared toward the younger generation. The belt buckle has room for a large imprint. Batteries are included and installed. Think about bar promotions, concerts, parties … anywhere the kids are hanging out these days. Pricing starts at: Qty.-48; list price-$14.50; price code-R. Web address: www.asi44888.com.
The Bottom Line: Belt one out.
Advantages is bringing over 60 top suppliers to a city near you.
Come to the industry's largest and most popular traveling show, the ASI Advantages Roadshow. For a list of cities and dates, visit http://www.asishow.com/advroadshow/. Admission is free for all distributors and salespeople!
SPONSORED BY


Advantages™ Hot Deals is a trademark of the Advertising Specialty Institute. You were sent this newsletter as a benefit of your ASI membership. Copyright 2008, ASI. All Rights Reserved.
If you'd like us to send Advantages Hot Deals FREE to anyone else at your company (or to your off-site sales reps), go to www.asicentral.com/newsletters and complete the online form.
Interested in advertising in Advantages Hot Deals? Send an email to ddienna@asicentral.com
Click here to subscribe to Advantages™ magazine.
Advertising Specialty Institute®, 4800 Street Road, Trevose, PA 19053