SPONSORED BY



Sales Tip of the Week
Hey, how's your summer going? Four days into it and so far, so good over here in PA. Even the traffic coming to and from Sesame Place (which is close to my house) can't get me down. Enjoy the season and enjoy this edition! Send your feedback directly to: khuston@asicentral.com. It may be published in a future issue of Advantages magazine. For additional information, contact the supplier. To unsubscribe, follow the instructions at the end. Click here to subscribe to Advantages magazine

– Kathy Huston, editor




ADVERTISEMENT


Sendin' Out an S-O-S
The Pitch: True story: An American hiker stranded in the Bavarian Alps was recently rescued when she used her sports bra as a signal. I'm afraid nobody would notice mine if I did that, but that's beside the point. I guess you could add hiking clubs to the list of target markets that would appreciate sports bras (exercise facilities, breast-cancer support events, running clubs, etc.), and Thinc Actionwear (asi/91120) offers item #L970 at $13.98 (P) for a quantity of 36. This preshrunk, racer-back sports bra has double layering for extra support. Comes in black or white. Web address: www.thincactionwear.com.
The Bottom Line: Show your support.

Smells Fishy
The Pitch: As the Chinese proverb says, "Give a man a fish and you feed him for a day. Teach a man to fish and you feed him for a lifetime." What if you teach a man to fish in a great fishing shirt? Then, according to the Huston rendition, you feed him for a stylish lifetime. Tiger Hill/Cottex (asi/91261) has long- and short-sleeve fishing shirts made from stain- and wrinkle-resistant performance fabric, with extra loops for fishing tools. The vented back has a velcro closure. They are available in a whole wide range of colors, but I'd go with a color that attracts fish (what do you say, lime green?). For a quantity of 36, long-sleeve is $33.90 (P) and short-sleeve is $29.90 (P). Web address: www.tiger-hill.com.
The Bottom Line: I'm hooked.

ADVERTISEMENT

ADVERTISEMENT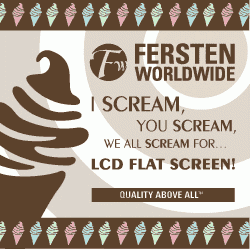 Don't Deny It
The Pitch: Boy George was denied a visa to travel to the U.S. this summer. (Do they really want to hurt him?) For those of us who can travel anywhere we please, Strong Leather Co. (asi/89960) has a sale on item #5382. It's a high-quality bonded black leather passport holder. Compact, 4 x 6 size holds a standard passport. Features turned edges, leather inside pockets and pleated corners. Sales price: Qty.-12; list price-$6.60; price code-R. Web address: www.strongleather.com. Expires 12/31/08.
The Bottom Line: Trippy.
What a Weenie
The Pitch: Bet you didn't know that there's a National Hot Dog & Sausage Council. Well, there is, and according to those people, Americans eat 818 hot dogs each second (you read that right) between Memorial Day and Labor Day. Let's take it in a little more upscale direction with gourmet mustard for everyone from Concepts Etc. Inc. (asi/46190). It's a fun idea for any company that wants to "spice up" their business. Item #9725, an 8-oz. jar of the condiment, starts at: Qty.-50; list price-$4.50; price code-P. Web address: www.conceptsetc.com.
The Bottom Line: This cuts the mustard.
Love It!
The Pitch: I want one of these, so Lanco, if you're listening … item #ST2000 from Lanco Corporation (asi/66224) is a patent-pending combo SPF 15 sunscreen in a skinny spray bottle on one side, with peppermint lip balm on the other. Very cool for any outdoorsy types or bathing beauties in general. And guys, the slim, 5/8-inch diameter allows you to tuck it nicely into your Speedo. OK, now that I put that imagery into everyone's heads, let's move on to pricing: Qty.-250; list price-$2.99; price code-R. Web address: www.lancopromo.com.
The Bottom Line: Apply, don't fry.
Advantages is bringing over 60 top suppliers to a city near you.
Come to the industry's largest and most popular traveling show, the ASI Advantages Roadshow. For a list of cities and dates, visit http://www.asishow.com/advroadshow/. Admission is free for all distributors and salespeople!
SPONSORED BY


Advantages™ Hot Deals is a trademark of the Advertising Specialty Institute. You were sent this newsletter as a benefit of your ASI membership. Copyright 2008, ASI. All Rights Reserved.
If you'd like us to send Advantages Hot Deals FREE to anyone else at your company (or to your off-site sales reps), go to www.asicentral.com/newsletters and complete the online form.
Interested in advertising in Advantages Hot Deals? Send an email to ddienna@asicentral.com
Click here to subscribe to Advantages™ magazine.
Advertising Specialty Institute®, 4800 Street Road, Trevose, PA 19053