SPONSORED BY



Sales Tip of the Week
Life brings disappointments sometimes (just ask all the people who bet on Big Brown on Saturday). But I don't have a bad hoof and I hope my work will pay off for you. Enjoy! Send your feedback directly to: khuston@asicentral.com. It may be published in a future issue of Advantages magazine. For additional information, contact the supplier. To unsubscribe, follow the instructions at the end. Click here to subscribe to Advantages magazine.

– Kathy Huston, editor




ADVERTISEMENT


Nappy Time
The Pitch: One-third of U.S. employees have fallen asleep on the job, according to results of the National Sleep Foundation's annual "Sleep in America" poll. (In fact, I am yawning right now.) Help wake everybody up with Sonic Rocks from Prime Line (asi/79530). You may have seen these before, but item #PL-8200 comes in a fun new shape and features a global map etched on the magnets and stamped on the lid of the tin they are packaged in. "They sizzle, they chirp, they buzz and they whistle," the supplier says. And they do. It's a great way to relieve stress and delight coworkers (or annoy them, depending on who gets up on the wrong side of the bed). Pricing starts at: Qty.-100; list price-$7.30; price code-P. Web address: www.primeline.com.
The Bottom Line: Wake-up call.

Star Power
The Pitch: Three cheers for the red, white and blue, and for chocolate! Chocolate Chocolate (asi/44897) has special pricing on dark chocolate stars in blue or red foil: bag of 34 (per color) for just $27.20(R). These are stock products in the Express Collection and are available to ship in 72 hours or less. In keeping with the patriotic theme, all are made in the USA at the supplier's chocolate factory in Blaine, WA (why can't I work in a chocolate factory?) and are produced with the finest Belgian chocolate. (For more USA-made items, check out Advantages magazine's "Made in the USA" supplement, coming with your July issue. Web address: www.chocolate2.com. Expires 07/31/08.
The Bottom Line: Oh say can you see savings?

ADVERTISEMENT

ADVERTISEMENT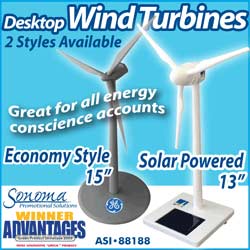 Saucy Tomato
The Pitch: You say tomato, I say salmonella. Yup, tomatoes have been pulled off shelves nationwide and I will miss them while they are away. Did you know they are good for your prostate? Not that I have one. At any rate, every kitchen can use a 60-minute tomato timer (item #TOMATO, appropriately) from Essef Distributors Inc. (asi/52710). Pricing starts at: Qty.-200; list price-$2.49; price code-R. Web address: www.thelincolnline.com.
The Bottom Line: Ripe for sales.
We're Havin' a Heat Wave
The Pitch: It's only 100 degrees here in lovely Trevose, PA. And guess what? My AC broke down on Sunday afternoon. Thankfully, we got it fixed Monday afternoon, but I could have used the Cool Breeze fan with spray mister (#PEY1200) from Lanco Corporation (asi/66224) for that full, sweat-drenched day. These would be great for amusement parks and sporting events … anywhere the heat is on. Pricing starts at: Qty.-250; list price-$2.89; price code-R. Web address: www.lancopromo.com.
The Bottom Line: Don't let them see you sweat.
ADVERTISEMENT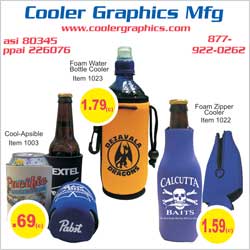 No Worries
The Pitch: Ballanda Corporation (asi/38140) has a Web key that plugs into a USB port and immediately transports the user directly to a specific page, automatically. It's completely virus-free, unlike the one in four adults in NYC infected with the herpes virus (surely, you've read the reports). I'm not even fooling around (apparently a lot of New Yorkers are though). Item #CA031 is a great gift for anyone who uses the Internet, which leaves your options wide open. Pricing starts at: Qty.-250; list price-$2.89; price code-R. Web address: www.ballanda.com.
The Bottom Line: Infection protection.
Advantages is bringing over 60 top suppliers to a city near you.
Come to the industry's largest and most popular traveling show, the ASI Advantages Roadshow. For a list of cities and dates, visit http://www.asishow.com/advroadshow/. Admission is free for all distributors and salespeople!
SPONSORED BY


Advantages™ Hot Deals is a trademark of the Advertising Specialty Institute. You were sent this newsletter as a benefit of your ASI membership. Copyright 2008, ASI. All Rights Reserved.
If you'd like us to send Advantages Hot Deals FREE to anyone else at your company (or to your off-site sales reps), go to www.asicentral.com/newsletters and complete the online form.
Interested in advertising in Advantages Hot Deals? Send an email to ddienna@asicentral.com
Click here to subscribe to Advantages™ magazine.
Advertising Specialty Institute®, 4800 Street Road, Trevose, PA 19053