Advantages™ Hot Deals Newsletter

Volume 183 / May 28, 2008

Keeping you in the loop on products and deals you may not have heard about.
SPONSORED BY



It's unofficially summer and officially my favorite time of year. Here, I will spotlight some products I think are especially summer-delightful.

Sales Tip of the Week
Enjoy, preferably while sipping a frosty beverage, and don't forget to change your computer wallpaper to a relaxing island scene. Send your feedback directly to: khuston@asicentral.com. It may be published in a future issue of Advantages magazine. For additional information, contact the supplier. To unsubscribe, follow the instructions at the end.
– Kathy Huston, editor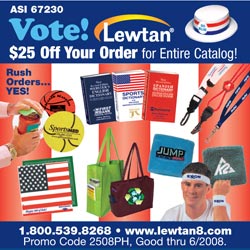 It's All Here
The Pitch: SPF 30 sunscreen (2 oz.) … check; SPF 15 lip balm … check; breath mints for flirting with the cute lifeguard … check. Item #2001 from Leashables By Oralabs (asi/66715) has all of these products, conveniently packaged in a travel-friendly, see-through bag. Pricing starts at: Qty.-100; list price-$5.49; price code-R. Web address: www.leashables.com.
The Bottom Line: Summer savers.
Beach Blanket Bingo
The Pitch: My son went to the beach the other day with no towel! Who does that, other than spacey teenage boys? "I didn't die without one, Mom," he said. I, however, would indeed die without all the necessary comforts at the beach. Item #V05-E from Fairdeal Import & Export Ltd. (asi/53509) seems just right for me and others who like a little luxury. It's a plush cotton terry velour towel with headrest. It has a security pocket and rolls up quick and easy with elastic roll cords and adjustable 30" shoulder carry strap. Pricing starts at: Qty.-100; list price-$54.08; price code-R. Web address: www.fiel.com.
The Bottom Line: Snooze in the sand.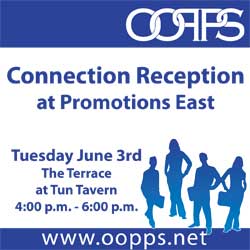 The Boys of Summer
The Pitch: I watched the Phillies roll over the Rockies again last night, live and in person at Citizens Bank Park. (Sorry to my Colorado e-mail buddy and Rockies supporter, Jerry Webster.). It was Fightin' Phils Cap Night, but wouldn't this make a fun giveaway too? Item #10252 from Action Line/Norwood (asi/31010) is a baseball maraca/key holder/bottle opener. Shaking your maracas would certainly spice up your rendition of "Take Me Out to the Ballgame," would it not? Pricing starts at: Qty.-250; list price-$2.31; price code-R. Web address: www.norwood.com.
The Bottom Line: Increase your batting average.
For the Canoodlers
The Pitch: I read this morning that actress Kate Hudson and uber-biker Lance Armstrong were "spotted canoodling in Cannes." Good for them! I should really canoodle more. For athletes and canoodlers everywhere, Expert Performance T (asi/53404) has an inexpensive men's sleeveless tank with self fabric binding. It has a relaxed fit for maximum comfort and is made from 100% microfiber oXy mesh construction. It features moisture-wicking technology and antimicrobial treatment with Body Freshe to keep guys fresh as a daisy. Pricing starts at: Qty.-12; list price-$8.18; price code-R (size 2XL will cost extra). It comes in navy, red and white. They also have a women's version available. Web address: www.expertperformancet.com.
The Bottom Line: Fresh and fabulous.
Sunny Honey
The Pitch: You've heard of Hints from Heloise? Well, here's a little tip from Kathy (sorry, I couldn't think of any 'K' words for hints … if you can, let me know): I like to use sunscreen as a moisturizer sometimes, because of the tropical scent, the sun protection factor and the awesomeness of always feeling like you're in the tropics, even when you're in a stuffy office with fluorescent lighting. Natural Trends (asi/73497) has a whole bunch of great sunscreens available, including item #AB3404, 4 oz. with SPF 45 in a clear oval bottle with black or white press lid. The water-resistant formula protects against UVA and UVB rays. It has a light tropical fragrance and the FDA-required drug facts label is included. Perfect for resorts, pool clubs, outdoor events and more. Pricing starts at: Qty.-250; list price-$4.35; price code-R. Web address: www.naturaltrends.com.
The Bottom Line: A shore thing.

Advantages is bringing over 60 top suppliers to a city near you.
Come to the industry's largest and most popular traveling show, the ASI Advantages Roadshow. For a list of cities and dates, visit http://www.asishow.com/advroadshow/. Admission is free for all distributors and salespeople!
SPONSORED BY


Advantages™ Hot Deals is a trademark of the Advertising Specialty Institute. You were sent this newsletter as a benefit of your ASI membership. Copyright 2008, ASI. All Rights Reserved.
If you'd like us to send Advantages Hot Deals FREE to anyone else at your company (or to your off-site sales reps), go to www.asicentral.com/newsletters and complete the online form.
Interested in advertising in Advantages Hot Deals? Send an email to ddienna@asicentral.com
Click here to subscribe to Advantages™ magazine.
Advertising Specialty Institute®, 4800 Street Road, Trevose, PA 19053