Advantages™ Hot Deals Newsletter

Volume 182 / May 21, 2008

Keeping you in the loop on products and deals you may not have heard about.
SPONSORED BY



There's a lot of chatter this week, including talk of man beasts, boy boobs and, of course, speculation about which David will be crowned the new American Idol tonight (you can Google any of them to see what I mean).

Sales Tip of the Week
I hope you can break away from your Internet news and gossip coverage for just two minutes to enjoy this edition (I had to break away to write this and tape my sales tip, after all).Send your feedback directly to: khuston@asicentral.com. It may be published in a future issue of Advantages magazine. For additional information, contact the supplier. To unsubscribe, follow the instructions at the end.
– Kathy Huston, editor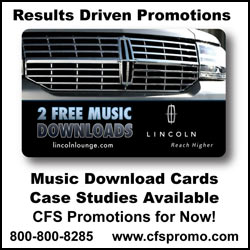 Flip Your Lid
The Pitch: Summer is just around the corner (I know, because I watched Oprah's "Favorite Things for Summer" show last week). HumphreyLine Inc. (asi/62050) has something fun for the kids. Item #603-offsetFlye, is a sand pail with shovel, which also has a lid that is a flying disc. Great idea for summer camps and resorts with kids' clubs. Pricing starts at: Qty.-5,000; list price-.45; price code-R. Web address: www.humphreyline.com.
The Bottom Line: A bucket of bucks.
Injection Connection
The Pitch: According to Universal Promotions Inc. (asi/92977), August is Immunization Awareness Month (I was not aware). Item #8009-012-S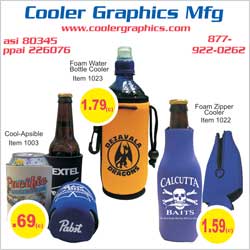 is an immunization schedule magnet and is perfect for pediatricians, day care centers and schools. Pricing starts at: Qty.-250; list price-.99; price code-Q. Web address: www.uplineideas.com.
The Bottom Line: Your best shot.
Kick Some Ash
The Pitch: I just learned today that Oscar Wilde smoked 80 cigarettes a day. You'd be surprised at the factoids this little brain of mine holds. I can only imagine what his lungs looked like, not to mention, his teeth. These days, we are far more knowledgeable about the harmful effects of smoking, but those trying to kick the habit would appreciate the "No Smoking, No Joking" mini perpetual daily calendar, with humorous sayings and inspiration from Great Quotations Inc. (asi/58087).It's item #776116 and pricing starts at: Qty.-100; list price-$6.67; price code-R. Just what you need for anti-smoking campaigns, health clinics and more.
Web address: www.greatquotationsinc.com.
The Bottom Line: Lung-saver.
Roll the Dice
The Pitch: Here's a different product for your fitness club clients and employee wellness programs: Wooden dice that you roll to find which activity to do: pump iron, go for a run, take a walk, relax with yoga or do aerobics (I don't see "take a nap" anywhere on there). Item #6630-07 is from Leeds (asi/66887) and it's from their new $10 and under Gusto! line. Pricing starts at: Qty.-144; list price-$2.40; price code-P. Web address: www.leedsworld.com.
The Bottom Line: Sales are shaping up.
Ice Queen
The Pitch: If you're mad for make-up (maybe even some of you guys – I don't judge), you know how gross it is when your blush and lipstick "sweat" from the summer heat.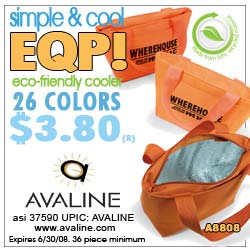 Via! For Travel (asi/93757) has item #TR125, an insulated nylon cosmetic bag with an ice pack for extended cooling. It also keeps medication fresh when you're traveling in stuffy planes, trains and automobiles. It comes in pink, with a khaki bottom. Nice idea for travel clients and clowns. Pricing starts at: Qty.-100; list price-$8.25; price code-R. Web address: www.viafortravel.com.
The Bottom Line: Bag with bonus.
WAKE UP!
The Pitch: I had to add another entry because there are so many ads this week, so I looked up "sleepy" and "tired" on ESP Online, since I am hitting my afternoon slump (it's about 3 p.m. as I write this). I came across this product, which I've never seen before: Item #NDOZ from Essef Distributtors Inc. (asi/52710) is a personal alarm that fits on your ear and goes off when your head drops. The supplier notes this could be a lifesaver for sleepy drivers. (And it could wake me up before any ASI big wigs stop by my office, too!) Pricing starts at: Qty.-300; list price-$1.79- price code-R. Web address: www.thelincolnline.com.
The Bottom Line: I'm alarmed.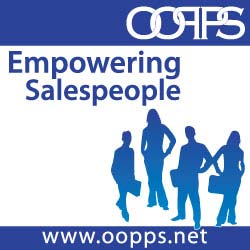 Do You Feel Lucky, Punk?
The Pitch: OK, so I got the proof of this edition and I still had to add yet another entry. Is this your lucky day or what? Speaking of luck, Hog Wild LLC (asi/61228) has a fun, and dare I say addictive, pen. Item # 45071 is the Jackpot Pen. Crank the slot-machine-style handle and push the top button to release slot-style windows. Pitch it to casinos (of course) and nonprofits who hold casino nights for fundraisers. Also think of anyone who wants their customers to take a chance on them. Pricing starts at: Qty.-150; list price-$6; price code-R. Web address: www.wildline.com.
The Bottom Line: You've hit the jackpot.

Advantages is bringing over 60 top suppliers to a city near you.
Come to the industry's largest and most popular traveling show, the ASI Advantages Roadshow. For a list of cities and dates, visit http://www.asishow.com/advroadshow/. Admission is free for all distributors and salespeople!
SPONSORED BY


Advantages™ Hot Deals is a trademark of the Advertising Specialty Institute. You were sent this newsletter as a benefit of your ASI membership. Copyright 2008, ASI. All Rights Reserved.
If you'd like us to send Advantages Hot Deals FREE to anyone else at your company (or to your off-site sales reps), go to www.asicentral.com/newsletters and complete the online form.
Interested in advertising in Advantages Hot Deals? Send an email to ddienna@asicentral.com
Click here to subscribe to Advantages™ magazine.
Advertising Specialty Institute®, 4800 Street Road, Trevose, PA 19053