Advantages™ Hot Deals Newsletter

Volume 181 / May 14, 2008

Keeping you in the loop on products and deals you may not have heard about.
SPONSORED BY




Sales Tip of the Week
On Mother's Day, my husband and kids brought me a gourmet breakfast in bed: Special K with bananas and coffee. It's what I asked for. Usually, I get Pop Tarts, but this year I chose to go healthy. Hope your day went according to plan too! Enjoy this edition and send your feedback directly to: khuston@asicentral.com. It may be published in a future issue of Advantages magazine. For additional information, contact the supplier. To unsubscribe, follow the instructions at the end.
– Kathy Huston, editor
Pump You Up
The Pitch: My 14-year-old, Andrew, lifts weights now. He flexes in the mirror and says, "Everybody wants a piece of the Andy candy." Similarly delusional "muscle men" might like item #309 from ETS Express (asi/51197): a glass mug with a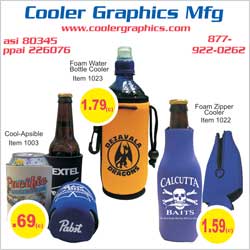 muscle-shaped handle, which holds almost 21 ounces. Think about your fitness club clients, wrestling teams, weightlifting clubs and anyone who wants to strong-arm the competition. It's on sale at: Qty.-144; list price-$4.89; price code-R. Web address: www.etsexpress.com. Expires 5/31/08.
The Bottom Line: Muscle power.
Shhhhhhh
The Pitch: This week, I can't tell you who got kicked off Dancing with the Stars, because last week, I got in trouble from Sandy, who TiVo's it and watches it on Wednesday nights. So, I am keeping it secret (of course, you can find it all over the Internet). However, I can't keep this special deal secret: Item #R100 from Express Pens/Express Time Source (asi/53411) is on sale at EQP. It's a credit-card-sized case with mints on one side and toothpicks on the other. They're called "Lindermints." Get it? Because the company management's last name is Linderman. Simply perfect for your restaurant clients. Web address: www.expresspens.com. Expires 6/30/08.
The Bottom Line: Minty fresh.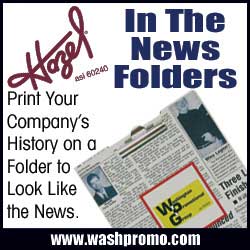 We're All on Drugs
The Pitch: Half of us are on prescription meds, according to a study by Medco Health Solutions Inc. Yes, half of all insured Americans are on drugs to manage chronic conditions like high blood pressure and cholesterol, so why not take advantage of savings on item #GEM59 from Gemini Industries Inc. (asi/56100)? It's a pill-shaped pill box on a key holder, on sale at: Qty.-200; list price-59 cents; price code-R. Web address: www.geminiindustries.com. Expires 6/30/08.
The Bottom Line: Take two and call me in the morning.
Count on Me
The Pitch: You can always count on Dad. Dads would appreciate something to count on too, so why not give them a calculator to add up all the money they spend on the kids? (You know, money doesn't grow on trees.) Father's Day is June 15. Premier Mart Inc. (asi/79530) has sales pricing on item #EC-800: an eight-digit, solar-powered calculator/business card holder with pen. Qty.-200; list price-$3.25; price code-R. Web address: www.premiermart.com. Expires 5/31/08.
The Bottom Line: It all adds up.
I Believe
The Pitch: The Vatican's chief astronomer says it's OK for Catholics to believe in aliens and I say, "Right on!" … After all, I cried through ET, the Extraterrestrial four times, totally believing aliens and humans could be friends ("I'll be right here"). Wow, that's the second week in a row that I mentioned ET. Weird. Anyway, who knows what's really out there in the big, wide universe? The Book Co. (asi/41010) helps explain part of it in a hardcover version of the Encyclopedia of Space (item #0792273192). It covers the planets, telescopes, manned space flight, satellites and the origin of the universe. It's a unique idea for planetariums, astronomy clubs and anyone whose service is out of this world. Pricing starts at: Qty.-50; list price-$36.95; price code-R. Web address: www.thebookco.com.
The Bottom Line: To the moon (and then some).

Advantages is bringing over 60 top suppliers to a city near you.
Come to the industry's largest and most popular traveling show, the ASI Advantages Roadshow. For a list of cities and dates, visit http://www.asishow.com/advroadshow/. Admission is free for all distributors and salespeople!
SPONSORED BY


Advantages™ Hot Deals is a trademark of the Advertising Specialty Institute. You were sent this newsletter as a benefit of your ASI membership. Copyright 2008, ASI. All Rights Reserved.
If you'd like us to send Advantages Hot Deals FREE to anyone else at your company (or to your off-site sales reps), go to www.asicentral.com/newsletters and complete the online form.
Interested in advertising in Advantages Hot Deals? Send an email to ddienna@asicentral.com
Click here to subscribe to Advantages™ magazine.
Advertising Specialty Institute®, 4800 Street Road, Trevose, PA 19053