Advantages™ Hot Deals Newsletter
Volume 180 / May 7, 2008
Keeping you in the loop on products and deals you may not have heard about.
SPONSORED BY



OK, I am exhausted. I had too much to keep track of last night: First, of course, American Idol (I'm sorry, but Jason has got to go); next, I had to tune in to see who got kicked off of Dancing With the Stars (bye, bye Mario; I'll miss you!); then, I had to check out primary results from Indiana and North Carolina (I heart Anderson Cooper). So, let's see if I can cobble something together for you after all that.

Sales Tip of the Week
Enjoy and send your feedback directly to: khuston@asicentral.com. It may be published in a future issue of Advantages magazine. For additional information, contact the supplier. To unsubscribe, follow the instructions at the end.
– Kathy Huston, editor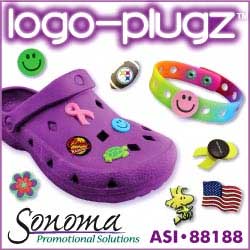 Why Don't You Open Up?
The Pitch: Most of us don't have $6.4 million to lend ourselves (read the political blogs), but suppliers are willing to put a few extra bucks in your pocket. CNIJ (asi/43008), for instance, is giving you EQP on bottle opener keychains, perfect for this time of year, what with picnics, outdoor events, baseball tailgate parties and more. Check them out at: www.cnij.com. Expires 7/31/08.
The Bottom Line: The key to good times.
Hollah!
The Pitch: Here's a shout out to moms, because Sunday is Mother's Day, and also because we really do rock. Plus, as I tell my kids, moms are always right (then they roll their eyes). Peter Pauper Press Inc. (asi/77802) has a cute little book (#5599) that honors moms all year long. You Said It, Mom! A Celebration of Motherhood is an 80-page hardcover book with a 24K gold-plated charm to keep on the ribbon bookmark or wear on a bracelet. Think about flower shops; gift stores; maternity boutiques; daycare centers and more. Pricing starts at: Qty.-100; list price-$4.36; price code-R. Web address: www.asisupplier.com/77802.
The Bottom Line: Word to your mother.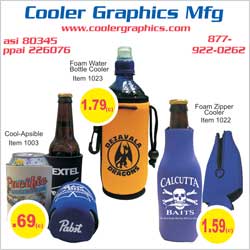 Lip-Lock
The Pitch: There was a report last week about lip gloss causing skin cancer. What?! How's a girl supposed to keep her pout kissably soft and luscious? Natural Trends (asi/73497) has an idea: Item #LMJF01 is a new mini jar of SPF 15, petroleum-free, natural soy-based lip balm, which comes in 6 brilliant colors. It's also enriched with beeswax, shea butter, vitamin E and aloe and includes FDA-required drug facts label. Plus you can get them at next-column pricing. Web address: www.naturaltrends.com. Expires 5/31/08.
The Bottom Line: Pucker protection.
It's For You
The Pitch: If ET phoned home with the Net Phone (#WCP-PTO7) from Ariel Premium Supply Inc. (asi/36730), it would be a lot cheaper. Communicate PC to PC via the Internet. Plugs into computer USB, microphone and earphone ports. It has a computer mouse design, adjustable volume control and lights up like ET's finger when in use. Requires Internet connection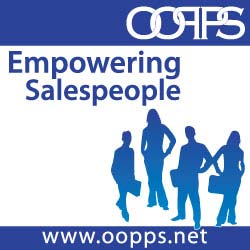 and outline communication program. Pricing starts at: Qty.-50; list price-$10.33; price code-R. Web address: www.asisupplier.com/linline.
The Bottom Line: Don't put this on hold.
Hey, Dog Breath!
The Pitch: Is Poopsie losing friends with her putrid poodle breath? Custom HBC Corp. (asi/47934) offers the Doggie Dental pet finger toothbrush (#30505-000PET). Just swipe across teeth and gums and it freshens as it promotes good oral hygiene with pet-specific formulas. It's a great and inexpensive idea for any pet-related promotion, including vets, groomers and trainers. Pricing starts at: Qty.-100; list price-.89; price code-R. Web address: www.customhbc.com.
The Bottom Line: Freshen Fido.
Deal of the Week
Exclusively from Corporate Key - asi/63053
Factory Direct Flash Drive USB 2.0 (SW and TX-110)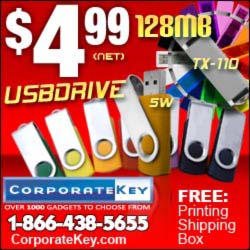 Beautifully designed drives that makes great gift for executives!! Minimum quantity 100 pcs.

Uses any USB 2.0/1.1 port
Password Protection
Fast Data Access Rate
Retains Data for up to 10 years
LED Read/Write Indicator
Optional Accessories
We match PMS colors for your choice
of Body colors!
Advantages is bringing over 60 top suppliers to a city near you.
Come to the industry's largest and most popular traveling show, the ASI Advantages Roadshow. For a list of cities and dates, visit http://www.asishow.com/advroadshow/. Admission is free for all distributors and salespeople!
SPONSORED BY


Advantages™ Hot Deals is a trademark of the Advertising Specialty Institute. You were sent this newsletter as a benefit of your ASI membership. Copyright 2008, ASI. All Rights Reserved.
If you'd like us to send Advantages Hot Deals FREE to anyone else at your company (or to your off-site sales reps), go to www.asicentral.com/newsletters and complete the online form.
Interested in advertising in Advantages Hot Deals? Send an email to ddienna@asicentral.com
Click here to subscribe to Advantages™ magazine.
Advertising Specialty Institute®, 4800 Street Road, Trevose, PA 19053