Advantages™ Hot Deals Newsletter
Volume 179 / April 30, 2008
Keeping you in the loop on products and deals you may not have heard about.
SPONSORED BY



Hello, friends. Listen, can you do me a fave? When you have something to say about Hot Deals, e-mail me directly at the address I have here, rather than just replying to the Hot Deals inbox? When you do that, your e-mail gets terribly buried amidst a barrage of "enlargement" and Viagra messages. On that note, hope your day is looking up.

Sales Tip of the Week
Enjoy and send your feedback directly to: khuston@asicentral.com. It may be published in a future issue of Advantages magazine. For additional information, contact the supplier. To unsubscribe, follow the instructions at the end
– Kathy Huston, editor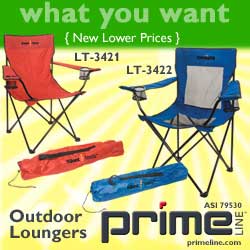 What a Trip
The Pitch: Yesterday, the guy who invented LSD died (or did I only hallucinate that?). Albert Hofmann was 102 and will be sadly missed by '60s hippies everywhere, if they still have enough brain cells to remember him. How about some tie-dye to cheer you up? Dyenomite (asi/51185) offers the Bollinger Spider cotton short-sleeve team tie dye, which puts a unique twist on team or group apparel. Starts at: Qty.-12; list price-$13.18; price code-P. 2XL and 3XL sizes will involve additional costs. Also check out our tie-dye showcase in the upcoming June issue of Advantages magazine. Web address: www.dyenomite.com.
The Bottom Line: Feelin' groovy.
You Can Never Be Too Safe
The Pitch: You've heard of death by chocolate? How about safety by chocolate? Chocolate Chocolate (asi/44897) wants you to know that June is National Safety Month and they've got plenty of delicious items to help you out. From milk-chocolate hard-hats that say "Think Safety," to fire hats and bars with wrappers that say, "It can't hurt to be too safe," this supplier has got you covered. Check out their offerings and prices in their Express Collection (ready to ship in three or less working days) at: www.chocolate2.com.
The Bottom Line: Sweet safety.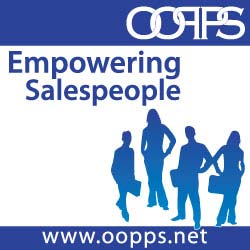 Back Off, Bacteria
The Pitch: Yeast is only good if you're baking (not that I have hands-on experience). Any germaphobe would appreciate HPC Global's (asi/58805) antimicrobial pens, with technology that prevents the growth of microbes such as bacteria, mold, mildew and yes, yeast. Great idea for hospitals, doctors, schools and daycares and more. They have sales pricing on item #SF3319 too: Qty.-500; list price-.34; price code-R. Web address: www.hpcglobal.com. Expires 12/31/08.
The Bottom Line: The gift of good health.
Nice Set
The Pitch: The other night, when we schlepped our bottle of cabernet over to our favorite BYOB Chinese restaurant, I thought, we really could use a wine carrier (at least I had the "class" to take it out of the brown paper bag). Gold Bond Inc. (asi/57653) has a sale on item #DWCS, Deluxe Wine Carrier Gift Set, featuring padded interior for bottle and tools that are included, like drip ring, corkscrew and foil cutter, and bottle stopper. It comes in a gift box. This is a very nice idea for wineries and BYOBs and would make a perfect gift for wine lovers and editors named Kathy. Qty.-24; list price-$16.50; price code-R. Web address: www.goldbondinc.com.
The Bottom Line: Uncork a sale.
Shiny, Happy People
The Pitch: I have what you'd call oily skin. In fact, when we were first married, my husband woke up next to me one morning and said, "I can see myself in your face." True story. Call him Romeo. Anyway, as simple as it may seem, a product like item #FT950 from Via! For Travel (asi/93757), really gets someone like me excited. It's a designer oil blotter paper holder, quality silver-nickel-plated, with convenient mirror inside. And it includes 50 blotter sheets to help absorb excess oils and keep faces shine-free. Pricing starts at: Qty.-100; list price-$10; price code-R. Think of your spa and salon clients as terrific targets. Wouldn't this be fun to receive after that expensive facial? Web address: www.viafortravel.com.
The Bottom Line: No greasy mess.
Deal of the Week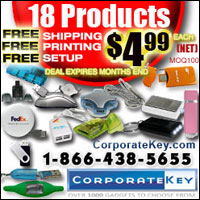 Exclusively from Corporate Key - asi/63053
4.99 Special!!!
Beautifully designed products that make great gifts for executives!! Minimum quantity 100 pcs. Any product from the list for $4.99 Net!

Includes USB Drives, USB HUBs, Card Readers, Web-button, Mini Optical Retractable Travel Mouse, LED Solar Keychains and a Sports Watch
Model numbers for above items are SW 2.0 64MB, SW 2.0 128MB, SW 2.0 256MB, TX-110 2.0 64MB, TX-110 2.0 128MB,TX-110 2.0 256MB, WEB-100, HUB-200, HUB-201, HUB-204, SKL-50, SKL-100, MOR-11, EON-100, SDR-1, SDR-2, SDR-3 and SDR-4
Minimum Order Quantities – 100 ONLY!!
Advantages is bringing over 60 top suppliers to a city near you.
Come to the industry's largest and most popular traveling show, the ASI Advantages Roadshow. For a list of cities and dates, visit http://www.asishow.com/advroadshow/. Admission is free for all distributors and salespeople!
SPONSORED BY


Advantages™ Hot Deals is a trademark of the Advertising Specialty Institute. You were sent this newsletter as a benefit of your ASI membership. Copyright 2008, ASI. All Rights Reserved.
If you'd like us to send Advantages Hot Deals FREE to anyone else at your company (or to your off-site sales reps), go to www.asicentral.com/newsletters and complete the online form.
Interested in advertising in Advantages Hot Deals? Send an email to ddienna@asicentral.com
Click here to subscribe to Advantages™ magazine.
Advertising Specialty Institute®, 4800 Street Road, Trevose, PA 19053