Advantages™ Hot Deals Newsletter
Volume 178 / April 23, 2008
Keeping you in the loop on products and deals you may not have heard about.
SPONSORED BY



This is how my horoscope begins: "Today will be a lovely, breezy day -- so why not get outdoors and enjoy some of the fresh air?" On that note, I'm leaving my stuffy office, so no Hot Deals. Just kidding! Would I do that to you? I do hope you are enjoying this lovely day and enjoy this edition too. Send your feedback directly to: khuston@asicentral.com. It may be published in a future issue of Advantages magazine. For additional information, contact the supplier. To unsubscribe, follow the instructions at the end.
– Kathy Huston, editor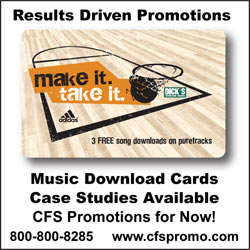 Lure Them with This
The Pitch: Ball Pro Inc. (asi/38120) has EQP on Full Wrap Flash Spoons and Rapala Rattlin' Rap fishing lures, which they say will "make fish attack" (insert scary music from Jaws here). Think of tournaments, bait-and-tackle shops and any company that's fishing for business. Also, think of nonprofits that want to reel in volunteers. Web address: www.ballpro.com. Expires 4/30/08.
The Bottom Line: This sounds fishy to me.
Bamboo for You
The Pitch: Naturally sustainable, moisture-wicking, antibacterial and UV-resistant … what's not to love about Jerico Sportswear's (asi/63304)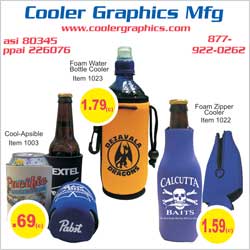 bamboo T-shirts (1 at $16, P) and hoodies (1 at $50, P)? They even have them in Retro Red. As the Brady kids would say, "Far out!" Check them out at: www.jericosport.com.
The Bottom Line: Eco-comfort.
Chill Pill
The Pitch: This is cool … literally. Chill Cooling Towels (asi/44814) has sports towels of the same name that cool you off anytime, anywhere, 20 degrees below body temp, without refrigeration. They smell like citrus, have natural ingredients like aloe and menthol and come in small, medium and large. Besides sports fundraisers and athletic teams, think of resorts, amusement parks, health clubs and more. Pricing starts at: Qty.-144; list price-$2.99; price code-P. You can check out their video, including very adorable penguins, at: www.chilltowels.com.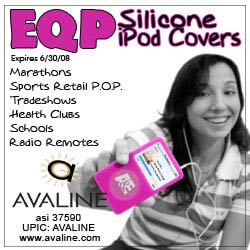 The Bottom Line: No sweat, dude.
Take It on the Run
The Pitch: Faster than you can say "super delegates," the Democratic contenders high-tailed it out of the Keystone State. But you don't have to be running for president to appreciate a unique travel gift. For those on the go, Logomark (asi/67866) offers item #GC1503, a seven-piece, deluxe computer tech travel kit. It includes a mini mouse, 4-port 2.0v USB hub with retractable cable, mini plug to USB extending cable, USB LED flex light, universal power adaptor, RJ45 extending cable, and retractable earbud headset with microphone. Pricing starts at: Qty.-50; list price-$44.45; price code-R. Web address: www.logomark.com.
The Bottom Line: Plug in.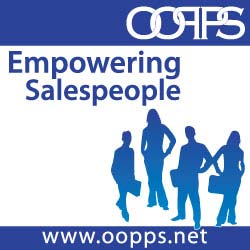 Oh No She Didn't!
The Pitch: Remember Star Jones – once chubby, now skinny ex-member of The View? Well, she made a super-huge deal of her wedding 3 ½ years ago and now…Splitsville USA. I wonder if she'll have a spectacular divorce party. I actually went to one in the '80s, hosted by both ex-spouses, complete with a banner that said, "Just friends, lovers no more." I guess you could say they were pioneers, because these days, divorce parties are all the rage. Anyone looking for banners should take advantage of this deal from Bannersandcards.com (asi/38310). Buy one banner and get the second (same size) at 50% off. Web address: www.bannersandcards.com. Expires 4/30/08.
The Bottom Line: It's a banner day.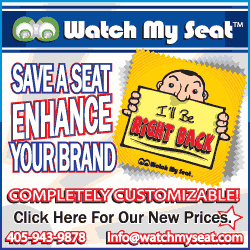 Flip-Flopper
The Pitch: You thought I was going to talk about the candidates again, didn't you? But, no, I'm talking actual flip-flops. John at Neet Feet (asi/73525) sent me a pair of item #KEYW, featuring leatherette straps embellished with Swarovski crystals on a pantone color 15mm EVA /rubber sole. I do take bribes, so I'm writing about them. I'm just kidding! He didn't ask for anything and they are actually quite delightful and start at: Qty.-100- list price-$18.99; price code-S. The supplier suggests they are perfect for special occasions, like Star's divorce party. Do you see how I tied that all together? Everyone can use a pair of snazzy flip-flops this time of year. Web address: www.neetfeet.com.
The Bottom Line: Thanks, John!
Deal of the Week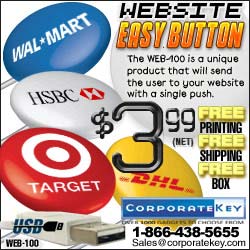 Exclusively from Corporate Key - asi/63053
Push Button Link USB 2.0 (WEB-100)
Simply plug in the USB connecter, Push the button and your default web browser will open your website URL. Seven individual internal LED lights rotate continuously when plugged in!! Minimum quantity 100 pcs.
FREE 1 Color Imprint
FREE Set-up
FREE URL Load
FREE Shipping
Uses any USB 2.0/1.1 port
Advantages is bringing over 60 top suppliers to a city near you.
Come to the industry's largest and most popular traveling show, the ASI Advantages Roadshow. For a list of cities and dates, visit http://www.asishow.com/advroadshow/. Admission is free for all distributors and salespeople!
SPONSORED BY


Advantages™ Hot Deals is a trademark of the Advertising Specialty Institute. You were sent this newsletter as a benefit of your ASI membership. Copyright 2008, ASI. All Rights Reserved.
If you'd like us to send Advantages Hot Deals FREE to anyone else at your company (or to your off-site sales reps), go to www.asicentral.com/newsletters and complete the online form.
Interested in advertising in Advantages Hot Deals? Send an email to ddienna@asicentral.com
Click here to subscribe to Advantages™ magazine.
Advertising Specialty Institute®, 4800 Street Road, Trevose, PA 19053