Advantages™ Hot Deals Newsletter
Volume 177 / April 16, 2008
Keeping you in the loop on products and deals you may not have heard about.
SPONSORED BY



The "Thought of the Day" on our ASI Intranet today is: "Every exit is an entry somewhere." I liked it, so I thought I'd share with you (who am I turning into – Charley from Snugz?). I like these products, so I'm sharing them too.

Sales Tip of the Week
Enjoy this edition and send your feedback directly to: khuston@asicentral.com. It may be published in a future issue of Advantages magazine. For additional information, contact the supplier. To unsubscribe, follow the instructions at the end.
– Kathy Huston, editor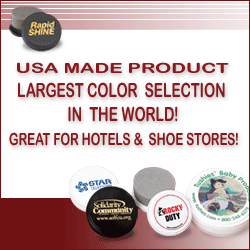 Match Game
The Pitch: I don't smoke and I'm not a pyro, but I love matches. I do. I grab the free matchbooks at restaurants and bars any chance I get. They have a whole variety of uses: lighting candles, firing up the barbecue and setting the chimnea ablaze on a cool summer eve. You can't go wrong putting your logo on a matchbook, and Admatch Corp. (asi/31490) has a combined order discount: When you order two or more different products with the same logo (choosing from matches, coasters, napkins, toothpicks, etc.), you get 5% off the whole order. Web address: www.admatch.com. Expires 12/31/08.
The Bottom Line: Get on it, Sparky.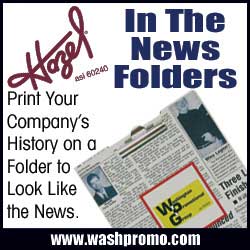 Isn't That Special?
The Pitch: More than ever, older folks are enjoying life to its fullest and are often more active and involved than some of their children and grandkids. Have you seen the singing group "Young at Heart?" They are all over the news these days. Check out their version of Coldplay's "Fix You." I dare you not to cry: http://www.youtube.com/watch?v=2u6k-99qcCE. Mother's Day and Father's Day are coming up and Enjoylife Inc. (asi/52492) offers a golf-variety, three-ball gift package with either "Special Grandmother" or "Special Grandfather" imprinted on them. They feature high-quality, two-piece construction for consistent control, distance and durability. Logos are printed in high-gloss inks that will not chip or fade with use. Call supplier for pricing. Web address: www.enjoylife.com.
The Bottom Line: Respect your elders.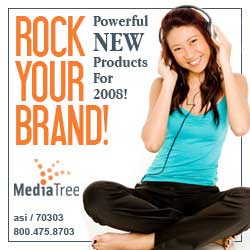 Hey, Batter Batter!
The Pitch: Don't mess with the house that Ruth built, or the new Yankees stadium that someone else is building either. You've probably heard about the construction worker who buried a Boston Red sox jersey while helping build the Bronx Bombers' new ballpark (did you put him up to that, Ross Silverstein?). Curses! Well, then another worker went right in and jackhammered it right out. Baseball fans can be a little fanatic; hence the word "fan." Ball Pro Inc. (asi/38120) is offering EQP on item #BRL, an official league leather baseball, for fanatics of all affiliations. You must ask for the special to receive it. Web address: www.ballpro.com. Expires 4/30/08.
The Bottom Line: Swing away!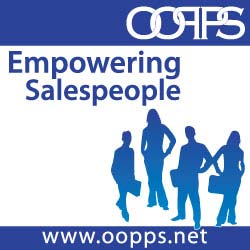 Donkey vs. Elephant
The Pitch: We're really excited here in Pennsylvania, because one week from yesterday is our Democratic primary. Seriously, I am addicted to "Hardball" and "Race for the White House" on MSNBC. Politics can really get people stirred up and we presented this cool item from Bey-Berk International (asi/40445) in our April edition of Advantages: Item #G509V is a tarnish-proof silver-and-gold-plated political tic-tac-toe game. Republican (elephant) vs. Democrat (donkey). Pricing starts at: Qty.-1; list price-$35; price code-P. Web address: www.bey-berk.com.
The Bottom Line: Rock the vote.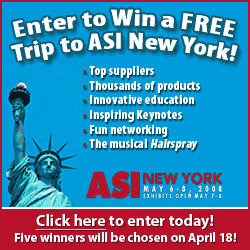 Gutter Talk
The Pitch: Would an "Obama08"-logoed bowling ball have helped Barack bowl any better in PA? Probably not (ya either got it or ya don't), but LogoStars (asi/67875) is offering a way-cool 6-inch mini version (#10153), that can be decorated with, logo, graphics, and copy to create a special trophy for those who actually "got game." It can also be used for a tournament memento or keepsake. Think of pro shops, leagues, alleys and any bowling-themed promotion. 72-hour turnaround for any order under 1,000 pieces. Call supplier for pricing. For the record, I saw Hillary try to bowl on the "Ellen" show and she performed miserably also. Web address: www.logostars.net.
The Bottom Line: Bowl me over.
Deal of the Week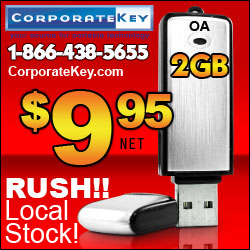 Exclusively from Corporate Key - asi/63053
Factory Direct Flash Drive USB 2.0
(OA Model)
Beautifully designed drive that makes great gift for executives!! Minimum quantity 100 pcs.
Uses any USB 2.0/1.1 port
Password Protection
Fast Data Access Rate
Retains Data for up to 10 years
LED Read/Write Indicator
Optional Accessories
Local stock available for your RUSH Orders!
Advantages is bringing over 60 top suppliers to a city near you.
Come to the industry's largest and most popular traveling show, the ASI Advantages Roadshow. For a list of cities and dates, visit http://www.asishow.com/advroadshow/. Admission is free for all distributors and salespeople!
SPONSORED BY


Advantages™ Hot Deals is a trademark of the Advertising Specialty Institute. You were sent this newsletter as a benefit of your ASI membership. Copyright 2008, ASI. All Rights Reserved.
If you'd like us to send Advantages Hot Deals FREE to anyone else at your company (or to your off-site sales reps), go to www.asicentral.com/newsletters and complete the online form.
Interested in advertising in Advantages Hot Deals? Send an email to ddienna@asicentral.com
Click here to subscribe to Advantages™ magazine.
Advertising Specialty Institute®, 4800 Street Road, Trevose, PA 19053