Advantages™ Hot Deals Newsletter
Volume 176 / April 9, 2008
Keeping you in the loop on products and deals you may not have heard about.
SPONSORED BY




Sales Tip of the Week
Hi, kids…how's it shakin'? Enjoy this edition and send your feedback directly to: khuston@asicentral.com. It may be published in a future issue of Advantages magazine. For additional information, contact the supplier. To unsubscribe, follow the instructions at the end.
– Kathy Huston, editor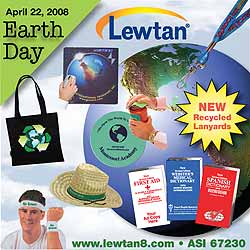 A Rose by Any Other Name
The Pitch: Here's a rose that anyone would love … especially termites. New supplier The Wood Rose Garden (asi/98170) is giving away free samples of their very chic and unique wooden, long-stemmed roses. No water or green thumb necessary! If you're at the ASI Show in Vegas this week, visit them in booth #1120. Otherwise, check them out at: www.asisupplier.com/98170.
The Bottom Line: Carve out a sale.
Please Relieve Me
The Pitch: If you haven't done your taxes yet, you know all about the need for stress relief.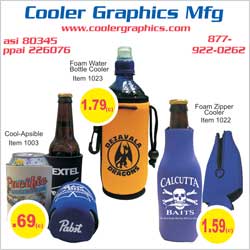 Pillowline/Norwood (asi/78105) offers special pricing on a lovely 1-oz. bottle of green tea stress-relief lotion with product info on the back (item #40179): qty.-250; list price-$1.52; price code-R. This is a great idea for spas, psychologists and new moms in maternity wards (who might just need psychologists when they're kids are teenagers). Web address: www.norwood.com. Expires 6/30/08.
The Bottom Line: Tea time.
Are They Nuts?
The Pitch: Yes, they are nuts … and other delicious treats as well. Harvest Manor Farms (asi/60082) is all about fabulous foodstuffs and is offering 15% off items in their Manor Creek Naturals product line throughout April. I could go for some South of the Border mix right about now. Check out the selection at: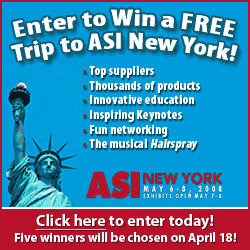 www.manorcreeknaturals.com.
The Bottom Line: Snack attack.
Push My Buttons
The Pitch: End-users can jump right to your client's Web site, courtesy of Jump Promos' (asi/63675) cool, new Web button (item #JP-WB001). Just plug into a computer and push. It's as easy as that. Pricing is $3.95 (net) for 500 pieces, packed in a white box, with free ground shipping. For further info, go to: www.jumppromos.com.
The Bottom Line: Push it.
Right in Your Own Backyard
The Pitch: It's no secret that airlines are hurting: just look at American Airlines' most-recent debacle. People might want to take the car on their summer vacay instead …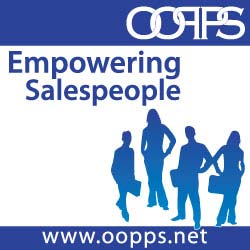 well, um, gas prices might go to $4 a gallon, according to those in the know. Ya know what? A vacation in your own backyard sounds like it could be a lot more relaxing this year. Fire up the grill, pour yourself a cold one and pop Sound Promotions' (asi/88226) "musical vacation" CD (item #NET-188) into the player. The Florida-style music offers tropical sounds and laidback light jazz melodies. Songs include: "Paradise," "Magical Kingdom," "Windjammer," "South Beach," "Coconut Grove" and "Sun Dancer." This would be ideal for travel agents, resorts and, since I suggested you stay home, real estate agents. Pricing starts at: Qty.-25; list price-$7.25; price code-R. Web address: www.pvtlabel.com.
The Bottom Line: Just add pool and palms.
Deal of the Week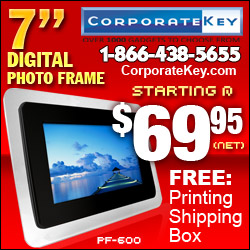 Exclusively from Corporate Key - asi/63053
7" Digital Photo Frame (PF-600)

Stunning Digital Photo Frames that make great gifts for executives!! Minimum quantity 50 units.
FREE 1 Color Imprint
FREE Set-up
FREE Shipping
Free Gift – Box
High Resolution 7" Screen
Supports up to 12 mega pixel resolution.
Advantages is bringing over 60 top suppliers to a city near you.
Come to the industry's largest and most popular traveling show, the ASI Advantages Roadshow. For a list of cities and dates, visit http://www.asishow.com/advroadshow/. Admission is free for all distributors and salespeople!
SPONSORED BY


Advantages™ Hot Deals is a trademark of the Advertising Specialty Institute. You were sent this newsletter as a benefit of your ASI membership. Copyright 2008, ASI. All Rights Reserved.
If you'd like us to send Advantages Hot Deals FREE to anyone else at your company (or to your off-site sales reps), go to www.asicentral.com/newsletters and complete the online form.
Interested in advertising in Advantages Hot Deals? Send an email to ddienna@asicentral.com
Click here to subscribe to Advantages™ magazine.
Advertising Specialty Institute®, 4800 Street Road, Trevose, PA 19053