Advantages™ Hot Deals Newsletter
Volume 174 / March 26, 2008
Keeping you in the loop on products and deals you may not have heard about.
SPONSORED BY




Sales Tip of the Week
Happy spring everybody! Let's hop right to it. Have fun with this edition and send your feedback directly to: khuston@asicentral.com. It may be published in a future issue of Advantages magazine. For additional information, contact the supplier. To unsubscribe, follow the instructions at the end.
– Kathy Huston, editor

Quit Your Whining
The Pitch: I love my Sunday morning news shows.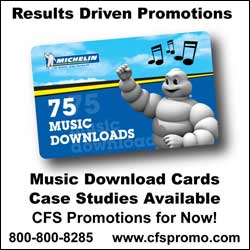 This past Sunday,I saw a report on a minister who has his congregation pass out "No complaining" bracelets to remind people to live a more positive life and encourage others to do the same. It's an inspiring idea, but I'm not sure that would work here in the editorial department. We like to gripe about everything from bad writing to why Kristy Lee Cook hasn't been eliminated from American Idol yet (I'm keeping my fingers crossed tonight). At any rate, silicone bracelets are still a hot commodity for anyone wanting to promote an awareness message. Providence (asi/79980) offers fairly inexpensive stock versions, including "Support Our Troops," "Be Strong," and American flag, with pricing starting at: Qty.-100; list price-$.65; price code-R. Web address: www.providenceline.com.
The Bottom Line: Wear it with pride.

I'm Buggin'
The Pitch: Are celebrities weirdoes or what? I heard Demi Moore tell David Letterman the other night that a recent getaway included leech therapy. Yup, she may be rich, but she chose to spend her downtime getting her blood sucked by repulsive insects. Most of us prefer to avoid bugs. As such, Scentsory Branding (asi/36865) offers item #300108, their "luscious lavender oil" in a 15 ml glass bottle. And it's a multi-tasker, promoting calm and restful sleep, relieving sunburn and bug bites, alleviating headaches, and preventing swelling and cramps on long flights when rubbed on calves. Plus, it's a natural insect repellant. Great product for travel,healthcare, spa and workplace. Pricing starts at: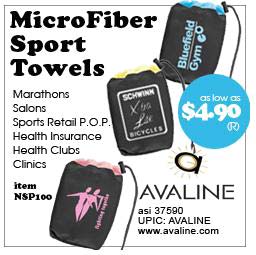 Qty.-100; list price-$12.50; price code-Q. Web address: www.aromasforgiving.com.
The Bottom Line: All-in-one aromatherapy.
Take This Number Down
The Pitch: This is a great idea for anyone with a cell phone … and that means everyone; even my 75-year-old, technologically impaired mother-in-law has a cell phone. Item #CP-305 from Tropico Imports Ltd. (asi/92245) is a cell-phone pen; a tiny pen that attaches to your cell phone on a cord. It makes jotting down notes as easy as can be. Pricing starts at: Qty.-100; list price-$1.10; price code-R. It comes in blue, green, purple and red. Web address: www.asisupplier.com/tropico.
The Bottom Line: A perfect pen.
The Highlight of My Day
The Pitch: Call me simple, but I love highlighters. When I'm finished editing another issue of Advantages magazine, I cross off all the crazy deadline dates with my handy-dandy highlighter. It's so liberating. Target Industries (asi/90640) is offering EQP on slim-line yellow highlighters (item #1327). That includes a one-color, one-position imprint. You must write "End-Quantity Pricing Special" on your P.O. Web address: www.targetline.com. Perfect for offices and schools. Expires 5/31/08.
The Bottom Line: Marker markdown.
Card Sharks
The Pitch: We recently played a fun game at our friends' house. It was called "Dirty Minds." It involved cards. My husband won. People love card games and you love sales. Gemaco Inc. (asi/56080) has EQP on their best-selling Baronet bridge-size playing cards. They are available in a wide variety of colors. This is a fun product for any market, ranging from casinos, adult communities, and any business that wants you to play your cards right. Web address: www.gemacocards.com. Expires 4/30/08.
The Bottom Line: Put on your game face.

Advantages is bringing over 60 top suppliers to a city near you.
Come to the industry's largest and most popular traveling show, the ASI Advantages Roadshow. For a list of cities and dates, visit http://www.asishow.com/advroadshow/. Admission is free for all distributors and salespeople!
SPONSORED BY


Advantages™ Hot Deals is a trademark of the Advertising Specialty Institute. You were sent this newsletter as a benefit of your ASI membership. Copyright 2008, ASI. All Rights Reserved.
If you'd like us to send Advantages Hot Deals FREE to anyone else at your company (or to your off-site sales reps), go to www.asicentral.com/newsletters and complete the online form.
Interested in advertising in Advantages Hot Deals? Send an email to ddienna@asicentral.com
Click here to subscribe to Advantages™ magazine.
Advertising Specialty Institute®, 4800 Street Road, Trevose, PA 19053