Sales Tip of the Week
Happy Leap Week! And a very special Happy Birthday to those of you who are having a birthday Friday (February 29 only comes every four years, you know). Let's jump right into things, shall we? Have fun and send your feedback directly to: khuston@asicentral.com. It may be published in a future issue of Advantages magazine. For additional information, contact the supplier. To unsubscribe, follow the instructions at the end.
– Kathy Huston, editor
Ring-a-Ding-Ding
The Pitch: If we didn't have ringtones, how would people know how cool (or dorky) we are? CFS Promotions for Now! (asi/42989) is offering free ringtones. The more you buy, the more you get for free. Choose from polyphonic tones (2 credits); music tones (3 credits); college fight songs (3 credits); wallpaper (2 credits); and games (6+ credits). For more information, visit www.cfspromo.com. Expires 3/31/08.
The Bottom Line: Ring in spring sales.

And … Action!
The Pitch: You may not have an Oscar on your mantle (neither does Johnny Depp, so you're in good company, as far as I'm concerned). But you could score as big as the Coen brothers (um, as


ADVERTISEMENT

far as promotional products selling goes) with the award-winning Director's Chair (item PSM-110) by Picnic Plus/Spectrum (asi/88675). The lightweight aluminum frame holds durable, 600D reinforced seats. Includes a folding side table and side storage pockets. Next-column pricing starts at $51.61 R. Check it out at: www.spectrumpromo.net.
The Bottom Line: That's a wrap.

Yo, Yo, Yo
The Pitch: My 6-year-old nephew, Ryan, came to visit recently and asked me if I had a yo-yo. I didn't. Nothing like disappointing an adorable little kid. PromoBiz USA (asi/79903) offers EQP on their brushed-stainless-steel executive yo-yo (item EX-YY), that will delight and entertain all ages. They are also offering EQP on other fun items (including kaleidoscopes), so check them out at: www.promobizusa.com. Expires 3/31/08.
The Bottom Line: Ups and downs.
Be a Sport
The Pitch: How about a nice, relaxing round of golf? If that sounds like an impossibility to you, Calibre International LLC (asi/43442) offers item T-862, a lightweight, mini golf club with stress-relief handle. Perfect for practicing swings and relieving the tension inherent in athletic activities (for examples, watch this "Anger in Sports" clip on YouTube) (http://www.youtube.com/watch?v=s8
_WXGXZC74&aNR=1)
This would make a nifty gifty at tournaments. Pricing starts at: Qty.-100; list price-$4.30; price code-R. Web address: www.highcaliberline.com.
The Bottom Line: In the club.


ADVERTISEMENT

Shake, Rattle and Roll
The Pitch: Here's calculator you can really count on … both literally and figuratively. Item KS-602 from LA Gifts Inc. (asi/65947) never needs batteries. Just recharge it by shaking (the calculator, not yourself). It comes in a variety of colors (I like blue) and is a neat giveaway for banks, accountants, or anyone you can always count on. Pricing starts at: Qty.-50; list price-$3.85; price code-R. Web address: www.lagift.net.
The Bottom Line: Get the shakes.
Deal of the Week
2.4" Digital Photo Frame (DPD-80)
Exclusively from Corporate Key - asi/63053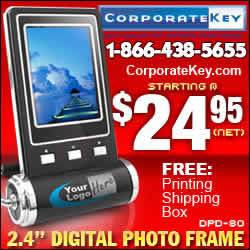 Gorgeous Desktop Digital Photo Frame that makes great gift for executives!! Minimum quantity 100 pcs.

FREE 1 Color Imprint
FREE Set-up
FREE Shipping
Free Gift – Box
High Resolution 2.4" TFT Screen
256,000 Colors Resolution
Battery Powered
Holds up to 60 images
Easily Programmed via USB