Feel the love…happy Valentine's Eve. In addition to all of you, here are some products I love this week. Enjoy! Send your feedback directly to: khuston@asicentral.com. It may be published in a future issue of Advantages magazine. For additional information, contact the supplier. To unsubscribe, follow the instructions at the end.
- Kathy Huston, editor
Hey, Sweet Stuff!
The Pitch: You may not know this, but today is Tim Andrews' birthday. Yes, the President and CEO of ASI is finally legal … "Legally Gray." Happy birthday, Tim! Why not surprise your clients who are celebrating their special day with item #CB272 from Fairytale Brownies (asi/53518), a party in a box. Includes 12 snack-size Fairytale Sprites - one of each flavor, a KaBOOM! Kazoo, four Fairytale purple balloons, 12 message candles, and a birthday button, that says, "Today is my birthday!" It arrives in a classic kraft box, with a Happy Birthday gift band. Brownies are individually wrapped and certified Kosher. Qty.-1; list price-$29.95; price code-S. Web address: www.brownies.com.
The Bottom Line: Birthday bonanza.

ADVERTISEMENT


Take Me Down to Funky Town
The Pitch: Bear with me while I stick to the birthday theme for a moment … and why not; there are birthdays every day? Sound Line LLC (asi/88241), has item #RGC20, a "Happy Birthday" card with candle-on-cake-design and a compact disc. Songs include: "Get on Your Feet," "Let's Have a Party," "Havin' a Party," "Celebration" and other fun-filled ditties. Qty.-50; list price-$3.95; price code-R. Web address: www.soundline.com.
The Bottom Line: Put on your dancing shoes.



Warming Trend
The Pitch: What's cozier than a sweatshirt? A sweatshirt you can wrap your whole body in. MV Sport/Weatherproof (asi/68318) has a comfy sweatshirt blanket in 16 cool patterns, like camo and bubblegum - not to mention sugar plum. Item #3333 measures 54" x 84" and is made from 80% cotton/20% polyester heavyweight, 11-oz. fleece. Great idea for college book stores and sports teams. Pricing starts at: Qty.-43; list price-$37; price code-P. Web address: www.weatherproofco.com.
The Bottom Line: Sweat it out.

It's a Hit
The Pitch: My husband just scheduled the pool opening, so despite the fact that it's freezing here

ADVERTISEMENT

and that stupid groundhog says otherwise, I know spring is coming soon. Who in their right mind accepts groundhog wisdom anyway? Just the ticket for springtime tailgating or cooking for the Little League team: Item #keg001 from Keg Products Inc. (asi/64181), a baseball-shaped, portable charcoal grill with 13 ½ diameter cooking area and wooden handle. Pricing starts at: Qty.-120; list price-$65; price code-R. Web address: www.kegaque.com.
The Bottom Line: Fired up.

Personal Masseuse
The Pitch: This product is more super than the super delegates, if you ask me: A soothing massager powered by USB, with a 6.3"-long cable. It's item #UA04 from Logoincluded Inc. (asi/67837). Encourage your corporate clients to give them to employees to prevent carpal tunnel and reduce stress. Pricing starts at: Qty.-50; list price-$9.75; price code-R. Web address: www.logoincluded.com.
The Bottom Line: Not your average computer accessory.




Deal of the Week



Factory Direct Flash Drives USB 2.0 (OA Model)
Exclusively from Corporate Key - asi/63053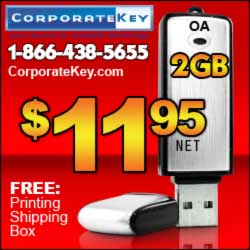 Beautifully designed drive that makes great gift for executives!! Minimum quantity 100 pcs.

FREE 1 Color Imprint
FREE Set-up
FREE Shipping
Uses any USB 2.0/1.1 port
Password Protection
Fast Data Access Rate
Retains Data for up to 10 years
LED Read/Write Indicator
Optional Accessories