Looks like Rudy's out, but another New York entity is in. Go, Giants! I don't care what the odds are, it could happen. All you baby brothers out there should be rooting for Eli, right? I won't be talking to you beforehand, so have a super Super Bowl Sunday and I'll see you (or at the very least, write to you) next week.

Sales Tip of the Week
In the meantime, sing New York, New York and score ideas with this edition. Send your feedback directly to: khuston@asicentral.com. It may be published in a future issue of Advantages magazine. For additional information, contact the supplier. To unsubscribe, follow the instructions at the end.
– Kathy Huston, editor

Why So Blue?
The Pitch: I just read about a report that found people in their 40s are down in the dumps. Specifically, depression is at its all-time high at around age 44, which is exactly my age. I didn't know I was so low until I read this article. Here's something to help us 40-somethings out: Special Favors' (asi/88574) "Therapist in a Box" kit (item #2003-0). It includes a miniature sofa-shaped stress reliever, a sand timer, and cards with funny affirmations. There's also a 32-page book about psychotherapy (done tongue-in-cheek, of course). Pricing starts at: Qty.-50; list price-$8.96; price code-T. Web address: www.asisupplier.com/88574
The Bottom Line: Don't take it all so seriously, folks.

ADVERTISEMENT

The Cookie Crumbles
The Pitch: Perhaps just as sad as the report mentioned above, the Cookie Monster on Sesame Street is not allowed to live on cookies alone anymore (what's the world coming to when even monsters, named Cookie, have to watch their figures?). However, there is simply no stopping the cookie monsters in our editorial department when Lauren Fox, sales manager at Fresh Beginnings Inc. (asi/55439), sends us her best wishes, along with a tin of delectable goodies. I'm telling you, people, their chocolate chip cookies are to die for, and they disappear in minutes. Why not give your clients the same delicious experience with item #A1-CHIP? A regular canister filled with 20 classic gourmet chocolate chip cookies, baked fresh daily in the supplier's own bakery and shipped the same day they are baked, starts at only $13.95 R each for a quantity of 24. The shelf life is two weeks, but trust me, they won't last that long. Web address: www.asisupplier.com/55439.
The Bottom Line: Sweet stuff.
Totally Metro
The Pitch: Perfect for those who have fun on the run: The Metro Chair from Picnic Time Inc. (asi/78065) is a portable, recreational recliner with shoulder strap. It has 10 adjustable positions and is made of polyester with a steel frame. Item #626-00 comes in black, lime, red and sky blue and it's really quite nice-looking. Think about sports teams, school fundraisers, concerts, company picnics and more. It's also great for kiddies playing video games at home (not Guitar Hero though; that requires standing and rockin' out). Pricing starts at: Qty.-10; list price-$28; price code R. You can check it out at: www.picnicpromotions.com.
The Bottom Line: Take a load off.
Star Search
The Pitch: Yes, we may be obsessed with their comings and goings, but stars are often overrated. Those true superstars who have a positive affect on our lives, however, deserve the accolades. For your client's next awards program, try the star-shaped polycast award on a pedestal, with metal plate (item #2200), on sale from Innovation Specialties (asi/62660). Qty.-12; list price-$13; price code-R. Mention promo code-1082. Web address: www.innovation-line.com. Expires 3/31/08.
The Bottom Line: Thank your lucky stars.
A Fungus Among Us
The Pitch: I'm telling you, you really can find everything in this industry. Swabplus Inc. (asi/90295) has a 24-count fungus-relief foot-care pack. Its all-in-one patented applicator is ready-to-use and convenient. Plus, no mess. Yes, I know it may sound a little odd, but wouldn't your podiatrist clients, who see way too many gross foot afflictions, think it was an awesome giveaway? I think you know the answer. They start at: Qty.-300; list price-$1.49; price code-R. It's item #300850P. Web address: www.swabpluspromotion.com.
The Bottom Line: Play footsie.

Deal of the Week

Convention Tote Bag: #LT-3333DOW
Exclusively from Prime Resources asi/79530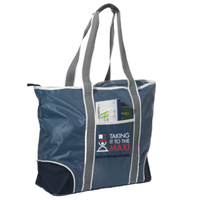 A tote that functions like a briefcase!
210d polyester
Reinforced bottom panel for added support
Zipper top with large inside zippered pocket
Interior organizer panel includes a cell-phone pocket, key fob, zippered mesh pocket, and business card pockets

Features soft grip, leatherette handle wrap
Price includes the patented Image Bonding® process that features a 3-color/1-location imprint for just one set-up charge!
Reg. $12.95 (c) SALE PRICE $11.69 (c) Min. 30 pcs.
Prices valid thru 3/31/08. Set-up and other charges apply.
Please Visit www.primeline.com for more details.