Sales Tip of the Week

Hi, e-mail buddies! Hope you're having a great week. You're over the hump, so smile, stretch, take a deep, relaxing breath and read this edition. Send your feedback directly to: khuston@asicentral.com. It may be published in a future issue of Advantages magazine. For additional information, contact the supplier. To unsubscribe, follow the instructions at the end.

– Kathy Huston, editor
Your Big Break
The Pitch: As we all know, Mickey D's thinks you deserve a break today. Well, so does Flash By Design (asi/54573) (plus, no annoying "I'm into nuggets, y'all" video; click here if you don't know what I'm talking about: www.youtube.com/watch?v=XSZ6k3QIsAk). The division of PTI Corp. is extending their Distributor Rewards Program until March 31.The incentive program gives American Express Rewards Cards to all distributor salespeople who place orders through this date. Rewards range from $25 to $2,500. You must be registered. For complete details, click on: http://www.flashbydesign.net
/static/distributor_rewards.jsp.
The Bottom Line: Cash in.


ADVERTISEMENT

Surf's Up!
The Pitch: Hold onto your boardshorts! Here's one for those who like to catch a gnarly wave: Board Towelz (asi/98901) offers surfboard-shaped beach towels. Can you dig it? Great idea for resorts and surf shops, dude. Pricing for the Waikiki version starts at: Qty.-144; list price-$23.40; price code-P. See them at: www.boardtowelz.com.
The Bottom Line: Hang ten.
Show Me Your Button
The Pitch: You have to check out this product: A customized MP4 interactive button/pin with a slim design and 2.0 color LCD screen. It's from My-IButton LLC (asi/69270) and it allows you to share video, Power Point presentations, and continuous photo slides for hours. It has a unique, 360-degree rotating bracket. An earphone jack and USB cable are also included. These are a truly unique option for any market. Pricing starts at: Qty.-24; list price-$44; price code-Q. Go to: www.my-ibutton.com.
The Bottom Line: Pin one on.
It's a Natural
The Pitch: Woody Harrelson isn't the only one who has a hankering for hemp. The organic fabric is popping up in all sorts of ecologically-conscious items in the industry. 4 Sizzle Inc. (asi/55213) has a hemp handbag/tote bag with bamboo handles (#4SXT1306B), starting at only $14.10; qty.-100; price code-R. Think about your retail clients and any natural woman. Web address: www.4sizzle.com.
The Bottom Line: Bamboozle them.
Be My (Huge) Valentine
The Pitch: No plans for Valentine's Day? Have a raffle! Valentine Bernie is the perfect date: a 38-inch stuffed bear who holds a Radio Flyer wagon filled with more than 10 toys and a box of Valentine chocolates. Item VABernie from Royal Crest Promotions Inc. (asi/83740) includes all sweepstakes material: window sign, raffle box and 500 entry blanks. Plus, it doubles as a holiday display. The list price is $166.63 (R) for one. Web address: www.royalcrestpromo.com.
The Bottom Line: Cute loot to boot.
Deal of the Week
Factory Direct Flash Drives USB 2.0 (OA Model)
Exclusively from Corporate Key - asi/63053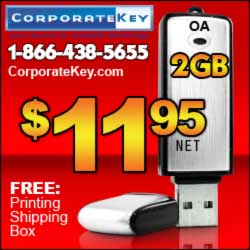 Beautifully designed drive that makes great gift for executives!! Minimum quantity 100 pcs.

FREE 1 Color Imprint
FREE Set-up
FREE Data Load
FREE Shipping
Uses any USB 2.0/1.1 port
Password Protection
Fast Data Access Rate
Retains Data for up to 10 years
LED Read/Write Indicator
Optional Accessories