Hey, kids…no video sales tip this week; I honestly had no time to get it together. Upon returning from the Orlando ASI Show, I had to put the February issue of Advantages magazine to bed, as we say in the big publishing world. But don't cry -- save that for our presidential candidates. (Don't send hate mail, people…I'm kidding!). Luckily, I was able to wrangle together some product ideas for you. Send your feedback directly to: khuston@asicentral.com. It may be published in a future issue of Advantages magazine. For additional information, contact the supplier. To unsubscribe, follow the instructions at the end.

– Kathy Huston, editor
Get Smart
The Pitch: The Smart Clip (#DP-518) from Tagmaster (asi/48500) is a pretty nifty idea. It's a large clip with a strong magnet on back. Plus, it has a built-in message board, which you can write on/wipe off. A marker attaches to the back of the clip, which is very handy, I must say. If you go to www.asicentral.com and click on Tim's Blog, you can see the ever-delightful, handsome and well-mannered President and CEO of ASI, Tim Andrews, demonstrating this and six other unique products he found at the Orlando ASI Show. (Isn't bonus time coming up soon, Tim?). Pricing starts at: Qty.-150; list price-$3.74; price code-R. Web address: www.tagmaster.net.
The Bottom Line: It's a multitasker.


ADVERTISEMENT

The Green Machine
The Pitch: I almost died when I read this: The green theme is so rampant that even the funeral business is getting into the act with biodegradable coffins. One version is called the Ecopod, which is kind of a creepy name if you ask me. What's not creepy, though, is the good intentions behind treating Mother Nature with the respect she deserves. American Apparel (asi/35297), supplier of cutting-edge tees and such, offers its Sustainable Edition ladies' 100% combed organic cotton (certified by the USDA), baby rib, basic T-shirt. It's made from a thinner rib that maintains its shape after repeated wear. Item #4305ORG starts at $14.70 (R) for one. Web address: www.americanapparel.net.
The Bottom Line: Get on the green team.
Stuck on You
The Pitch: Ay caramba! Did you hear about the kid in Mexico who glued his hand to his bed so he wouldn't have to go to school? This takes putting the thermometer near the light bulb to fake a fever to a whole other level. Itoya of America Ltd. (asi/62929) has nontoxic, acid-free gel glue that would be a better choice for kids with silly tricks up their sleeves. Item #S1B is also nonflammable and water-soluble and pricing starts at: Qty.-200; list price-$2.19; price code-P. Web address: www.itoya.com.
The Bottom Line: New glue for you.
Dance Fever
The Pitch: Call me pathetic, but I actually did watch Dance Wars: Bruno vs. Carrie Ann on Monday night. (Besides endless and redundant caucus coverage, what the heck else could I tune into?) Some of those kids really had all the right moves; others, not so much. Whether you're a natural dancer or not, anyone who likes to shake their groove thing would appreciate 80's Dance Party from Sound Promotions (asi/88226). The CD (item #NET-301 starts at: Qty.-25; list price-$9.65; price code-R. Think of this for special events. Among other tunes, music includes selections from Herbie Hancock, Earth, Wind & Fire, Lisa Lisa & the Cult Jam and The Weather Girls. Wouldn't it be wonderful if it really did rain men some day? Web address: www.pvtlabel.com.
The Bottom Line: Let's groove tonight.


ADVERTISEMENT

World-Class
The Pitch: The Golden Globes are canceled as a result of the writers' strike, because there will be nobody to come up with the not-so-witty banter we normally hear between celebrities. So, come Sunday night, I will not be able to make fun of what the stars are wearing or try to guess how many "procedures" they've undergone. An awards program I can support, however, is Executive Tour & Travel Services' (asi/53434) "Vacation of a Lifetime" travel incentives line-up. Air, land and sea packages at economical prices, all backed by a fully licensed and bonded travel agency, are available. To see the supplier's offerings, go to: www.ettsi.com.
The Bottom Line: A quick getaway.


Deal of the Week
Factory Direct Flash Drives USB 2.0 (OA Model)
Exclusively from Corporate Key - asi/63053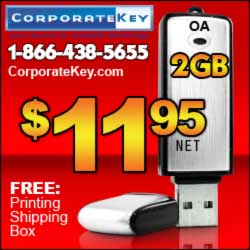 Beautifully designed drive that makes great gift for executives!! Minimum quantity 100 pcs.

FREE 1 Color Imprint
FREE Set-up
FREE Data Load
FREE Shipping
Uses any USB 2.0/1.1 port
Password Protection
Fast Data Access Rate
Retains Data for up to 10 years
LED Read/Write Indicator
Optional Accessories