Collegiate Candidate
The Pitch: With one recent college grad and one on his way in August, I'm perpetually in a college state of mind. If you haven't read our cover story on the college market in the June issue, you really should. It's packed with potential for your sales. You can access it online right here: http://www.asicentral.com/asp/open/News/Advantages/index.aspx. It just so happens that Gold Bond Inc. (asi/57653) offers a collegiate kit that includes a carabiner, backpack, water bottle and wooden nickel, which entitles the student to a free drink at the campus café. This is perfect to welcome newbies and would make a nice drop-off at the dorms. For pricing and other info, email: orders@goldbondinc.com or call: 423-842-5844.
The Bottom Line: Pomp and circumstance.
ADVERTISEMENT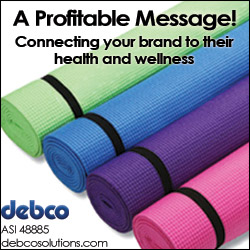 Wine & Dine
The Pitch: I had dinner with the neighbor ladies last night (the Desperate Housewives of Bucks County; they were all talking about 50 Shades of Grey and one of them was wearing a personal hot-flash fan around her neck. I kid you not.). Anyway, we all met up at a BYOB for my friend's birthday. The Wine Appreciation Guild Ltd. (asi/97292) has a great product for such gatherings. The Ice Bag (#17400) is available in blue, cherry, pink, purple and yellow. Put the wine bottle in the bag, add fresh water and ice cubes and voila! You've got a portable ice bucket. Wait a few minutes for the wine to chill and drink to your heart's content. Pricing starts at: 100; $7.99-P. Contact jim@wineappreciation.com.
The Bottom Line: Just chillin'.
Cat People
The Pitch: You can take a quiz that can tell you if your cat is really smart. I found it online this morning, but stopped at question 5 out of 20 (hey! I told you, I have work to do). If you're interested, take it here: http://www.catchannel.com/. No matter how smart Sneakers may or may not be, one thing's for sure: pet hair on your furniture and clothing is annoying. Promopet (asi/79698) knows this and that's why they bring you a pet-hair-remover roller starting at: 150; $1.95-R. See it here: http://www.promopet.com/.
The Bottom Line: The brush-off.
All Bottled Up
The Pitch: Here's a cool twist on the highlighter, which is, by the way, a necessary tool for home, school and office. Yafaline (asi/98760) has brand-new Recycled Water Bottle Highlighters. Yes, they are made from 80% recycled water bottles, as you may have guessed. Pricing starts at: 250; 99 cents-C. Click here: http://www.yafaline.com/.
The Bottom Line: Just the highlights.