ADVERTISEMENT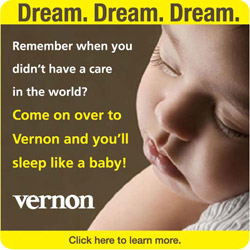 Sincere Gratitude
The Pitch: Bill Baldwin, of J.T. Lovell Company (asi/256200), would like me to remind everyone to thank a veteran on Memorial Day ("and maybe even take him or her to lunch!"). Have you served in the military? Write and let me know! We should be thanking vets every chance we get and Classic Medallics (asi/45330) offers a 6-inch resin military boot, which can be engraved for award ceremonies, initiations and thank-you gifts for veterans and active-duty military troops. For pricing and other information, email: sales@classic-medallics.com or call: 800-221-1348.
The Bottom Line: Boots on the ground.
Repeat After Me
The Pitch: There was a parrot named Huey hanging out in our art department yesterday. For real, I took his picture; you can see it on our Facebook wall (address above). I was happy that the Advantages magazine in the photo was not what was being used beneath his cage for his doo-doo (it's another publication; check it out). At any rate, who doesn't love parrots? I mean, they talk, they remind you of the tropics and they're cute! Global Neckwear Marketing Inc. (asi/57556) has Parrot-shaped neckties, printed on 100% ultra- fine polyester. I was thinking these would be perfect for restaurants and bars, resorts, zoos, bird sanctuaries, pirates and more. Pricing starts at: 50; $20-R. Click here: http://www.globalneckwear.com/.
The Bottom Line: Ahoy!
All Buttoned Up
The Pitch: Here's an item that's great for bar promotions, product launches, grand openings, concerts and outdoor events. It's a custom fabric-covered button with bottle opener and key chain from WOV-IN (asi/92980). It's also made in the USA. Pricing starts at: 50; $4-P. Check it out: http://www.wov-in.com.
The Bottom Line: The chain gang.
Quench Your Thirst
The Pitch: Drinks on you … literally. Beverage Bolo (asi/40429) offers the product that goes by the same name. It's a 32-oz. hands-free beverage container with adjustable strap, multiple caps for straw or direct drinking, rinse-through capability and large mouth caps for ice. It's BPA free and the customizable neoprene wrap with unlimited colors can be made for a variety of themes, like awareness, casino, tropical, etc. Pricing starts at: one; $21.81-Q. See it here: http://www.beveragebolo.com/.
The Bottom Line: Beverage break.