| | |
| --- | --- |
| Keeping you in the loop on products and deals you may not have heard about. | May 14, 2012 |
Well, hello there! I hope you all had a wonderful Mother's Day! I did! Check out today's ideas. Send your feedback directly to me at: khuston@asicentral.com. It may be published in a future issue of Advantages magazine. For free information on products featured in Advantages, click here: www.advantagesinfo.com. Kathy Huston, editor

Share Your Story!
Have you overcome a big sales challenge? Have you gotten a sale through your savvy use of social media? Closed the big one on the golf course? Persistently pursued that hard-to-reach decision-maker, with great final results? Fulfilled a seemingly impossible order? I want your story for a new section in Advantages magazine, called "How I Did It." Send me an e-mail and I'll be in touch: khuston@asicentral.com.




The Joe Show: Big City, Big Ideas



Drink Up
The Pitch: There were lots of reasons to celebrate this weekend at the Huston house: Matt's college graduation, Andrew's senior prom, Mother's Day ... for celebrations everywhere, Crown Products (asi/47700) offers the brand-new Silipint. According to the supplier, it's the world's first 16-oz. silicone pint glass and it's indestructible. "You can
ADVERTISEMENT

dishwash it, nuke it, freeze it, bake in it, bounce it and even run over it with your car," they say. Plus, it's made of 100% food-grade silicone and is FDA approved, BPA free and non-toxic. You can get it for

as low as $7.99-C

and shipping starts June 1. Pitch it to your bar clients. It's also great for any summer party or event. See it here: http://www.crownprod.com/.
The Bottom Line: Pass the pint.



| | |
| --- | --- |
| ADVERTISEMENT | ADVERTISEMENT |
ADVERTISEMENT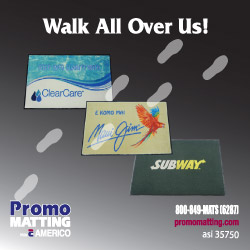 That's Fresh
The Pitch: I have an air freshener hanging in my car (Little Red) at all times. It just makes scents (get it?). But really, any company or organization could advertise very inexpensively by giving out air fresheners that can be hung in cars, lockers, closets and anywhere. Superex (asi/90231) offers various shapes and scents such as: rosemary/mint, lavender/eucalyptus and tea tree/citrus. For pricing and other info, click here: http://us.superex.com/.
The Bottom Line: What smells so good?
Flamingo Fun
The Pitch: When I saw this, I knew I had to share it with my buddies. It's the totally adorable T-Wild Flamingo Fun Pen from Targetline (a Fields Company/asi/90640). It has a glittery translucent barrel and silicone feathers. This would be perfect for zoos and souvenir shops, travel destinations and more. Pricing starts at: 100; $2.78-C. Check it out: http://targetline.com/.
The Bottom Line: A fine, feathered friend.
Look Sharp
The Pitch: Here's a cool idea for your corporate clients from Vantage Apparel (asi/93390). The supplier now offers tagless private labeling so your clients can literally make the garments their own. You can read about the various options here: http://vantageapparel.com/.
The Bottom Line: Best-dressed.
Advantages is bringing over 60 top suppliers to a city near you.
Come to the industry's largest and most popular traveling show, the ASI Advantages Roadshow. For a list of cities and dates, visit http://advantagesroadshow.com/. Admission is free for all distributors and salespeople!
Advantages™ Hot Deals is a trademark of the Advertising Specialty Institute. You were sent this newsletter as a benefit of your ASI membership. Copyright 2012, ASI. All Rights Reserved.
If you'd like us to send Advantages Hot Deals FREE to anyone else at your company (or to your off-site sales reps), go to www.asicentral.com/newsletters and complete the online form.
Interested in advertising in Advantages Hot Deals? Send an email to ekoehler@asicentral.com
Click here to subscribe to Advantages™ magazine. If you no longer wish to receive Advantages HotDeals Newsletter, click here
Advertising Specialty Institute®, 4800 Street Road, Trevose, PA 19053