Winning
The Pitch: Although I'm not as enthusiastic about my beloved "American Idol" since James Durbin got the boot, I am now officially on Team Scotty (if that drama queen Lauren with the living-vicariously-through-her-daughter mama wins I will eat my hat). Another winner in my opinion is this award from Crystal D (asi/47749), because not only is it made from beautiful cobalt blue crystal, but it's an 8 x 12 vase, so it's practical too. Go a step further and include the fresh flowers. Pricing on item #2242 starts at: one for $154.25. See it here: http://www.crystal-d.com/.
The Bottom Line: Just add water.
| | |
| --- | --- |
| ADVERTISEMENT | ADVERTISEMENT |
The End
The Pitch: Today is Oprah's last show. I really don't care; I mean she has her own network now for God's sake. All good things must come to and end, including item #CO112 from Custom Printing II Ltd. (asi/47971). It's a compact, ergonomic, easy-to-use tool for clipping coupons from newspapers and also works for scratching lottery tickets. And who couldn't use coupons or a lottery win these days? This is a close-out item, so get it while supplies last with pricing starting at: 250 for 39 cents. Click here: http://www.customcrest.com/.
The Bottom Line: Oh, cut it out.
Keep It Up
The Pitch: Every time I am forced to put my purse on the disgusting dirty, germy floor somewhere I think I really need one of those handbag holders. This one from Chatt Gifts Inc. (asi/44634) is even a fancy version (for fancy people like me... no comments). It has Swarovski crystals and comes in a black gift box and any woman would appreciate receiving it. Item #5056 starts at: 100; $6.98. You can see it here: http://www.chattgifts.com/.
The Bottom Line: It's crystal clear.
Fire Damage at Bey-Berk
A major fire throughout Bey-Berk's (asi/40445) facilities early this morning damaged the supplier's warehouse, showroom and offices. The supplier is not out of business, but will need time to reorganize. For daily updates on the progress, visit their website at: http://www.bey-berk.com/ or contact Raffi Najarian at: 800-323-9926.
PRODUCT SPOTLIGHT
NEW! USB Sticks from AZX Sport ASI/30250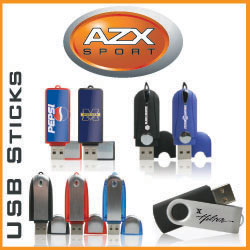 Features: 512MB - 16GB memory size available. Large variety of
colors and shapes. Ability to pre-load files onto USB.

Construction: Full color domed, Laser engraved
and pad printing available.

Lead Time: 1-3 business days on stock USB. 10 business days on
non stock USB. Minimum order 25pcs.

Orders and Art: Info.Advantages@aztex.com

Quote Requests: Info.Advantages@aztex.com

Visit www.azxpromotions.com to see our full line of products.

Or call 1-800-558-4836
CALL FOR QUOTE!
For other new and creative products, visit the Product Central section on ASICentral.com.