| | |
| --- | --- |
| Keeping you in the loop on products and deals you may not have heard about. | May 18, 2011 |
SPONSORED BY


Hello everybody, from sunny San Diego, where I'm at The ASI Show. Tonight I'm attending the Counselor awards banquet, so I have to get all dolled up and act like I'm classy, if you can imagine such a thing. When I get back, I'll let you know about all the festivities and cool, new products we found. In the meantime, enjoy this edition and send your feedback directly to: khuston@asicentral.com. It may be published in a future issue of Advantages magazine. For additional information, contact the supplier. To unsubscribe, follow the instructions at the end.


PRODUCT SPOTLIGHT


– Kathy Huston, editor 





The Joe Show:
New-Product Variety


The Joe Show: New-Product Variety
In this episode of The Joe Show, Managing Editor Joe Haley proves the product versatility of the ad specialty market. Want to appeal to incentive programs with a checkpoint-friendly backpack? Looking for a unique food product idea sure to garner attention? The Joe Show has just the solution.  

Click here to watch this new products episode of The Joe Show.

Want more videos? Subscribe now to our YouTube videos.


Circle of Friends
The Pitch: Since I'm in CA, my buddy C.J. Mittica, editor of Wearables magazine, is proofing this edition for me. Thanks, C.J.! We all get by with a little help from our friends and Zenith Promotions (asi/98980) has new cloth friendship bracelets. They would be fun for teen-type parties, concerts, camps and more. Pricing starts at:

one for $3

and you can see them here: http://funplacetreasures.com/.
The Bottom Line: Tied together.



Beer Here


The Pitch: It's American Craft Beer Week and events are being held all around the USA. It's always a good time for a nice cold brew, no matter if there's an official week for it or not,
ADVERTISEMENT

especially with the warm-weather events and activities being planned. AlightPromos.com offers light-up frosted beer steins, which hold 20 oz. and include three replaceable AAA batteries. These are great for summer bar promotions. Pricing (5 working days) starts at:

250; $4.65

. Click here: http://www.alightpromos.com/.
The Bottom Line: Bottoms up!
| | |
| --- | --- |
| ADVERTISEMENT | ADVERTISEMENT |
Over Your Head
The Pitch: I had my hair cut on Friday the 13th and fortunately, there was no bad luck associated with it. If Sandy my hairdresser slipped up, however, Sun N Sand Accessories Inc. (asi/90142) offers plenty of fun and fabulous summer hats for bad hair days. One example is item HH532, a packable, crushable crocheted hat with floral trim. It's perfect for resort shops. Pricing starts at one for $18.70. For more information, check it out on ESP or email: sales@sunnsandline.com.
The Bottom Line: Sunny style.
Parental Control
The Pitch: Promotional Slideguide Corp. (asi/79930) has the perfect product for day-care centers, new parent baskets, bookstores and more. Item PKM-35 is the "ABC's of Good Parenting" bookmark. Each letter of the alphabet starts a sentence on giving children love and guidance (I don't see "don't give your 8-year-old Botox treatments" on there, but maybe they should add it. Did you hear about that nutball mother?). Pricing starts at: 250; 47 cents. Email: orders@thepositiveline.com.
The Bottom Line: Mark the spot.
PRODUCT SPOTLIGHT
NEW! USB Sticks from AZX Sport ASI/30250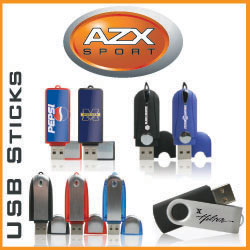 Features: 512MB - 16GB memory size available. Large variety of
colors and shapes. Ability to pre-load files onto USB.

Construction: Full color domed, Laser engraved
and pad printing available.

Lead Time: 1-3 business days on stock USB. 10 business days on
non stock USB. Minimum order 25pcs.

Orders and Art: Info.Advantages@aztex.com

Quote Requests: Info.Advantages@aztex.com

Visit www.azxpromotions.com to see our full line of products.

Or call 1-800-558-4836
CALL FOR QUOTE!
For other new and creative products, visit the Product Central section on ASICentral.com.
Advantages is bringing over 60 top suppliers to a city near you.
Come to the industry's largest and most popular traveling show, the ASI Advantages Roadshow. For a list of cities and dates, visit http://advantagesroadshow.com/. Admission is free for all distributors and salespeople!
SPONSORED BY


Advantages™ Hot Deals is a trademark of the Advertising Specialty Institute. You were sent this newsletter as a benefit of your ASI membership. Copyright 2011, ASI. All Rights Reserved.
If you'd like us to send Advantages Hot Deals FREE to anyone else at your company (or to your off-site sales reps), go to www.asicentral.com/newsletters and complete the online form.
Interested in advertising in Advantages Hot Deals? Send an email to ekoehler@asicentral.com
Click here to subscribe to Advantages™ magazine. If you no longer wish to receive Advantages HotDeals Newsletter, click here
Advertising Specialty Institute®, 4800 Street Road, Trevose, PA 19053