ADVERTISEMENT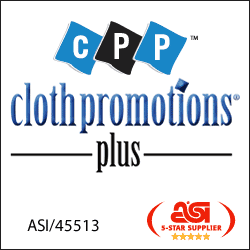 Cookie Monster
The Pitch: Everybody loves cookies! Especially this kid: http://www.youtube.com/watch?v=E8aprCNnecU&feature=fvwrel. I bet he would LOVE this item from Gifted Expressions LLC (asi/56777). Item F11467 is a 9" smiley face tin bank filled with yummy treats like cinnamon apple chips, jelly beans, chocolate chip cookies, gumdrops and caramel corn crunch. The interior of the bank is decorated with smiley faces too and pricing starts at:

12; $46.95.

Check it out: http://www.giftedexpressions.com/.
The Bottom Line: Put a smile on their faces.

And I'm Feelin' Blue
The Pitch: Blue Generation (asi/40653) wants to encourage more of its customers to place their orders on its newly designed state-of-the-art website: http://www.bluegeneration.com/. So the supplier is offering free freight on orders over $175 placed on the website effective today. Why not order item BG-1283 for your restaurant and bar clients this summer? It's a tropical-themed, waist-style apron with stain release. For pricing and other info, email info@bluegeneration.com and see it here http://www.bluegeneration.com/.
The Bottom Line: Fun with uniforms.

Case Study
The Pitch: If you or your client is looking to send a really nice gift, look no further than LobsterGram International Inc. (asi/67771) and their Executive Gram. The leather briefcase is filled with: Jumbo Cashews, Colossal California Pistachios, Chocolate Almonds, Chocolate Cherries, Milk Chocolate Cappuccino Bar, Milk Chocolate Cherry Bar, Dark Chocolate Bar, Fried Ganache Truffles, Orange Biscotti, Cabernet Chocolate Indulgences, and Chocolate Chip Cookies. Plus you can get it for 35% off at: one for $81.22 for a limited time. See it here: http://www.livelob.com/.
The Bottom Line: Pack it in.

Gotcha
The Pitch: This is great: Gill Studios (asi/56950) has five new stock design bumper stickers and a ribbon magnet that honor those who pulled off the raid in Pakistan. Slogans include: "Team 6 Fan"; "NOsama, Thanks Obama"; and "9-11, Still Not Forgotten." Plus, 10% of proceeds from these items will be donated to the Wounded Warrior Project (www.woundedwarriorproject.org). You can't beat that. For pricing and other info, email: customerservice@gill-line.com.
The Bottom Line: That's the spirit.