| | |
| --- | --- |
| Keeping you in the loop on products and deals you may not have heard about. | May 11, 2011 |
SPONSORED BY


What's going on out there with you guys and gals? Just doing the usual here; writing "Hot Deals" and finishing up your June issue of Advantages magazine. Just another day in


Sales Tip of the Week
Editorial Paradise. Enjoy this edition and don't forget: Send your feedback directly to: khuston@asicentral.com. It may be published in a future issue of Advantages magazine. For additional information, contact the supplier. To unsubscribe, follow the instructions at the end.


PRODUCT SPOTLIGHT


– Kathy Huston, editor 


The Joe Show:
Summer Fun

The Joe Show: Summer Fun
In this episode of The Joe Show, Managing Editor Joe Haley shows off an eclectic mix of ad specialty items. Looking for a couple of new products perfect for summertime promotions? Need a unique idea for a mailer promo that can hold a wealth of information? The Joe Show has just the solution.  

Click here to watch this new products episode of The Joe Show.

Want more videos? Subscribe now to our YouTube videos.

At the Carwash
The Pitch: My son Andrew has his own car now, thanks to his super-generous grandparents who gave him their three-year-old Impala, which only has 11,000 miles on it! I know...lucky kid. Anyway, this carwash kit from Zipline (asi/99030) would be great for any new car owner or driver. It includes a squeegee, mop brush, mitt, sponge, dry cloth and case and comes in an eco-friendly gift box. Pricing starts at: 50; $12.90. Click here: http://www.addsomezip.com/.
The Bottom Line: Clean up your act.

ADVERTISEMENT


Joe Strummer
The Pitch: This product rocks my socks. It's a brand-new sublimated guitar-shaped bracelet made of sharkskin neoprene backing and a polyester material top. Plus, it can also be used as a beverage insulator. How cool is this for all those summer concerts and outdoor events, not to mention music schools and summer music programs? It's from the very cool Cooler Graphics (asi/80345) and pricing starts at: 250; $2.39. You can get it in other shapes too, like a racecar (racing), salmon (fishing) and horse (equestrian events), so check with the supplier. Email: louie@coolergraphics.com.
The Bottom Line: Rockin' out.
| | |
| --- | --- |
| ADVERTISEMENT | ADVERTISEMENT |
Sunny Days
The Pitch: Doesn't this product simply scream SUMMER to you? The Sunflower-In-A-Can is from Prime Resources Corp. (asi/79530). The sunflower seeds come in a natural vermiculite container. Just water and place in the sun and than eventually transplant in soil for the full bloom. There is no summertime promo for which this wouldn't work. Check it out here: http://www.primeline.com/.
The Bottom Line: Plant the potential.
Away in Cuffs
The Pitch: Here's a better alternative to the fanny pack. Brandwear Basics Ltd. (asi/41545) offers the key cuff, which you wear on your wrist and it allows you to carry keys, cards and cash securely during runs, biking, hiking, etc. It's lightweight, anti-microbial and moisture-wicking and is obviously a great choice for awareness walks and runs all summer long and into the fall. It comes in a variety of colors and the supplier recommends using a high-visibility, reflective imprint. Pricing starts at: one for $7.50. Click here: http://www.brandwear.ca/.
The Bottom Line: All in the wrist.
PRODUCT SPOTLIGHT
NEW! USB Sticks from AZX Sport ASI/30250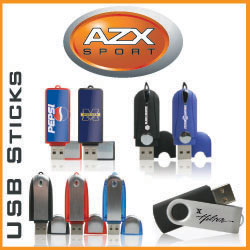 Features: 512MB - 16GB memory size available. Large variety of
colors and shapes. Ability to pre-load files onto USB.

Construction: Full color domed, Laser engraved
and pad printing available.

Lead Time: 1-3 business days on stock USB. 10 business days on
non stock USB. Minimum order 25pcs.

Orders and Art: Info.Advantages@aztex.com

Quote Requests: Info.Advantages@aztex.com

Visit www.azxpromotions.com to see our full line of products.

Or call 1-800-558-4836
CALL FOR QUOTE!
For other new and creative products, visit the Product Central section on ASICentral.com.
Advantages is bringing over 60 top suppliers to a city near you.
Come to the industry's largest and most popular traveling show, the ASI Advantages Roadshow. For a list of cities and dates, visit http://advantagesroadshow.com/. Admission is free for all distributors and salespeople!
SPONSORED BY


Advantages™ Hot Deals is a trademark of the Advertising Specialty Institute. You were sent this newsletter as a benefit of your ASI membership. Copyright 2011, ASI. All Rights Reserved.
If you'd like us to send Advantages Hot Deals FREE to anyone else at your company (or to your off-site sales reps), go to www.asicentral.com/newsletters and complete the online form.
Interested in advertising in Advantages Hot Deals? Send an email to ekoehler@asicentral.com
Click here to subscribe to Advantages™ magazine. If you no longer wish to receive Advantages HotDeals Newsletter, click here
Advertising Specialty Institute®, 4800 Street Road, Trevose, PA 19053