| | |
| --- | --- |
| Keeping you in the loop on products and deals you may not have heard about. | May 4, 2011 |
SPONSORED BY



Sales Tip of the Week
Hi everybody! How are tricks where you are? Hope you're all well this Wednesday. Enjoy this edition and don't' forget: Send your feedback directly to: khuston@asicentral.com. It may be published in a future issue of Advantages magazine. For additional information, contact the supplier. To unsubscribe, follow the instructions at the end.


PRODUCT SPOTLIGHT


– Kathy Huston, editor 


The Joe Show:
New & Unique

The Joe Show: New & Unique
In this episode of The Joe Show, Managing Editor Joe Haley shows off some cool new products that are sure to intrigue clients. Have clients looking for an interesting addition to their wellness program? Looking to get clients' attention with a unique desk accessory? The Joe Show has exactly what you need.  

Click here to watch this new products episode of The Joe Show.

Want more videos? Subscribe now to our YouTube videos.

A Cut Above
The Pitch: Nothing goes better with pizza than beer and nothing goes better with pizza and beer than a brand-new product from Nationwide Promotions (asi/73464). It's a pizza cutter with a bottle opener on the endand I think it's just swell for many, many promotions. Think of the taglines, "cutting edge," "a cut above" like my headline says, "open up," and more. Pizza parlors, bars and restaurants all come to mind as likely targets. Plus, you can EQP until 6/30/11. Click here: http://nationwidepromotions.com.
The Bottom Line: Food and beverage.

ADVERTISEMENT

ADVERTISEMENT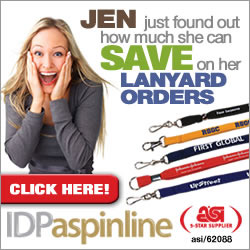 Party Time
The Pitch: Tomorrow is Cinco de Mayo, but any time is the right time for a fiesta in my opinion. LightNovelties.com (asi/67483) offers light-up flip-flops which are activated just by walking. Is there any fun event for which these wouldn't be perfect? Pricing starts at: 5 pairs; $15.94. I don't see these on their website yet (they're new), so for more info on item 963-flip, email: info@lightnovelties.com.
The Bottom Line: Light up the night.
Hats Off
The Pitch: There's no shortage of elaborate hat sightings these days (sometimes gaudy; I'm talking to you, Eugenie and Beatrice), with the Royal wedding last week and the Kentucky Derby this Saturday. But here's a look from Harvest Industrial & Trade Co. Ltd. (asi/61670) that we all could pull off. Item #11131 is a fashionable bucket hat that reverses to khaki.It's made from100% cotton and the top will absorb water and heat, so it's great for summer promotions. Pricing starts at: 2,000; $3.14. Email CEO Colin Wong at: colinwong@vip.163.com.
The Bottom Line: Bucket list.
Mom-Worthy
The Pitch: Don't forget your moms this week! I already had 14 stainless-steel solar lights sent to my mom's house (because that's what she told me she wanted last week and we made a pact not to tell my dad, because he won't want to put them together and into the ground...oh well). Here's something from Createplus LLC (asi/47650) that's solar-powered also and would be cute for any mom's desk: It's a Solar Swing Flower in a pot that moves around when you flip the switch. I think it would be a fun stress-reliever too, and it's cool for any college girl's dorm as well. Pricing starts at: 1,000; $2.95. Click here: http://www.createpluspromo.com/.
The Bottom Line: Flower power.
PRODUCT SPOTLIGHT
NEW! USB Sticks from AZX Sport ASI/30250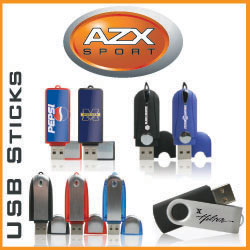 Features: 512MB - 16GB memory size available. Large variety of
colors and shapes. Ability to pre-load files onto USB.

Construction: Full color domed, Laser engraved
and pad printing available.

Lead Time: 1-3 business days on stock USB. 10 business days on
non stock USB. Minimum order 25pcs.

Orders and Art: Info.Advantages@aztex.com

Quote Requests: Info.Advantages@aztex.com

Visit www.azxpromotions.com to see our full line of products.

Or call 1-800-558-4836
CALL FOR QUOTE!
For other new and creative products, visit the Product Central section on ASICentral.com.
Advantages is bringing over 60 top suppliers to a city near you.
Come to the industry's largest and most popular traveling show, the ASI Advantages Roadshow. For a list of cities and dates, visit http://advantagesroadshow.com/. Admission is free for all distributors and salespeople!
SPONSORED BY


Advantages™ Hot Deals is a trademark of the Advertising Specialty Institute. You were sent this newsletter as a benefit of your ASI membership. Copyright 2011, ASI. All Rights Reserved.
If you'd like us to send Advantages Hot Deals FREE to anyone else at your company (or to your off-site sales reps), go to www.asicentral.com/newsletters and complete the online form.
Interested in advertising in Advantages Hot Deals? Send an email to ekoehler@asicentral.com
Click here to subscribe to Advantages™ magazine. If you no longer wish to receive Advantages HotDeals Newsletter, click here
Advertising Specialty Institute®, 4800 Street Road, Trevose, PA 19053