SPONSORED BY


My horoscope says today is one of those crazy days. Hello? Is there any other kind? Speaking of crazy, last night I had a nightmare that Steve and I were in a rowboat, rowing down an inlet in Florida (why? I don't know), and a big alligator chomped down on my sleeve. I told Steve to row faster. I guess he did, because I survived to bring you another edition. Enjoy and send any feedback directly to me at: khuston@asicentral.com. It may be published in a future issue of Advantages magazine. For free information on products featured in Advantages, click here: www.advantagesinfo.com. 








In this episode of The Joe Show, Counselor Managing Editor Joe Haley shows off some products perfect for the savviest clients. Have clients looking for the latest smart items to surprise their promotional recipients? Check out these items. 

Click here to see this smart-products edition of The Joe Show.

Want more videos? Subscribe now to our YouTube videos .

A Big Favor
The Pitch: Wedding season is kicking into high gear and Images in Slate (asi/62254) has the perfect favor, which is also great for any special event, bar, coffee house, corporate gift and more. Item #105-S is a single boxed 4-inch square coaster with a cork backing and a sticker reading "Made from 500 Million Year Old Slate." These are on sale until 5/31, starting at: 51; $11.90-Q. Click here: http://www.imagesinslate.com/coasters.php.
The Bottom Line: Etched in stone.

The Signs Are There
 The Pitch: Yesterday was Super Senate Tuesday. Political signs were everywhere. And November will be here before you know it, so be sure to contact all your politically inclined clients. Think locally, too, like school boards and such. Pepco Poms (asi/77280) has a unique, weather-resistant "Vote" sign, where the V looks like a checkmark. This will stand out on any lawn. Pricing starts at: 10; $34.20-R. Click here to see it.
The Bottom Line: Check one. 

ADVERTISEMENT

| | |
| --- | --- |
| ADVERTISEMENT | ADVERTISEMENT |
Drinks on Us
 The Pitch: My 16-year-old just got his first job at Leslie's Pool Supplies. My husband is especially excited, because, along with fewer handouts to pool boy Andrew, now we will get 25% off our pool supplies. Here's a great idea for a pool supply store giveaway: Item BF-0161 from Goodview Industries Co. Inc. (asi/57705) is an inflatable floating drink holder that looks like a cute little life preserver tube. Also think of this for company picnics, swim clubs and more. Pricing starts at: 50; $2.25-R.
http://www.goodviewind.com/2006/BF-0161.htm.
The Bottom Line: Blow things up.


ADVERTISEMENT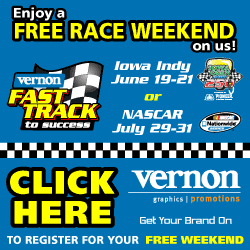 Freeze!
The Pitch: Tomorrow afternoon, hubby Steve-O is taking clients to the Phillies game. The forecast is 80 degrees and sunny. In the morning, he is stocking up on tailgating necessities. Tough job, huh? Well, he is in sales, and you know how that is. Here's a cool product for tailgaters, especially on hot days: Item LT-3424 from Prime Line (asi/79530) is a 400-denier woven polyester can chiller with a bottom zippered panel that holds a miniature freezer pack. Pricing starts at: 100; $4.95-R. Check it out here: http://www.primeline.com/Products/ProductDetail.aspx?fpartno=LT-3424.
The Bottom Line: A chilly reception.

Spill It
The Pitch: This morning, I spilled my coffee all over the counter in the ASI Café. Ask Joe Haley. He was there. He helped me clean it up with one million napkins. What would have come in handy is item #16008 from Bamboo Moon Inc. (asi/39614). It's a 100% wood fabric, eco-friendly cloth that's highly absorbent, antibacterial, anti-microbial, anti-fungal, hypoallergenic and biodegradable. Great idea for eco promotions, janitorial and maid service companies, cleaning suppliers, and anyone who should clean up their act. Pricing starts at: one for $3.24-R. Email bamboomooninc@hotmail.com.
The Bottom Line: Soak it in.

Advantages is bringing over 60 top suppliers to a city near you. 
Come to the industry's largest and most popular traveling show, the ASI Advantages Roadshow. For a list of cities and dates, visit http://advantagesroadshow.com/. Admission is free for all distributors and salespeople! 
SPONSORED BY


Advantages™ Hot Deals is a trademark of the Advertising Specialty Institute. You were sent this newsletter as a benefit of your ASI membership. Copyright 2010, ASI. All Rights Reserved. 
If you'd like us to send Advantages Hot Deals FREE to anyone else at your company (or to your off-site sales reps), go to www.asicentral.com/newsletters and complete the online form.
Interested in advertising in Advantages Hot Deals? Send an email to ddienna@asicentral.com
Click here to subscribe to Advantages™ magazine. 
Advertising Specialty Institute®, 4800 Street Road, Trevose, PA 19053