ADVERTISEMENT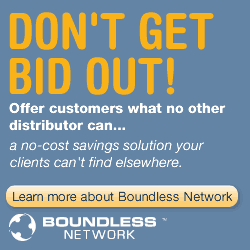 Photo Ops (frame)
The Pitch: From now through June, I have three weddings, a Communion, the 9th-grade dance and a couple of graduations on the schedule. Yes, I know, you can relate. It's that time of year people! Time to break out the cameras … and, on that note, Benjamin Martin Corp. (asi/68920) has EQP on a special place to put that special photo. Item AEC8 is a brushed-aluminum 4" x 6" frame with a 3/4-inch-wide border top and bottom. See it at: www.benjaminmartinframes.com. Expires 6/30/09.
The Bottom Line: You've been framed.
Play It Back (mini microphone key chain)
The Pitch: Adam and Allison in the finale, am I right? If you don't know what I'm talking about, you are obviously not obsessed with American Idol like I am. Anyone at all can step up to the mic with item AD-310 from Advantage Industries (asi/31570). This miniature microphone key ring records an eight-second message and operates on four button cell batteries (AG13), included. It comes gift boxed and custom preprogrammed messages can be added. Wouldn't these be cute for bars to give out on karaoke night? Pricing starts at: Qty.-25; list price-$8.99; price code-R. Find it at: www.advantageindustries.com
The Bottom Line: In tune.
Oh Snap! (can cap)
The Pitch: Keep the bee out of beer with Snap Capps from Digital Packaging Inc. (asi/49727). (Trust me, I've been stung on the tongue and it's not pretty.) In fact, they will keep bugs out of all kinds of canned beverages and keep them from going flat to boot. They're great for any outdoor event or adventure: barbecues, concerts, baseball games, Little League, summer camps and more. You can get next-quantity pricing through December by mentioning ESP Online special. See them for yourself at: www.digitalpackaginginc.com.
The Bottom Line: Don't get stung.
Hot Stuff (oven mitt)
The Pitch: My pot holder collection consists of those crocheted by my grandma (I have a whole host of afghans too) and cheapie versions I've accumulated along the way. The textured neoprene oven mitts from Built NY Inc. (asi/42422), however, are more upscale and would make a great giveaway for kitchen supply stores, cooking schools, restaurants and more. Check out item PHM-MDT, for instance, which starts at: Qty.-12; list price-$13.22; price code-R. Web site: www.builtny.com.
The Bottom Line: Grab it.