Get Your Mitts On It
The Pitch: Here's a silicone mitt just for taking hot dishes out of the microwave. The Micro Mitt (item #6125) is available from Molenaar LLC (asi/71980) and it's a perfect idea for supermarket giveaways, gifts-with-purchase and more. Plus, get it now at 45% off or $1.65 each. Click here: http://bit.ly/FPHGyD.
The Bottom Line: Hot stuff.
ADVERTISEMENT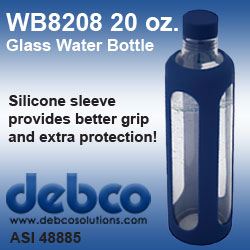 Keep It Fresh
The Pitch: When I say there are at least five open chip/pretzel bags in my pantry, I'm not kidding. We use a lot of chip clips at our house. And this one from Evans (asi/52840) has a unique twist. Item #414 is the Slice 'N Clip and it's offered at less than EQP (reference promo code #4001). It has a cutting blade to open snacks, plus a magnet so you can keep it handy on the fridge and also use it to hold papers. See it here: http://bit.ly/AcMhjH.
The Bottom Line: Easy-open.
Take a Stand
The Pitch: People love their iPads and they bring them everywhere. This weekend, I saw a woman looking at hers at a bar. I don't know why people have to bring tablets to bars, but if they are going to do that, item LP-7311 would be ideal. It's a microfiber tablet case/stand from Banaka Inc. (asi/38243). You can get it for as low as $4.99. It's a great idea for tech promotions and would also make a nice gift for employees armed with iPads. For more information, click here: http://banaka.net/products.asp?catid=323.
The Bottom Line: Pick up the tab(let).
The Grass Is Always Greener
The Pitch: I love this and it's perfect for any spring-time promotion. Item DR1003RD is the Eye-Grow Grass-Growing Head from Points of Light (asi/78825). Just add water and watch the hair (grass) grow. It's so cute and each is individually boxed. You can get it for as low as $2.69 and you can check it out here: http://bit.ly/FQ6OXG.
The Bottom Line: The eyes have it.