Racing Fan
The Pitch: Premium (asi/79370) has been family owned and operated since 1985, which is also the year I graduated college. Yes, many great things were unleashed upon the world that year. Here's another: The supplier offers their Race Day Umbrella (item 065-406RD). It's compact and has a flat top so rain doesn't build up. Pricing starts at: 50; $10.70. It features each type of flag that would be used in car racing. You can see it and read what each flag means here (black means report to the pit for consultation): http://premiumasi.com.
The Bottom Line: Start your engines.
ADVERTISEMENT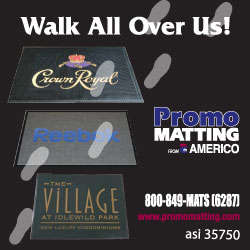 Lights, Action!
The Pitch: KTI Networks (asi/63776) has a great new personal safety light,which is perfect for walking, biking, hiking and other night-time activities. Item EL09 flashes red and it works on 2 AAA batteries, which are included. It comes with a clip and a Velcro strap and pricing starts at: 100; $7.12. Click here: http://www.ktipromo.com.
The Bottom Line: I can see you.
Scratch That
The Pitch: I keep a backscratcher on my nightstand. You never know when you're going to have an itch you can't reach, I always say (I don't really always say that, but obviously I think that). My husband got it at a telecom trade show and it says, "Extend your reach," but backscratchers are a perfect solution for any number of promos. Think chiropractors, for instance: "We got your back." You can get item #6048, a deluxe backscratcher with a soft foam handle from Molenaar LLC (asi/71980) for as low as $3.83. Click here: http://miline.com.
The Bottom Line: An itch in time.
Safety First
The Pitch: Item SM-9735 from Bullet (asi/42424) should be included in any safety program. It's a metal whistle/key ring and I would target colleges, safety instructors and fitness trainers, police departments and more. You can get it for less than a buck (500; 82 cents). See it here: http://www.bulletline.com.
The Bottom Line: Alert the authorities.