| | |
| --- | --- |
| Keeping you in the loop on products and deals you may not have heard about. | March 30, 2011 |
SPONSORED BY



Sales Tip of the Week
Howdy! Rick Springfield's "Jessie's Girl" was on the radio during my a.m. commute, and of course I enjoyed some car-seat chair dancing. I owned that eight-track tape at some point in the '80s. Let's get you on track with this edition. Enjoy and and send your feedback directly to: khuston@asicentral.com. It may be published in a future issue of Advantages magazine. For free information on products featured in Advantages, click here: www.advantagesinfo.com.
– Kathy Huston, editor


The Joe Show:
New Products

The Joe Show: New Products
In this episode of The Joe Show, Managing Editor Joe Haley shows off some of the newest items to hit the ad specialty market. Want to offer clients ideas based on the latest products found in the industry? The Joe Show has exactly what you need.  

Click hereto watch this new products edition of The Joe Show.

Want more videos? Subscribe now to our YouTube videos.

Wine Country
The Pitch: I just finished editing Advantages magazine's super-duper Regional Report (look for it in mid-April), in which we report on sales and hot markets in the four regions of the U.S. Epic Products Inc. (asi/52540) has a great regional report, too; specifically, it's the Frommer's guide on the California Wine Country (my favorite!). It's packed with inside travel tips and detailed info on hotels, restaurants, tours, pricing and local interest, in and around Napa/Sonoma. This would be fabulous for area restaurants, wineries and hotels and also packaged with a wine-and-cheese basket. For pricing and other info, email: info@epicproductsinc.com and to see it, click here: http://www.epicproductsinc.com/.
The Bottom Line: Area coverage.

ADVERTISEMENT

ADVERTISEMENT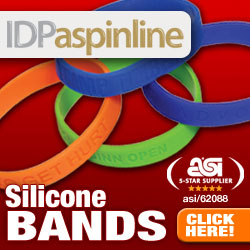 Show Appreciation
The Pitch: A survey by CareerBliss showed that the job of an administrative assistant ranks number four on the list of top five happiest careers. Well, April 24-30 is Administrative Professionals Week and you could help make them even happier with this nice gift from DropStopWine (asi/50869): It's a small chocolate wine lover's kit, which contains a chocolate wine cork (foil wrapped), two small chocolate grape bunches (foil wrapped) and white Colorific chocolate bites in a clear box tied with ribbon. Pricing starts at: 50; $8.86-T. Email: barry.singer@wineisit.com.
The Bottom Line: Uncorked.
Flip Your Lid
The Pitch: Like William and Kate, Mary Kate and Ashley, Ashton and Demi, reusable lids and reusable cups are a great pair, am I right? Which is why Visstun (asi/93975) introduces injection-molded lids, both with and without straw slots to complement their line of cups. Now you have two products to sell at the same time! For more information and to take a look, go to: http://www.visstun.com/.
The Bottom Line: Top it off.
Rub It Out
The Pitch: Everything seems to be in 3D these days -- even that Bieber kid's movie -- and new 3Drasers from Jornik Manufacturing (asi/63549) are no exception and would be just as much of a hit with a tween audience. They are three-dimensional, multi-piece erasers in food, fruit, tools, baseball and dental themes. Each packet includes a random assortment of two 3Drasers from the same theme. Pricing starts at: 250; $1.25-R. Check them out: http://jornik.com/.
Advantages is bringing over 60 top suppliers to a city near you.
Come to the industry's largest and most popular traveling show, the ASI Advantages Roadshow. For a list of cities and dates, visit http://advantagesroadshow.com/. Admission is free for all distributors and salespeople!
SPONSORED BY


Advantages™ Hot Deals is a trademark of the Advertising Specialty Institute. You were sent this newsletter as a benefit of your ASI membership. Copyright 2011, ASI. All Rights Reserved.
If you'd like us to send Advantages Hot Deals FREE to anyone else at your company (or to your off-site sales reps), go to www.asicentral.com/newsletters and complete the online form.
Interested in advertising in Advantages Hot Deals? Send an email to ekoehler@asicentral.com
Click here to subscribe to Advantages™ magazine. If you no longer wish to receive Advantages HotDeals Newsletter, click here
Advertising Specialty Institute®, 4800 Street Road, Trevose, PA 19053