| | |
| --- | --- |
| ADVERTISEMENT | ADVERTISEMENT |
On the Vine
The Pitch: There's a brand-new product in town that's perfect for fundraisers, real estate, political events and more. It's the patent-pending BalloonVine from, of course, BalloonVine (asi/38194). My buddy Suzanne Rozick in our supplier sales department brought it to my attention and I was like, what the heck is this thing? It holds balloons and signs and you stick it in the ground. You'd think, as a writer, I could do it more justice, but it's hard to describe, so you'll have to click here and see it for yourself and listen to Callie tell you all about it: http://www.balloonvine.com/.
The Bottom Line: Stick it.
This Quacks Me Up
The Pitch: If it quacks like a duck, it might be you, starring as the next big thing. You can send a 30-second video or audio clip of yourself squawking "Aflac" to the Aflac duck's Facebook page. The insurer is seeking submissions from the general public after Gilbert Gottfried's firing. I think that's hilarious. I also think this gift set from Gifted Expressions LLC (asi/56777) is just ducky. Item S11438 a terry ducky tote, lined with water-resistant fabric for storing bath toys. Plus, it's filled with a terrycloth hand puppet duck mitt, bath poof, ducky slippers, rubber ducks and "Guess How Much I Love You" CD. This is a great gift for new parents. Do you have any loyal clients who are expecting? Think about it. Pricing starts at: one for $32.50-R. Click here: http://www.giftedexpressions.com/.
The Bottom Line: Scrub a dub.
Here's the Kicker
The Pitch: So…"Dancing with the Stars." Your thoughts? I thought the Karate Kid was pretty darn great. Both my kids were junior black belts, mind you. Their karate careers all kind of fell apart after that. But you, my dears, can help bolster any karate program with the karate uniform-shaped bottle insulator from Numo (asi/74710). Mr. Miyagi would be proud. Pricing starts at: 150; $1.86-R. If you're at The ASI Show in NY, visit this supplier at booth #626. Otherwise, email: info@numomfg.com.
The Bottom Line: Wax on, wax off.
PRODUCT SPOTLIGHT
NEW! USB Sticks from AZX Sport ASI/30250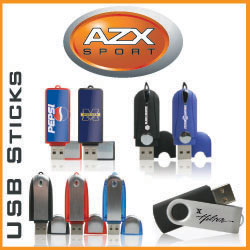 Features: 512MB - 16GB memory size available. Large variety of
colors and shapes. Ability to pre-load files onto USB.

Construction: Full color domed, Laser engraved
and pad printing available.

Lead Time: 1-3 business days on stock USB. 10 business days on
non stock USB. Minimum order 25pcs.

Orders and Art: Info.Advantages@aztex.com

Quote Requests: Info.Advantages@aztex.com

Visit www.azxpromotions.com to see our full line of products.

Or call 1-800-558-4836
CALL FOR QUOTE!
For other new and creative products, visit the Product Central section on ASICentral.com.