| | |
| --- | --- |
| ADVERTISEMENT | ADVERTISEMENT |
To the Loo
The Pitch: Imagine my horror two nights ago at Home Depot when someone had the audacity to return a toilet seat they've been using since 2003, because the brass hinges rusted. It happened right before my very eyes. And they took it back! I felt especially sorry for the poor kid named Cory who had to bag it and tag it. Nobody but nobody should be carting a used toilet seat around. Unless of course it's the brand-new Luggable Loo from Emergency Disaster Systems Inc. (asi/52333). Item RL9880-01 is a portable toilet seat, which is perfect for camping and anytime you just can't find a clean bathroom. Don't I really find all kinds of unusual products for you? Pricing starts at: 20; $16.50-Y. Check it out here: http://www.edisastersystems.com/.
The Bottom Line: Have a seat.
Cheers!
The Pitch: Tomorrow (St. Patty's Day) is my dear sister Colleen's birthday. This would be the perfect present for any Irish lad or lassie and anyone at all who appreciates a nice, cold beer every now and again. Item WC2009110511 from Corporate Gift Experts (asi/42421) is an oval copper tub gift set which can be reused again and again for barbecues and other fun occasions. Plus, it's filled with a six-pack of Samuel Adams Boston Ale and a six-pack of Yuengling Lager. You can select your own beer choice for an additional charge. This would also make a very nice thank-you gift for loyal clients and employees. Pricing starts at: 5; $64.35-U. To see the tub, click here: http://www.corporategiftexperts.com/. And for more info, email: mena@corporategiftexperts.com.
The Bottom Line: A whole tub of fun.
Richie Rich
The Pitch: According to CNNMoney.com, the millionaire population jumped in the U.S. by 8% last year. Well good for those millionaires, bless their hearts. For those of us who aren't quite there yet, The Promotional Bookstore (asi/79369) offers "Eighty Proven Ways to Become a Millionaire," by Paul Damazo. The book covers personal finance from "womb to tomb." This is perfect for financial planners, company employees, banks and more. Pricing starts at: 48; $28.90-R. For more information, email: sales@promotionalbookstore.com.
Take Our Survey
Our sister publication, Counselor magazine, is currently polling professionals in the industry – both distributors and suppliers – to see how the market did in 2010 and to get impressions on where the industry is headed in 2011. We need your input. Please take some time to click the appropriate link below and complete the annual State of the Industry survey. Your responses will remain anonymous and you'll be helping to create Counselor's annual State of the Industry report.
Distributors click here to take the distributor State of the Industry survey.
Suppliers click here to take the supplier State of the Industry survey.
Have You Met Promo Man?
Promo Man is saving flailing businesses one damsel (or dude) in distress at a time. He's simply awesome. For a very entertaining video featuring our superhero, and my buddy, Promo Man, click here: http://www.youtube.com/watch?v=8w8VxgUqQzc.
PRODUCT SPOTLIGHT
NEW! USB Sticks from AZX Sport ASI/30250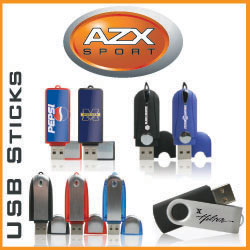 Features: 512MB - 16GB memory size available. Large variety of
colors and shapes. Ability to pre-load files onto USB.

Construction: Full color domed, Laser engraved
and pad printing available.

Lead Time: 1-3 business days on stock USB. 10 business days on
non stock USB. Minimum order 25pcs.

Orders and Art: Info.Advantages@aztex.com

Quote Requests: Info.Advantages@aztex.com

Visit www.azxpromotions.com to see our full line of products.

Or call 1-800-558-4836
CALL FOR QUOTE!
For other new and creative products, visit the Product Central section on ASICentral.com.