| | |
| --- | --- |
| Keeping you in the loop on products and deals you may not have heard about. | March 9, 2011 |
SPONSORED BY



Sales Tip of the Week
Hello everybody! I know you have no shortage of items on your to-do list today. I feel your pain; I really do. But don't you deserve to take a quick break and enjoy this edition? Send your feedback directly to: khuston@asicentral.com. It may be published in a future issue of Advantages magazine. For free information on products featured in Advantages, click here: www.advantagesinfo.com.

PRODUCT SPOTLIGHT


– Kathy Huston, editor


The Joe Show:
Hot Products Kickoff

The Joe Show: Product Design Awards
In this episode of The Joe Show, Managing Editor Joe Haley shows off the finalists in the Desk Accessories category of Counselor's Product Design Awards. Have clients looking to get prime real estate on their target audience's desktops? Check out this episode of The Joe Show.

Click here to watch this desk accessories edition of The Joe Show. And, click here to vote for your favorite products in Counselor's 2011 Product Design Awards competition.

Want more videos? Subscribe now to our YouTube videos

Cool Tunes
The Pitch: What's your favorite song right now? I'm torn between Bruno Mars' "Just the Way You Are" (which is on my radio right now) and Cee Lo Green's "Forget You." (Yes, I know there is a naughtier version, but this is a family e-newsletter.) At any rate, whatever gets you singing along or chair dancing, you're sure to agree that this is a very cool idea from Bennington Rhodes Ltd. (asi/39839). Item #11922 is the iPod Docking Station Cooler, which also has a built-in AM/FM tuner. The hard-side cooler has dual front speakers and it's powered by 4 C-size batteries, which are not included. This is a perfect incentive giveaway and is great for the beach, camping, tailgating and any outdoor event. Pricing starts at: 10; $119.87-R. Click here and scroll down to "Electronics": http://www.benningtonrhodes.com.
The Bottom Line: Take it on the run.

ADVERTISEMENT

| | |
| --- | --- |
| ADVERTISEMENT | ADVERTISEMENT |
A Little Bubbly
The Pitch: Who doesn't love blowing bubbles? It's fun and it's stress relief. Tropical Enterprises (asi/92243) is offering colorful tubes filled with bubbles, which include a blowing wand of course. These are a cute idea for trade shows, parties and weddings (rather than throwing rice, which is bad for the birds; also, I once got rice stuck to my lip gloss when I was a bridesmaid, so let that be a lesson to you). Also, think about summer camps. Those little campers would love these! Pricing starts at: 100; $1.65-R. I don't see these on the supplier's website, but you can check out item BW on ESP, or email: customerservice@tmarketingproducts.com.
The Bottom Line: Put your lips together and blow.
ADVERTISEMENT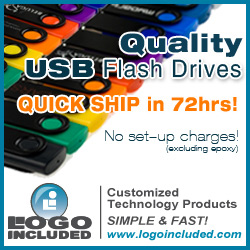 Bend Me, Shape Me
The Pitch: Aakron Line (asi/30270) has a fun new assortment of pens in their Zing Line. They are called Bend-a-Pens and they start at: 200; $1.60-R for standard shipping. They are just right for any market at all, being that they come in a wide variety, including one with an Earth head, one with a Sun head, the "thumbs-up" versions, a nurse and a doctor. I happen to think the doctor looks like Joe Haley without a beard. Click here and let me know if you agree: http://www.aakronline.com/.
The Bottom Line: That's twisted.
Safe and Sound
The Pitch: We're already under a flood watch in our area, with heavy rains expected tonight and all day tomorrow. It's the season, folks. And Stromberg Brand (asi/89955) offers a great safety umbrella with a 46" arc and yellow canopy. It has a unique folding sheath that acts as a drip catcher when the umbrella is closed. There is also one transparent panel in the canopy for safe visibility and it has a reflective safety ferrule (top). Also, it's on sale until 4/30/11 at: 50; $11-R. Think of any safety program and anyone who could use a little coverage in stormy weather. Click here: http://www.strombergbrand.com.
The Bottom Line: Dripping with possibilities.
PRODUCT SPOTLIGHT
NEW! USB Sticks from AZX Sport ASI/30250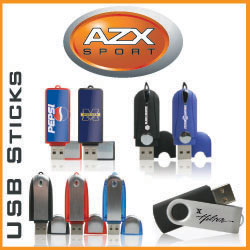 Features: 512MB - 16GB memory size available. Large variety of
colors and shapes. Ability to pre-load files onto USB.

Construction: Full color domed, Laser engraved
and pad printing available.

Lead Time: 1-3 business days on stock USB. 10 business days on
non stock USB. Minimum order 25pcs.

Orders and Art: Info.Advantages@aztex.com

Quote Requests: Info.Advantages@aztex.com

Visit www.azxpromotions.com to see our full line of products.

Or call 1-800-558-4836
CALL FOR QUOTE!
For other new and creative products, visit the Product Central section on ASICentral.com.
Advantages is bringing over 60 top suppliers to a city near you.
Come to the industry's largest and most popular traveling show, the ASI Advantages Roadshow. For a list of cities and dates, visit http://advantagesroadshow.com/. Admission is free for all distributors and salespeople!
SPONSORED BY


Advantages™ Hot Deals is a trademark of the Advertising Specialty Institute. You were sent this newsletter as a benefit of your ASI membership. Copyright 2011, ASI. All Rights Reserved.
If you'd like us to send Advantages Hot Deals FREE to anyone else at your company (or to your off-site sales reps), go to www.asicentral.com/newsletters and complete the online form.
Interested in advertising in Advantages Hot Deals? Send an email to ekoehler@asicentral.com
Click here to subscribe to Advantages™ magazine. If you no longer wish to receive Advantages HotDeals Newsletter, click here
Advertising Specialty Institute®, 4800 Street Road, Trevose, PA 19053