ADVERTISEMENT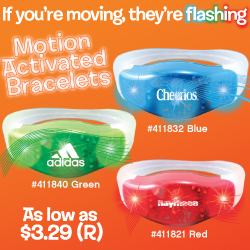 It's Raining Roses


The Pitch: Here's some great news for Raising Rose Inc. (asi/80489). The Initiative for a Competitive Inner City (ICIC) and FORTUNE selected the supplier for its 2013 Inner City 100 list. They ranked in at #50. The honor goes to the fastest-growing, most innovative companies in urban areas. Congrats! And here's some great news for you. The supplier now offers item F10477, the Pucker Protector all-natural supply of 120 mini lip balms in a bubble container. This is perfect for trade shows and other special events. Think of these also for hotel front desks, where guests could use lip protection (spa resorts, ski lodges, etc.). Delicious flavors include Pearadise, Mint, Vanilla and Pomegranate. Pricing starts at: one @ $45.85. Check it out: http://lipbalmcompany.com.
The Bottom Line: Natural beauty.

Oodles of Noodles
The Pitch: I'm in a poolside state of mind and the Huston pool would not be complete without water noodles (I prefer floating around with a frosty beverage vs. actual swimming). Gulbenkian Swim (asi/58650) offers water noodles with custom-printed sleeves and they are great for pool clubs, exercise programs, summer camps and more. And don't think they're only for summer promos. There are many indoor pools to be found. For more info, email Ed at ed.gulbenkian@gulbenkianswim.com.
The Bottom Line: It lifts you up.


Ship Ahoy
The Pitch: My parents are taking our family (except Matt who works for a living now and can't get off), and my sister's family on a big Caribbean cruise this summer. Isn't that nice of them? So all the kids had to get their very first passports. Sweda Company LLC (asi/90305) offers colorful leatherette Nomad passport covers for just such occasions. Think of travel agents, cruise lines, airlines and more. Pricing starts at: 100; $4.99-R. Check it out: http://swedausa.com/.
The Bottom Line: Passport protector.