ADVERTISEMENT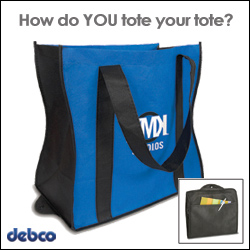 This Is Key
The Pitch: If you're trying to build traffic for a trade show or some other event, Rainbow Keys (asi/80400) has a winning idea. They've got a complete line of treasure chests and keys in stock. You or your client will give keys to clients or prospects with the invitation to the event and at the event, they will see if their key unlocks the chest. If the key opens the lock, they win the prize and you determine the prizes and the ratio of "winners" to "losers." Doesn't that sound like fun? To check out their options and get more ideas on how to use these, click here: http://rainbowkeys.com/.
The Bottom Line: Your lucky day.
Open Doors
The Pitch: I seem to be on a key kick today, but here, too, is a great idea involving keys. Julie of California (asi/63650) offers custom color brass keys, which would be perfect for many promotions, including Realtor giveaways. They also come in guitar shapes, so pitch them to music schools and more too. Click here for more information: http://julieofcalifornia.com/.
The Bottom Line: All locked up.
(Don't) Feel the Burn
The Pitch: Right now my youngest, Andrew, is on a plane with his buddy Austin. They are heading for Orlando (along with Tropical Storm Debby!). He's so excited and I hope the weather brightens up for them and that he will actually have a chance to use the travel-size sunscreen I bought for him. That's right, I had to buy it, but Leashables (asi/66715) offers travel kits that would make a great room gift for hotels. They can include sunscreens, lip balms, aloe vera gel, sanitizers, mints, etc. Check them out here: http://www.leashables.com/.
The Bottom Line: Healthy choice.
Play Ball
The Pitch: Remember playing that game "A, my name is (yadda, yadda, yadda)" when you were a kid? Well, that's what we played on the sidewalks of Harrison, NJ back in the '70s. Champion Ball Company (asi/92430) offers customized playground balls for such fun outdoor activities. They'd be great for summer camps, school fundraisers, family reunions, company picnics and more. For pricing and other information, click here: http://www.championball.com/
Counselor Road Tour: Post Tweets, Win $500
This week, three Counselor editors have made it their mission to find out what makes up a great workplace in the ad specialty industry. Melinda Ligos, Andy Cohen and Joe Haley are on the road right now for a summer road trip, visiting various companies that are on Counselor's 2012 Best Places to Work list.
Traveling the whole country – from east coast to west, including two stops in Canada the Counselor Road Tour crew will be a busy bunch. And, we'll be updating our adventures in real time. Follow the action on our website (www.counselormag.com/counselortour), on Twitter (#CounselorTour) and on Facebook (www.facebook.com/bestplacestowork). You'll find daily blog posts from every company we visit, photos, videos, polls (you tell us what to eat every day), and of course, tales from the road that are sure to entertain.
Plus, you too can win big from this Best Places to Work Road Tour. Add your own comments to the fun by using #CounselorTour on Twitter. We'll be following the posts all week long – every time somebody posts a comment using that hashtag, you'll be entered into a random drawing at the end of trip. The winner will receive a $500 Visa gift card.