| | |
| --- | --- |
| Keeping you in the loop on products and deals you may not have heard about. | June 29, 2011 |
SPONSORED BY


Can you believe it is already the end of June? Did you stock up on BBQ meats and fireworks yet? Well, I hope this edition puts some snap, crackle and pop into your

| | |
| --- | --- |
| sales as well. Have a safe and fun 4th everyone! Don't forget: Send your feedback directly to: khuston@asicentral.com. It may be published in a future issue of Advantages magazine. For additional information, contact the supplier. To unsubscribe, follow the instructions at the end. - Kathy Huston, editor | PRODUCT SPOTLIGHT |





The Joe Show:
New, Fun Promos

The Joe Show: New, Fun Promos
In this episode of The Joe Show, Managing Editor Joe Haley shows off some new and unique items recently launched in the ad specialty market. Have a client looking for fun products for corporate parties? Need product ideas that can be targeted to the beach and resort markets? Check out this episode.    

Click here to watch this new products episode of The Joe Show.

Want more videos? Subscribe now to our YouTube videos.

Cool Baby
The Pitch: Dear Malaysia Airline officials, you started out as a baby too, you know. Have you heard they are banning babies in first class? I guess money doesn't buy everything, including happiness and a seat for your baby in first class on Malaysia Airlines. Well, I happen to love babies and I love this product for them: Sunglasses with, as the supplier notes, a "popular wild design and colors made for trendy babies and toddlers alike." They are from Specialtising Inc. (asi/88584) and pricing starts at: 96; $2.75. Perfect for day-care centers, pediatric eye-care specialists, and babies who want to hide from the paparazzi. You can see item SB-5623S on ESP or email: customerservice@seesun.com.
The Bottom Line: Gotta look sharp (no matter how young).

ADVERTISEMENT




Back in Black


The Pitch: At my nephew's grad party this weekend (two down, one to go), my husband remarked that it must be black T-shirt day, because he and my two sons were all wearing plain, black tees. I, on the other hand, had a very adorable and colorful outfit on, but that's beside the point. Well, you know, Royal Apparel (asi/83731) recognizes the popularity of the black tee and is now offering what they call their

"Never Out of Black Promise."

"There's nothing more frustrating than having to go to multiple sources to fill an order for black T-shirts," they say, so they have increased inventory of black in the three most popular styles: RA5051, a fine jersey unisex T-shirt, RA5626 a fine jersey longer-length T, and RA5001, a fine jersey women's-cut style. Plus, they guarantee that they can fill any order of black in all sizes or will ship the remainder in five working days with free freight. So how can you go wrong if, in fact, you are looking for black T-shirts? If you are looking for wind-up toys here, it might be a problem. Click here to see what they have to offer: www.royalapparel.net.
The Bottom Line: Darkness on the edge of town ... and everywhere you look.

ADVERTISEMENT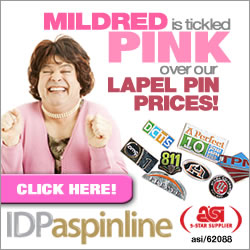 Snack Attack
The Pitch: One day last week, after I finished my Greek yogurt and apple slices trying to be a responsible eater, a package arrived from Lauren Fox, sales and marketing manager at Fresh Beginnings (asi/55439). It was filled with many yummy treats, spotlighting what's new at the supplier's. Thanks for screwing up my diet plan, Lauren, but really, everything was delicious! (I didn't eat it all. I swear I put a bunch of it out for my editorial colleagues.) I especially liked their individually wrapped honey-roasted peanuts, which are perfect for: tradeshows and conventions, sales calls, special events and as additions to gift bags. Pricing starts at: 500; $1.45. Click here: http://55439.asisupplier.com/.
The Bottom Line: Sweet and salty.
Honesty Is the Best Policy
The Pitch: My Aries scope for today says I shouldn't candy coat what I say to people and that my goal should be honesty. Uh oh, some people around here are really in for it! Well, I think I need one of these for my desk to remind me: Walters Seed Company (asi/95075) has the planter kit with Magic Beans Wishes seeds. It includes; standard size recycled plastic cup, plastic lid also used for the saucer, growing mix, 5 Magic Beans and growing instructions. Each seed is laser engraved with a meaningful word and you can choose five. Here are only a few options: Honesty, Healing, Home, Happiness, Humor and Inspire. I know you've probably seen this before, but it's just so cool and works with any promotion. Pricing starts at: 100; $7.29. See it here: www.walters-seed.com.
The Bottom Line: Growth potential.
PRODUCT SPOTLIGHT
NEW! USB Sticks from AZX Sport ASI/30250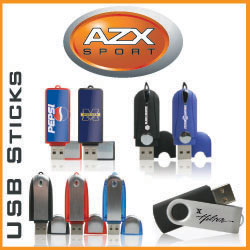 Features: 512MB - 16GB memory size available. Large variety of
colors and shapes. Ability to pre-load files onto USB.

Construction: Full color domed, Laser engraved
and pad printing available.

Lead Time: 1-3 business days on stock USB. 10 business days on
non stock USB. Minimum order 25pcs.

Orders and Art: Info.Advantages@aztex.com

Quote Requests: Info.Advantages@aztex.com

Visit www.azxpromotions.com to see our full line of products.

Or call 1-800-558-4836
CALL FOR QUOTE!
For other new and creative products, visit the Product Central section on ASICentral.com.
Advantages is bringing over 60 top suppliers to a city near you.
Come to the industry's largest and most popular traveling show, the ASI Advantages Roadshow. For a list of cities and dates, visit http://advantagesroadshow.com/. Admission is free for all distributors and salespeople!
SPONSORED BY


Advantages™ Hot Deals is a trademark of the Advertising Specialty Institute. You were sent this newsletter as a benefit of your ASI membership. Copyright 2011, ASI. All Rights Reserved.
If you'd like us to send Advantages Hot Deals FREE to anyone else at your company (or to your off-site sales reps), go to www.asicentral.com/newsletters and complete the online form.
Interested in advertising in Advantages Hot Deals? Send an email to ekoehler@asicentral.com
Click here to subscribe to Advantages™ magazine. If you no longer wish to receive Advantages HotDeals Newsletter, click here
Advertising Specialty Institute®, 4800 Street Road, Trevose, PA 19053