| | |
| --- | --- |
| Keeping you in the loop on products and deals you may not have heard about. | June 1, 2011 |
SPONSORED BY


Hi everybody; I hope you are all great and that you enjoyed your long weekend. Sincere thanks to all the veterans and military out there and their families for doing what you do for us! This past weekend I bought one of those goofy compilation CDs at Bed, Bath & Beyond (or as I call it, Bed, Bath & Beyonce). It's called "Summer Breeze" and it's full of fun summery songs. So, this issue, I am going to start each entry with a summer song. What do you think about that? But first, watch another "Sales Tip" from the San Diego show, where my colleague Nicole talks about selling apparel to the education market.


Sales Tip of the Week
Then go ahead and enjoy this edition and don't' forget: Send your feedback directly to: khuston@asicentral.com. It may be published in a future issue of Advantages magazine. For additional information, contact the supplier. To unsubscribe, follow the instructions at the end.


PRODUCT SPOTLIGHT


– Kathy Huston, editor 


The Joe Show:
Electronic Products

The Joe Show: Electronic Products
In conjunction with Counselor's August Hot Issue, The Joe Show will feature items in six different categories over the next few weeks. In this special Hot Products edition of The Joe Show, Managing Editor Joe Haley shows off some of the newest and most unique electronic products to hit the ad specialty market.

Click here to watch this Electronic Products episode of The Joe Show.

Want more videos? Subscribe now to our YouTube videos.


Sandy Sales
The Pitch: "The tide is high," so get yourself to the beach, pronto! Terry Town (asi/90913) has a great new ultra-soft, quick-drying, microfiber velour beach towel. It's printed edge to edge with color-photo process for superb detail and vibrant colors. Think of resorts, pool clubs, travel agencies, vacation Realtors and more. Who doesn't love a fluffy, new beach towel? Pricing starts at:

36; $38.38.

See item BP1115-W-S here: http://www.promotionalterry.com/.
The Bottom Line: Towel off.
ADVERTISEMENT




The (Not-So) Big Chill


The Pitch: "Summer breeze makes me feel fine," especially coming from this cute new USB-powered mini-fan from NeoSources International Inc. (asi/73514). It's very bright and pricing starts at:

500; $5.12

and these are perfect for school, home or office. I want one myself. For more info on item NS-FAN05, check it out on ESP or email Brian, the director of sales at: brian.chen@neosoources.net.
The Bottom Line: Cool down.

| | |
| --- | --- |
| ADVERTISEMENT | ADVERTISEMENT |
Shake It Up
The Pitch: "You put the lime in the coconut, you drink 'em both together." It might help if you have this cool and colorful acrylic shaker from Wine Appreciation Guild Ltd. (asi/97292). Item WAGSK-03 is perfect for bars, restaurants, special events and more. Pricing starts at: 720; $7. For more information, check it out on ESP or email Sales Manager Jim at: jim@wineappreciation.com.
The Bottom Line: Merry mixing.
Notable
The Pitch: "School's out for summer," but that doesn't mean anyone ... and I mean everyone ... couldn't use a nice notebook (I was just looking for something to write on this morning, as a matter of fact). And it just so happens that Aakron Rule Corp. (asi/30270) has an awesome spiral-bound notebook with an eye-catching 3D background and 80 unlined pages of paper. Pricing for 5 working days starts at: 100; $3.65. Click here to see item #44050: http://www.aakronline.com/.
The Bottom Line: Paper route.
PRODUCT SPOTLIGHT
NEW! USB Sticks from AZX Sport ASI/30250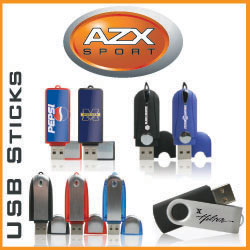 Features: 512MB - 16GB memory size available. Large variety of
colors and shapes. Ability to pre-load files onto USB.

Construction: Full color domed, Laser engraved
and pad printing available.

Lead Time: 1-3 business days on stock USB. 10 business days on
non stock USB. Minimum order 25pcs.

Orders and Art: Info.Advantages@aztex.com

Quote Requests: Info.Advantages@aztex.com

Visit www.azxpromotions.com to see our full line of products.

Or call 1-800-558-4836
CALL FOR QUOTE!
For other new and creative products, visit the Product Central section on ASICentral.com.
Advantages is bringing over 60 top suppliers to a city near you.
Come to the industry's largest and most popular traveling show, the ASI Advantages Roadshow. For a list of cities and dates, visit http://advantagesroadshow.com/. Admission is free for all distributors and salespeople!
SPONSORED BY


Advantages™ Hot Deals is a trademark of the Advertising Specialty Institute. You were sent this newsletter as a benefit of your ASI membership. Copyright 2011, ASI. All Rights Reserved.
If you'd like us to send Advantages Hot Deals FREE to anyone else at your company (or to your off-site sales reps), go to www.asicentral.com/newsletters and complete the online form.
Interested in advertising in Advantages Hot Deals? Send an email to ekoehler@asicentral.com
Click here to subscribe to Advantages™ magazine. If you no longer wish to receive Advantages HotDeals Newsletter, click here
Advertising Specialty Institute®, 4800 Street Road, Trevose, PA 19053