| | |
| --- | --- |
| ADVERTISEMENT | ADVERTISEMENT |
Flashy Flute
The Pitch: Larry King is hanging up his suspenders, as he says, after 25 years on cable TV. That calls for a toast. I think these champagne flutes from Glow & More (asi/57608) are utterly festive. The 5-oz., light-up flashing flutes come in red, yellow, blue and green and the colors are activated when liquid is poured into them. This is a great idea for any party or special event (think weddings, too). Pricing starts at: 840; $3.76-R. Click here and scroll down to item GM-LED-F602: http://www.glowandmore.com/.
The Bottom Line: Colorful salute.
ADVERTISEMENT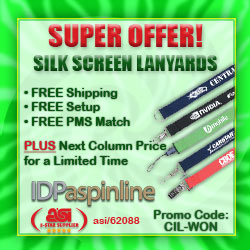 Souped Up
The Pitch: Here is your interesting tidbit of the day, courtesy of MSNBC: The White House soup du jour is split pea. I love soup any time of year (it warms your cockles; I don't know what that means, but I always say it for some reason). Leed's (asi/66887) offers item #1051-81, the StafyFit Soup To Go bowl. It's an insulated bowl with built-in handle and folding spoon, made from FDA-compliant  polypropylene plastic. It's microwave-safe and the folding spoon fits neatly into the insulated cover. Pricing starts at: 36; $11.50-P. This would be a nice giveaway for weight-loss programs, college campus stores, soup makers and more. Email: customerservice@leedsworld.com for more info.  
The Bottom Line: Heat things up.
Movie Mania
The Pitch: OMG, the new Twilight spectacular is out this weekend, folks. If you're the parent of a teenage girl, I probably don't have to tell you that. My question: Team Jacob or Team Edward? (For me, Team Edward, if I was 20 years younger and into vampires). You know what would go swell with your favorite movie? The Theater Time Snack Pack (item PY2795) from Entrees to Excellence (asi/52507). It's a reusable popcorn tub, packed with microwave popcorn and theater-sized treats. Pricing starts at one for $39.95-T.  This would be a fun movie-launch promotion, sent to film critics, entertainment editors, etc., and also a nice customer appreciation gift. Email: orders@etoegifts.com.  
The Bottom Line: Eat this up.